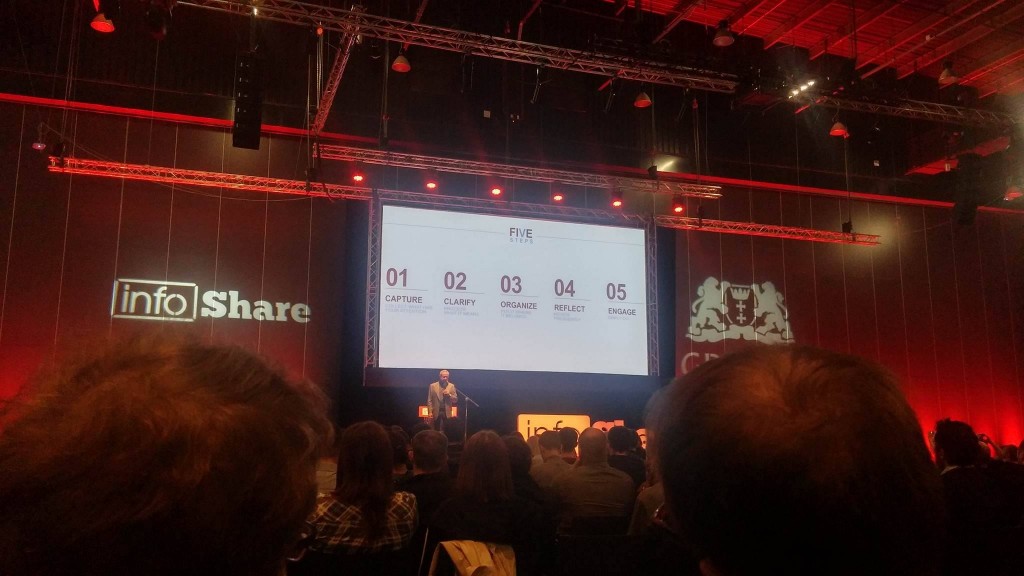 ---
Infoshare, the biggest tech event in the CEE region, took place on 18-20th May in Gdańsk, Poland. It was THE place to be these days. Why? Beacuse it really gathered amazing speakers, curious attendees and promising startups. Those are my 3 personal bests from the conference (that I would like to see at other tech events).
Amazing talks
I must confess that when on Wednesday morning I took the wrong tram to get to the conference venue and ended up really close to a beautiful beach, I was really tempted not to go to the conference straight away and get some suntan. However, there were so many interesting talks planned upfront: Marcin Hejka's 'How to feed unicorns', the co-founder of Pirate Bay Peter Sunde's on technology and democracy issues, Piotr Konieczny's cybersecurity fuckups talk or Paweł Tkaczyk's story about company's culture and strategy. But there was this one speaker that I really wanted to hear: David Allen, the Getting Things Done guy. He gave an interesting speech on productivity and shared some insights he has gathered in the past 30 years of coaching C-level executives to work smarter and more efficiently. And then I was lucky to join his workshop so I got a quite extensive training on the GTD method. Now, it's time to implement it.
Networking opportunities
No one really goes to a conference just to listen to interesting talks and panel discussions. We are there to meet amazing people and making it fun is very important. The Infoshare team really took that into account and they did not only set up many spaces in the venue to let people chat and chill, but also planned many opportunities outside the venue. For the early birds there was a pre-party on Tuesday, a concert on Wednesday, a Leaders' Boat race on Thursday and a closing party on Friday. On Thursday morning you could go running to the Jelitkowo beach (where I got lost the day before) and on Friday the conference moved to a boat. Such diversity of activities makes the conference so much more engaging and makes people connect with each other in different settings.
Startup zone
All major conferences have startup contests on their agenda but Infoshare went a bit further and really created a unique space for startups within the conference venue. You could find all the booths in one place, right next to the Startup stage which hosted the contest but also talks that could be interesting to the founders regarding e.g. Product Hunt, PR or VC and accelerators. On the other side there was a closed zone for startups and investors to have speed dating sessions. For me the whole setting made it easy to meet amazing startups such as Nexbio, the winner of the competition, providing molecular research directed to science and business; AskHenry which will do all those little chores you keep forgetting about; Cyfrowi Wynalzacy which will provide schools with simple games to teach kids how to code and Clovers that will make your old school devices into smart ones with their simple solution.
[easy-tweet tweet="3 things why I loved @infosharepl #tech #conference in @gdansk" user="150sec" hashtags="startups" url="http://goo.gl/t9jPEF"]
Also, for such a foodie as me, great smoothies, fresh orange juice, popcorn and a cool line of food trucks just outside the venue made the event even better. Not to make this as sweet as cotton candy (which was also served at the conference!) I'd like to propose a change for the next year: let's have all the talks, workshops and panel discussions in English. This way everyone will be able to enjoy the conference the way I could this year. Hope to see you at Infoshare 2017!