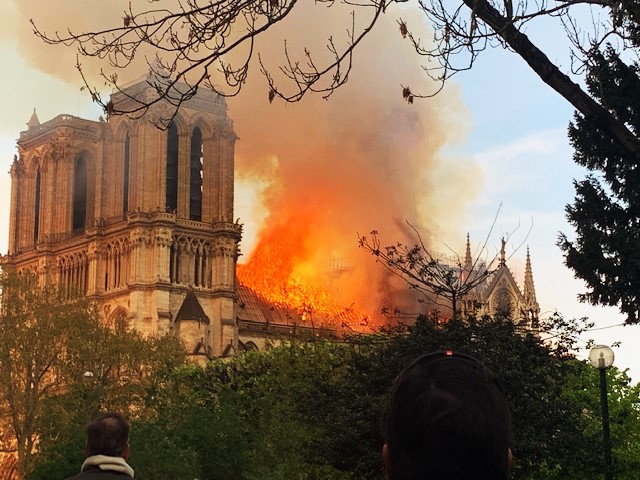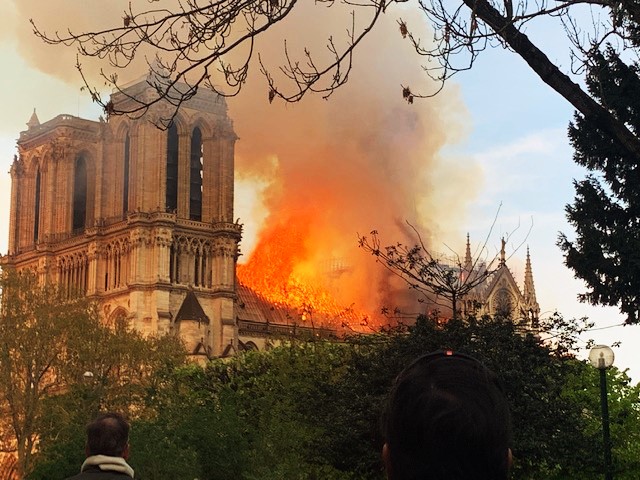 Featured
---
Last month, Parisians looked on in disbelief as their capital's skyline changed forever on April 15.
At the heart of the headlines, the world famous 850-year-old Notre-Dame Cathedral was burning. In its long history, it had stood the test of time and two world wars only to be reduced to a charred shell in a matter of hours, sending shock-waves around the globe.
The renowned center-spire was gone, along with the 13-century oak roof but the relics that made the building even more famous, such as its stained glass windows, remained intact.
In a matter of days, millions of euros had been pledged to rebuild the French architectural wonder, leaving many amazed at how fast the sum of money was promised. French president Emmanuel Macron then went on to pledge that Notre Dame would be rebuilt within five years, despite concerns about such a short timeframe's feasibility.
With activists shocked at how much money could be made in such a short period of time, many more are doubtful that Notre Dame can be rebuilt in half a decade regardless of how many millions of euros are pumped into it. However, it might be the final legacy of a certain medieval historian that might just make it possible.
A lasting legacy
Half a year before Notre-Dame would become a tragic headline, the history community suffered another loss with the death of medieval historian Andrew Tallon. Before the 49-year-old would succumb to brain cancer, however, the art professor and dedicated father of four had committed his time to the Notre-Dame which might mean that his legacy can help rebuild the structure.
''In the event of a catastrophic incident such as the fire at Notre Dame the data can provide critical input into the reconstruction process''
– John Ristevski, CyArk CEO.
In 2010 Tallon used lasers to meticulously scan every aspect of Notre-Dame, a building central to his life's work. Using one billion data points to digitally capture every corner of the structure, he would remain the first and last person to ever conduct such a mammoth task at the cathedral before its demise. It has already been pointed out that his legacy will be pivotal to any architects tasked with rebuilding the structure, and all eyes will remain on how Notre-Dame will look in years to come.
Digitizing Europe's historic monuments
Just a week before the fire of Notre-Dame, 24 European countries agreed to the digitization of cultural heritage according to Fortune. Though somewhat of a disconcerting premonition, European authorities clearly acknowledged that the digital scanning of buildings can protect the cultural patrimony that is inherent in the texture of these constructions.
Tallon's legacy lives on through a number of companies who have similarly taken on the challenge of documenting the world's greatest constructions.
California-based non-profit CyArk is one of them, the company's founder Ben Kacrya was similarly moved by the destruction of cultural heritage, in particular, the Bamiyan Buddhas in Afghanistan. As an early investor in LiDAR devices, it didn't take long for the founder to combine his interest in monumental relics around the globe and develop a 3D record of the world's heritage.
The organization is now one of the pioneers in providing engineering drawings and mapping of significant sites, as well as providing data for education and sharing research. They use a mix of LiDAR and photogrammetry to produce surface models with precise accuracy.
''Accurate 3D models of our cultural heritage are providing valuable information to support heritage conservation tasks such as condition assessment and ongoing monitoring to understand change over time and potential degradation of the monument,'' the organization's CEO John Ristevski told 150Sec. ''In the event of a catastrophic incident such as the fire at Notre Dame the data can provide critical input into the reconstruction process.''
Technology alone can't protect sites
What many of these companies share, is an inherent passion for the preservation of cultural patrimony and a deep interest in maintaining this for future generations. It is, however, just one feature of the huge task involved with cultural preservation and it cannot be relied upon alone.
Risteveski explained to us that site protection is ongoing. ''It does not replace the work performed by the people that are tasked with maintaining the monuments,'' he said. ''Our goal should be to provide them the data, tools, and training they need to enhance the task of physical conservation and ensure these monuments continue to exist.''
The efficiency of modern technology today means that buildings the size of Notre Dame could be recorded and analyzed within a matter of weeks.
However, even with a combination of scans and ongoing site management, the shock that comes with losing the contents of structures when damaged, chime with the delicacy of cultural preservation. One such example was the recent loss of Brazil's national museum, that went up in flames last year. Over 20 million archived artifacts are believed to have been lost as a result of the blaze, with 'incalculable' losses to the country's historical and scientific legacies the museum directors explained to The Guardian.
In the case of Notre-Dame, and likely any other building of significance, the sadness of losing the original construct does not disappear even if you know that a 3D scan remains intact. There's some comfort in knowing, however, that 24 European countries pledged to digitalize their cultural heritage before Notre-Dame's spire came down. New technologies are not only shaping our future but can also shape how we can preserve or interact with our past.
This article was written with additional reporting by Tamara Davidson.