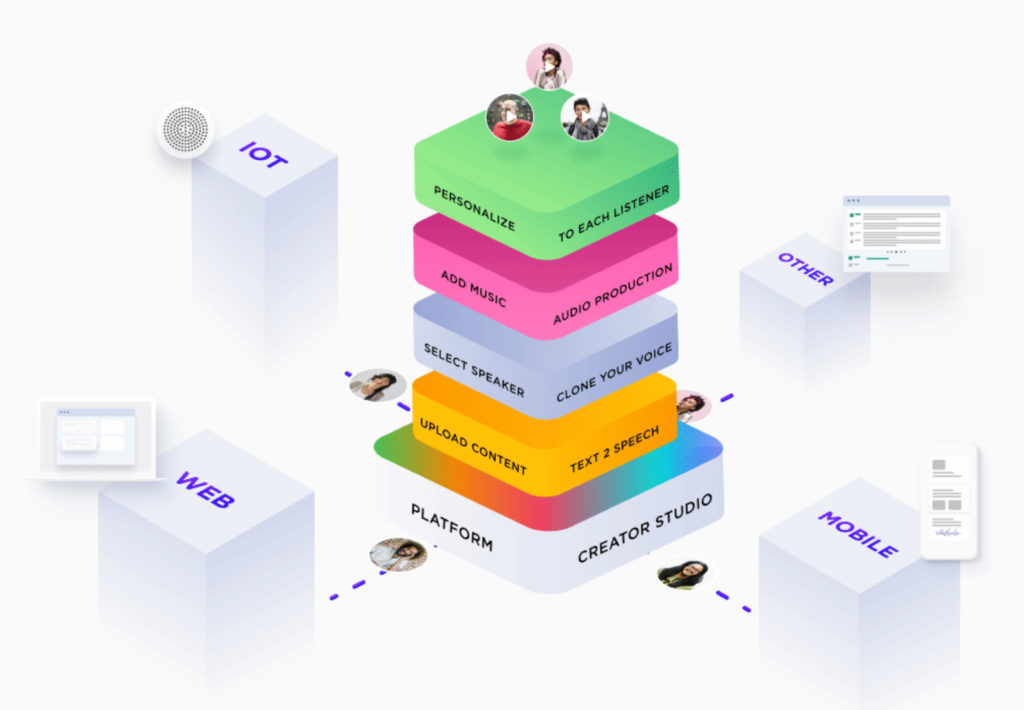 Founders
---
"Remember that a person's name is to that person the sweetest and most important sound in any language."
This is what Dale Carnegie, the legendary author of How to Win Friends and Influence People, taught us almost a century ago.
In the world of business, believers in this timeless advice put personalization at the heart of their efforts to win hearts and minds.
Aflorithmic is one of the companies who appreciate the importance of making users, visitors, and customers feel noticed, special, and valued. 
Harnessing the power of artificial intelligence, the innovative startup helps brands and enterprises create "hyper-personalized, engaging audio experiences produced at scale using AI voice synthesis and ethical voice cloning."
In simpler terms, the platform allows users to "address each listener by their name and bring their own tailored content to them."
Last year saw a huge spike in demand for podcasts and audiobooks, but traditional audio production methods are costly, time-consuming, and extremely difficult to personalize and scale, putting them out of reach of marketers with sliced budgets post-coronavirus.
Even some market leaders are yet to launch text-to-synthetic voice tools that would allow marketers to quickly personalize audio content for mass audiences.
That is where the solution offered by Aflorithmic comes into play as it automates the entire audio production process, including text-to-voice.
The service makes it possible to produce realistic and beautiful podcast-quality audio—all without any previous production experience.
The content can be spoken in the user's own cloned voice and then customized to each individual listener, with the audio text adapting to their name, location, experience, and more.
The final product can be delivered to any device or platform such as websites, mobile apps, or smart speakers.
The company, which was established in 2019 and is based in London and Barcelona, has already proved itself as a force to be reckoned with and is earning the trust of investors.
This week, the startup announced in a press release that it has raised a $1.3 million seed round from Crowd Media Holdings, an Australia-based company focused on social commerce and marketing.
"We are excited to learn from Crowd's experience in empowering companies to reach mass markets, and are pleased to accompany them as they define the future of social commerce," says Timo Kunz, co-founder and CEO at Aflorithmic.
As part of the investment agreement, Aflorithmic's technology will be integrated with Crowd's social commerce applications, including an AI-driven chatbot that helps customers have useful conversations across the marketing, education, and health sectors.
"Synthetic audio production has a seemingly endless range of functions. The potential within marketing applications alone is mind-blowing. Imagine Kim Kardashian being a personal shopper for each of her 200m followers or Lewis Hamilton explaining why YOU personally need the new Pirelli P Zero Rosso. All of this is just around the corner with our tech," Kunz explained. 
Crowd Media's Chairman Steven Schapera believes the partnership paves the way for the translation of the most recent advances in AI research into commercial innovations that will completely reshape the way consumers engage in e-commerce. "This is the silver bullet Crowd was looking for."
While Crowd is focused on social commerce applications, the Aflorithmic team is working with companies from a range of industries, with use cases including personalized children's stories narrated with the voice of a family member or celebrity of their choice, hyper-personalized newsletters and podcasts, and voice cloning for marketing applications.
The new funding will be used for R&D for the API audio-production engine, voice cloning, and talent acquisition.