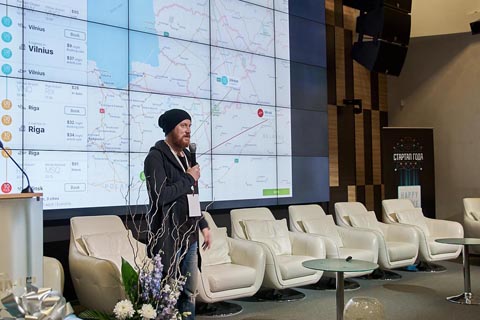 ---
Belarus is notably one of the hardest places to visit for most foreign citizens due to its convoluted visa requirements, yet, it is there in the capital, Minsk, where a group of wanderlust entrepreneurs started Eightydays.me to fill a much needed niche in the European travel market: cost-efficient multi-city trips.
With a light and user-friendly interface, Eightydays.me is capable of finding much more interesting itineraries from point A to point B using a combination of air, ground, and sea transportation, with the do-it-yourself spirit of modern travel at the heart of the application.
For the same price as a major carrier would take you from Paris to Milan, you could book a series of smaller trips along the French Riviera and stay at Airbnb flats — the ultimate freedom of a self-planned trip based on smart suggestions.
The company was named Startup of the Year 2016 in Belarus. Currently in a working beta for desktop and iOS, the app lets you enter your starting point and end destination to set up an interesting itinerary of up to six cities for you. You can ask for a shuffle several times, or take what you want from the suggestions.
Their emphasis on direct, close-to-destination flights is particularly useful: savvy travelers can relate to the disappointment of spotting a great fare to see the Louvre only to discover it arrives at 2AM to the tiny airport located halfway between Paris and the English Channel.
The booming trend of "travel hacking" has spurred interesting services like AZair.eu and the controversial SkipLagged, which managed to make some airlines very angry. Eightydays.me sets itself apart from the crowd with a simple idea: having a good time is a priority, and hassle-free trips make that so much easier. There is no need to disregard the human side of travel during the planning stage.
The Belarusian startup makes this energy-saving objective clear with the enthusiasm only entrepreneurs who are passionate about their work can boast; after all, the website aims "for you to stay fresh and in a good mood during exciting multi-city trips."
Isn't that what we all want?