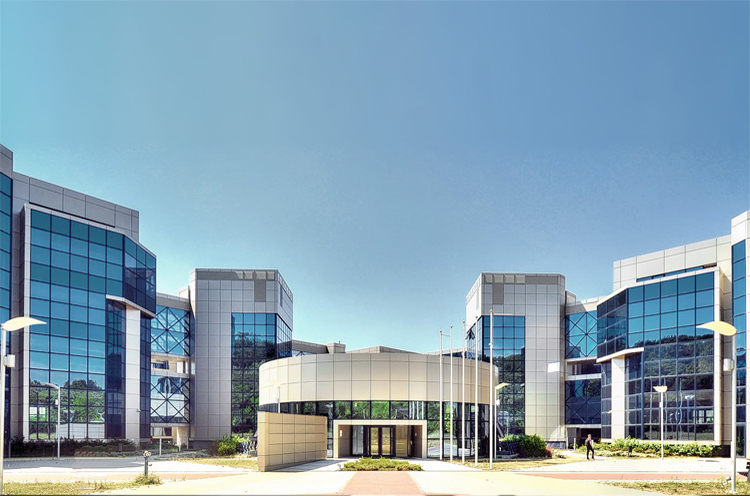 ---
Opened in 2015, Serbia's first Science and Technology Park is a joint endeavour in collaboration with the Government of the Republic of Serbia, the City of Belgrade and the University of Belgrade. Its construction began in 1989 and was halted during the nineties however the park has since flourished into five buildings and twenty levels spanning over six hectares of space.
In 2010 the European Investment Bank agreed to the provision of a 200 million euro loan for the Serbian government in order to aid the growth and development of public research. The park has since become a hub of innovation for the Balkan country and a space for co-development and networking across a variety of promising startups of which there are over 37 utilising the park so far providing work for more than 500 engineers.
The funding that was provided to the Serbian initiative is part of a larger Economic Resilience Initiative project funded by the European Investment Bank. Backed by the European Council, this has channelled money into the West Balkans and Southern countries that line the European Union in a bid to support areas that have felt an element of crisis. Supported by Croatia, Italy, Lithuania, Luxembourg, Poland, Slovakia, Slovenia and the UK it is through this funding that the European Union aims to help countries struggling with migration and the pressures placed on infrastructure from the Syrian Refugee crisis. By providing access to extra funds, the initiative hopes to boost the economy of these countries, enhance job creation as well as support the growth of the private sectors.
Since its launch, the park has ballooned into a promising place to tech development. Just last month, the parks central team visited Barcelona and signed MoU with La Salle Innovation Park, which aims to boost the partnership of supporting entrepreneurs and startups scaling their businesses across the two countries. The park also boasts a place for educational visits and support for younger generations across Serbia to delve into the tech and science sphere. Recent announcements from the park also highlighted the three-day training opportunity for business development hosted by the Early Development Program and the Innovation Co-Financing Program which brought together companies from all parts of Serbia to develop business strategies and financing.
The texture of Serbia's startup scene continues to flourish as the area brings together technology's top minds and a space open to innovation. Belgrade is now home to successful companies such as Strawberry Energy and Car:Go to name just a few, and with further investment and support from giants such as the EIB, the Serbian startup ecosystem is certainly one to watch.