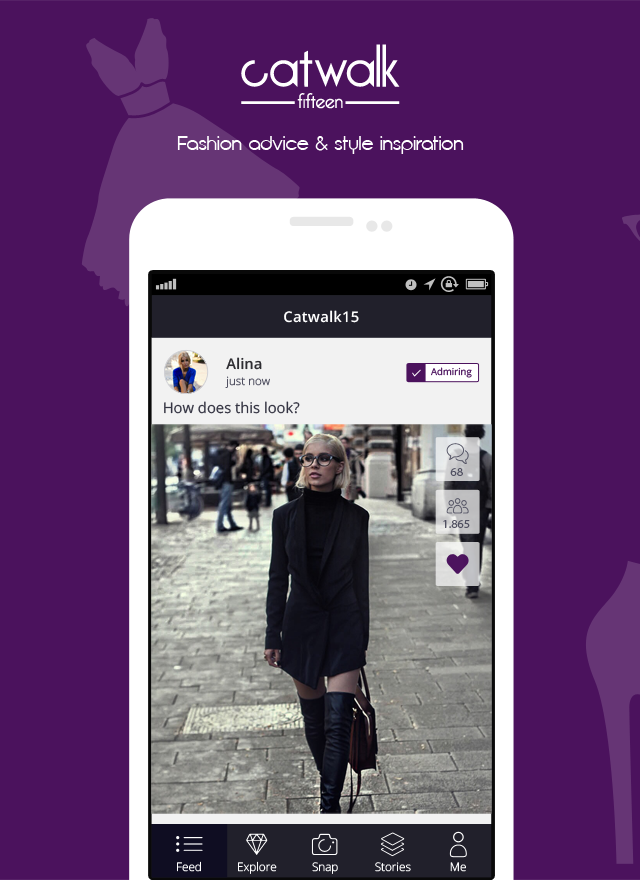 ---
Society has always been keen on fashion. We rarely go shopping alone because we seek ideas and validation on what fits us best. Catwalk15 has made a step further into this as they help users get instant fashion advice & style inspiration anytime, anywhere.
The process is simple. You take a photo of your outfit using your mobile phone, upload it on the platform and ask a question. The community offers feedback by adding comments or providing suggestions in maximum 15 minutes. There is also the alternative of following other users, seeking for fashion inspiration or opting for fashion advice.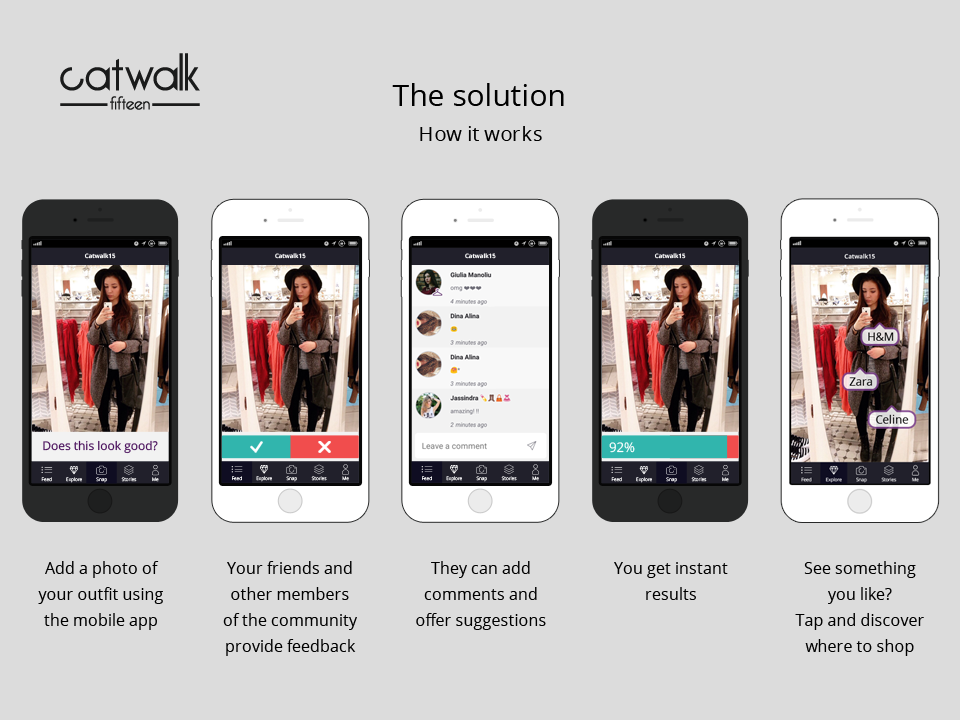 Catwalk15 has quite some traction: 4k+ organic users, 16k+ outfit captures uploaded and 750k+ expressed opinions on those outfits. To be more specific, in the last week they had 100 active users that exchanged over 3.5k opinions through the app.
Their competitors are Pin&Tucker, Looks Good on Me and WeStyle App. These and also other dedicated apps and substitutes such as Facebook and Instagram simply do not offer instant or specific feedback, which is crucial for people looking for a second opinion.
"Our competition only makes it easy for users to ask for advice. We also focus on getting that precious advice back to the user. Our approach is to make it easy for people to receive advice & follow up on it. And this makes us different: we work with fashion bloggers & style advisers from day. They have credibility and their opinions matter. That's the kind of fashion advice people are looking for", founders say.
The market for mobile advertising reached $31 billion, registering a 75% increase in comparison with the previous year.
Their revenue model is based on  affiliate marketing model & native advertising. When users see an outfit they like, they can tap on the image and browse through similar items which are for sale. A commission is then retained from each transaction enabled by the app. They target millennials, the largest generation with 2.5B people.
Catwalk15 hasn't received any investment yet.
The team is based in Cluj-Napoca, Romania and its made of Mark Filipas, Co-founder & CEO, Marius Jumolea, Co-founder & CTO and Alina Ceusan, fashion adviser recently named Blogger of the Year by Fashion TV.
You can find out more about this startup by following them on Twitter and Facebook.