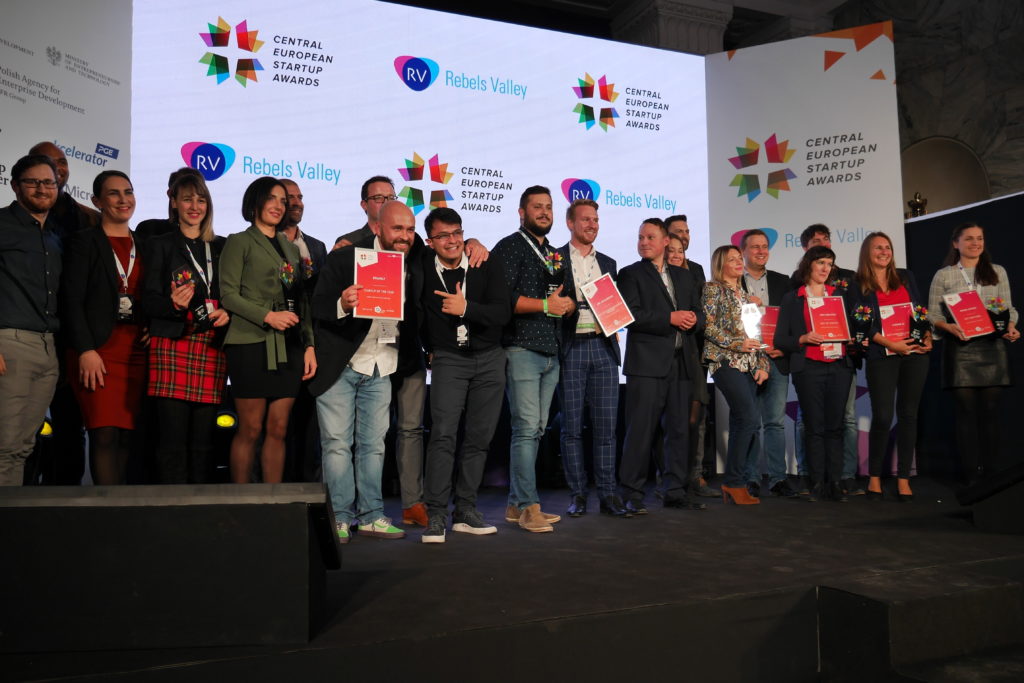 ---
Taking place in the heart of Europe in Warsaw, Poland, last nights's Central European Startup Awards (CESA) Grand Finale kept the region's most exciting entrepreneurs on their toes.
With a series of activities from daytime networking, an awards ceremony and a much anticipated after party, the 'futureshapers, the makers, the dreamers, and powerhouses of the CEE startup ecosystem' had the chance to reveal their tech potential to the entire European region.
The Central European Startup Awards form part of a much larger independent startup-ecosystem competition called Global Startup Awards, which covers 52 countries in five regions. Spanning across Europe, Asia and Africa. It is a vast startup community that supports some of the most exciting entrepreneurs and tech ideas to emerge this year.
Yesterday evening's Grand Finale came after an in-depth search for CEE's best, and most pioneering, startups in a process that started in May earlier this year.
The hunt for startups on different verticals and maturity levels, investors, acceleration programs and even co-working offices were whittled down by a select team of judges and public voting. The best contenders were handpicked from 14 categories in 10 Central-Eastern European countries in the regional finals who then continued onto today's grand finale. After a day of invite-only networking opportunities, the evening was geared towards displaying the best the colourful region has to offer, and the exciting entrepreneurial spirit that can be found there.
Among the contenders that won awards at yesterday's ceremony, Slovenia's ABC Accelerator programme was selected as the Best Accelerator and Incubator Programme. Based in Silicon Valley and also Slovenia, the accelerator offers a three-month expansion programme which prepares startups and entrepreneurs for entry into the global markets. The organisers have committed to a cross-border initiative and specialised international team which helps to connect startups with foreign investors in Italy, Austria, Germany and all Ex-Yugoslavian countries.
One of the other sections of the evening was dedicated to the female entrepreneurs of CEE's tech scene. This year, the award was given to Czech engineer, Dita Prikrylova. Founder of Czechitas, Prikrylova's non-profit organisation is working to inspire and educate women and young girls across the country through a number of programming, web development, graphic design or data analytics education programmes. Through the workshop programme, coaches and course alumni are also on hand to support and inspire the next generation of CEE's female tech specialists.
''We write the stories of women in tech from their very beginning. We help them find their way into tech, motivate and educate them'' – czechitas.cz
If you're on the hunt for the region's best co-working space, CESA has located that in the form of Puzl CowOrKing, Bulgaria. No longer does the group need to identify itself as 'arguably the best co-working space,' it has been handpicked over all of CEE's co-working spaces to take the final prize. Based in Sofia, the group are also soon to be expanding to Bucharest and Budapest, the eighth reason that the co-working space is the best for CEE's entrepreneurs is that ''some people like walking barefoot here. We let them.'' Jokes aside, the location is fitted to meet the needs of every pioneer and every tech initiative in a beautiful location and surrounded by like-minded people.
A full list of yesterday's winners can be found below.
Best Accelerator And Incubator Programme
ABC Accelerator / Slovenia
Investor of the Year
Speedinvest / Austria
Best AI / Machine Learning Startup
Turbine.AI / Hungary
Female Role Model of the Year
Dita Prikrylova / Czech Republic
Best Coworking Space
Puzl CowOrKing / Bulgaria
Best Blockchain Startup
Blockpit GmbH / Austria
Best PropTech Startup
Spaceflow / Czech Republic
Best Social Impact Startup
MultiplexDX s.r.o. / Slovakia
Best Biotech Startup
GenePlanet / Slovenia
Best Fintech Startup
Instant Factoring / Romania
Best IoT Startup
1000 realities / Poland
Founder of the Year
Alexandru Iliescu / Romania
Best Newcomer
InSimu Patient / Hungary
Startup Of The Year
Brainly / Poland
People's Choice
HUBBIG / Croatia
Held at Warsaw's prestigious Palace of Culture and Science, a landmark cultural and office space in the heart of the city, the evening was one of celebration and excitement. CEO of CESA, Péter Kovács recently said "our mission is to find and connect innovative entrepreneurs and their ecosystems all over the world, and to create a global platform where futureshapers can make fruitful connections with each other.'' This evening certainly managed to achieve that. In the next few weeks, 150Sec will be catching up with the winners to find out more about their experiences of the evening and what their areas of speciality have to offer