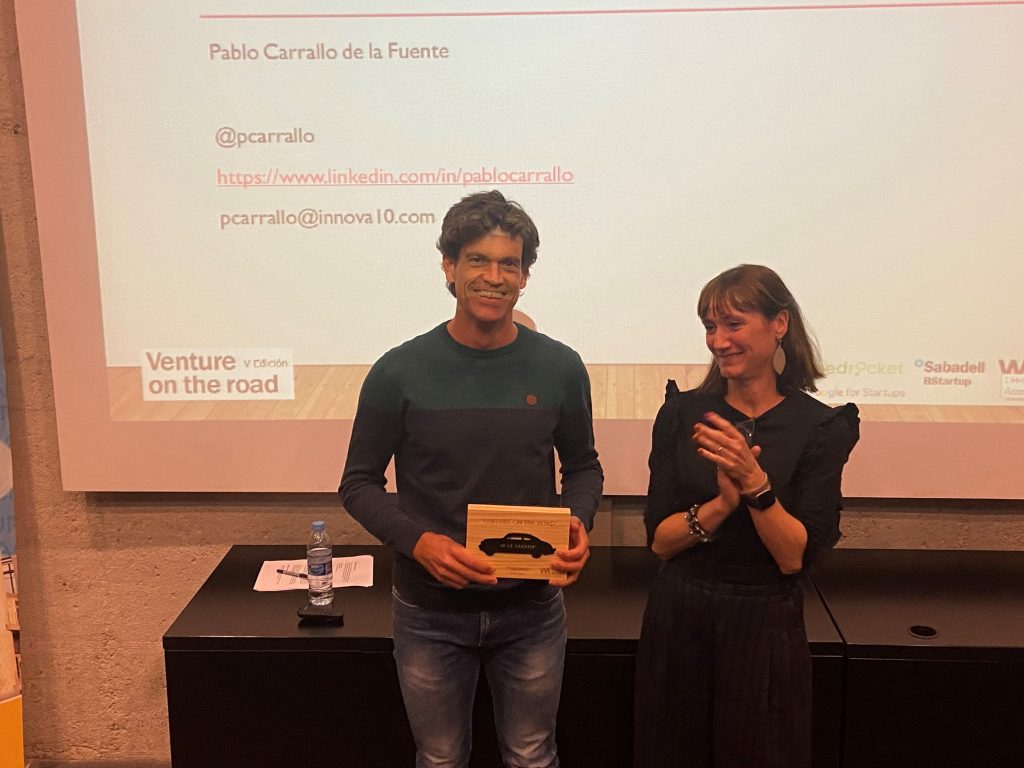 Events
---
This article was originally published by Bianca Damiano on Novobrief, an Espacio partner publication.
Venture on the Road, the event organized by BStartup of Banco Sabadell, SeedRocket, and Wayra, has a new winner. ClimaticCo, the sustainability software for e-commerce, championed this second stop of the event in the Region of Murcia, which recently took place in the city of Cartagena.
This climate tech startup already has a place in the national final. It will also be part of Google Cloud's digital natives program with up to $10,000 in credits valid for 9 months and technical follow-up with Google Cloud engineers. They will also have preferential access to advanced training from Google Cloud Platform's Google Cloud Platform training programs
This second stop of Venture on the Road was held at the European Business and Innovation Centre of Cartagena (CEEIC) and had the experience and knowledge of the local ecosystem thanks to the European Business and Innovation Centre of Murcia (CEEIM), Instituto de Fomento de la Región de Murcia, and Acho Valley.
The finalist startups
● Bioprocesia: a startup that converts agri-food by-products into high-value protein for producing healthy, sustainable, and circular feedstuffs rich in protein and essential amino acids, increasing their shelf life.
● Biuwer: an embedded Analytics platform that allows SaaS companies and software vendors to create data visualizations (graphs, dashboards, indicators, maps, tables, etc.) and integrate them into their own applications.
● ClimaticCo: a SaaS that can be easily integrated into 90% of Spanish eCommerce and performs a dual function: calculating and offsetting the carbon footprint generated by the transport of their shipments, and displaying messages to shoppers about the brand's commitment to sustainability.
● Hausera.io: a savings and investment platform in the real estate sector through real estate tokenization. It allows small savers to optimize their money and invest in the real estate sector with tickets from €100.
Next stop: Bilbao
After its last stop in Cartagena, the roadshow will travel to Bilbao on February 16th, where it will be held for the fourth year. The event will take place at the headquarters of Lawesome, in Gardoki Kardenalaren Kalea, 1, 3rd floor. Basque startups wishing to register for the event can sign up until February 6th on the Venture on the Road website.
The national final is coming
The final will be held on June 15th in Madrid. The winner of the final of the VI Venture on the Road will receive as a prize specialized advice in finance or marketing worth €3,000 offered by BStartup, participation as a guest project in the SeedRocket Entrepreneurs Campus, and a 6-12 month space in Wayra's offices, as well as access to its workshops and training sessions.
In addition, the final winner of this VI edition will have access to Google for Startups Campus Madrid for 6 months and can access 2 mentoring sessions with the Google for Startups team to identify possibilities of support for their growth.