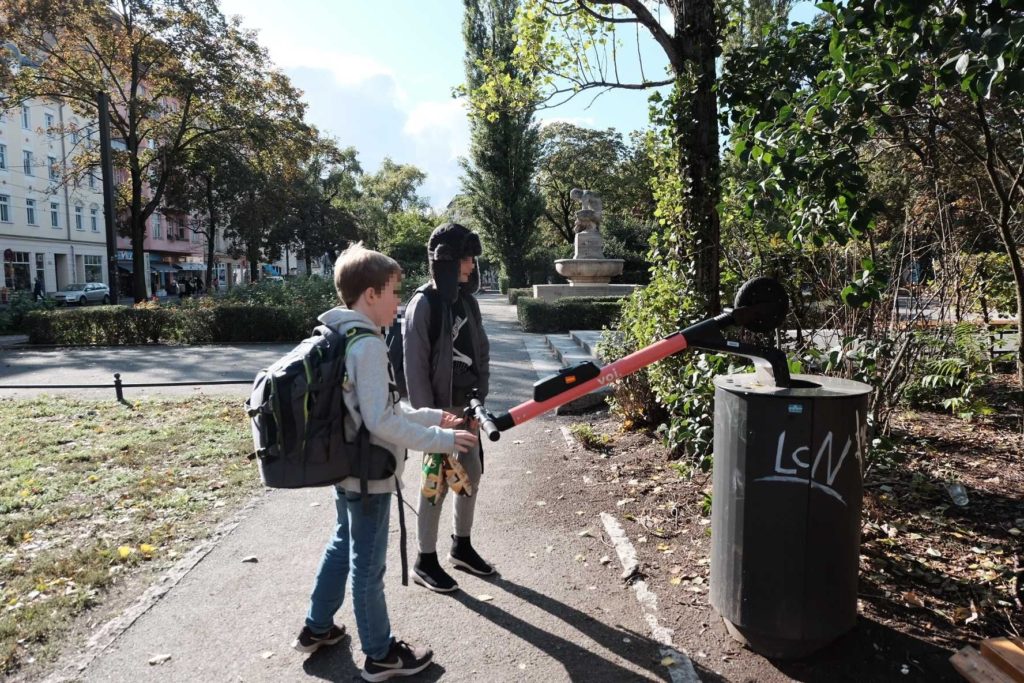 Featured
---
Within the past 2 years, a wave of e-scooter operators has emerged in European cities. In Paris alone, 12 scooter rental platforms have launched. With the flood of these micro-mobility scooters hitting European streets within such a short timeframe, problems have emerged and regulation is yet to catch up.
In 2017, US startups Bird and Lime kicked off the meteoric rise in the use of e-scooters when the operators launched dockless electric scooter rental services stateside. European startups soon followed, arriving at a time when Europe was paving the way for greener mobility.
"The global scooter market is expected to reach a market value of between $300 and $500 billion by 2030."
By 2030, the global scooter market is now expected to reach a market value of between $300 and $500 billion.
In Europe, operators such as MyTaxi, Tier, Wind, Voi and Circ have emerged. American operators such as Bird, Lime and Uber have also piled into the European market. The increase in  micro-mobility services has dramatically boosted access to public transportation. The scooters have helped to reduce the number of cars on the road and thus the environmental footprint associated with fossil fuels. Not to mention, e-scooter rental is far more cost-effective and convenient for short trips than taking a taxi or bus. However, it hasn't been without its problems.
Lack of infrastructure
Thousands of e-scooters descending on the streets of Europe have made for an unruly experiment. The more pressing issue is that European cities were not built to accommodate this form of micro-mobility transportation.
Wider bike lanes and adequate parking are necessary to provide a safer environment for e-scooter use. In an interview last year, Alexander Jung of sustainable transport think tank Agora Verkehrswende addressed the issue. Whilst welcoming diversity in transport options, Jung called for a need to 'improve cycling infrastructure' in order to accommodate both bicycles and e-scooters.
More scooter-related accidents
Although a driving license is not required to ride an e-scooter in many European countries, some users who have misused the scooters have had their licenses revoked. The drunken escapade of a Swiss man, as well as a rider in Germany, led to just that consequence.
With this type of reckless behaviour, scooter-related injuries have been mounting. The extent of the problem is such that the head of Germany's National Association of Statutory Health Insurance Physicians (KBV) has called for the scooters to be banned. Andreas Gassen's belief is that anywhere the e-scooters are available, there are significantly more injured people. Meanwhile, the country's Road Safety Council is calling for the introduction of compulsory helmets on the basis that e-scooters are dangerous.
Elsewhere, Sweden's Minister for Infrastructure likened the rapid expansion of electric scooters on city streets to the creation of a mess. He underscored his view by calling for greater regulation.
A sustainable model?
The sudden burst of operators and scooters has raised serious questions over the sustainability of the scooter rental business model. As the market becomes more saturated with operators, the need for greater regulation threatens the longevity of scooter startups. However, the mass pool of operators is beginning to thin out. In fact, Paris has recently restricted e-scooter operator licenses in the city, proving that regulation can actually support the sustainability of scooters. Meanwhile, President of Lime, Joe Kraus, stated in an interview last August that he wasn't concerned over doubts surrounding the viability of the industry.  
The need for regulation
In the wake of the sudden scooter boom, regulation is undoubtedly going to take a while to standardise and be applied across multiple countries. Nonetheless, to prevent further injuries and to ensure the sustainability of the scooter industry, 2020 needs to be the year that the regulation is streamlined.
France has already put together a framework to regulate e-scooter rental platforms in cities. As a consequence of this framework, Paris introduced fines of €135 for users who endanger pedestrians. Similar measures have been applied to deal with improper parking of the scooters. Similarly, Swedish authorities have set out guidelines for the use of e-scooters, but this is still to be made into actual legislation. 
Next steps for regulators
As of yet, European authorities as a whole have failed to figure out regulation that adequately covers the nuances and broader implications of e-scooter sharing. However, one of the benefits of the discussions around regulation is that the flaws of the scooter industry have been fully exposed. Armed with this knowledge, regulators are far better positioned now to act.