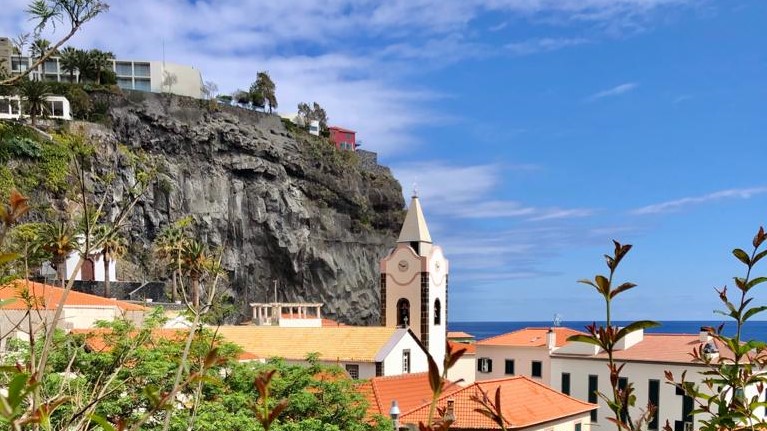 Featured
---
Some places around the globe have carved out such a special place in the hearts and minds of people in the digital nomad world that they are effortlessly associated with the best work-travel experience.
But a lesser-known destination is all set to dazzle location-independent professionals who are on the lookout for new opportunities that can take them on a ride to uncharted territories.
On the south coast of the Portuguese archipelago of Madeira in the middle of the Atlantic, a unique experience is taking shape that will give Europe its "first" digital nomad village.
Digital Nomads Madeira, which will open its arms to welcome nomadic professionals to a place of lush greenery and rugged mountains on February 1, is an initiative that has been quietly transforming the landscape of the municipality of Ponta do Sol over the past months.
A joint effort between the regional government of Madeira, Startup Madeira, and globe-trotting digital nomad Gonçalo Hall, the village is beckoning those who would like to savor a breathtaking ocean and mountain view while getting their job done.
Gonçalo still fondly remembers the first time that he landed on the island and was captivated by its beauty, and he has no doubts its magical scenery has the power to cast a spell on all visitors, especially first-time travelers.
"I've been to Bali. I've been to Thailand. I've been to all digital nomad paradises. But when I visited Madeira, I was blown away and immediately saw the potential there. It's just stunning. It's incredible," he told 150sec in an interview, his eyes shining with admiration for this hidden treasure trove of amazing sights and resources in his home country.
He says it frustrates him that not many people know this island group, which is located around 1,000 km from the European mainland and just 500 km from the African continent.
It was Gonçalo who mooted the idea of creating a digital nomad village in Madeira at a conference last year, which was inaugurated by the Portuguese economic minister and attended by a number of other high-profile officials.
"I told them they should take the opportunity to bring remote workers to the island and make it a source of revenue. My proposal did not seem to make much sense at that moment, but the next day I was speaking with the president of Madeira. And I was hired to work with the government there to promote the island," he recalled.
Remote work has always been dear to Gonçalo's heart and he believes there is a need for more initiatives to support the location independent movement, which is gaining widespread traction amid the coronavirus pandemic.
Gonçalo has contributed his share of work toward this end through launching a wide range of projects, including Remote Europe, Remote Portugal, Future of Work conferences, and the Remote Work Movement podcast series.
He is also sharing his knowledge and experience with companies and individuals as a remote work consultant.
According to Gonçalo, a focus on bringing locals and digital nomads together to create a strong community feel lies at the heart of the nomad village that is being developed as a pilot project.
"All our partners are locals. We have partnered with different local businesses such as real estate and rental car companies. The goal is to help the local community benefit from the social and economic impact that such an initiative can have," he said, adding that a lot of fun events are being organized to create unforgettable memories for digital nomads and residents.
Flatio and NomadX, two of Europe's largest mid-term rental platforms, are contributing to the project as official strategic partners.
They offer a platform for rental properties throughout Madeira, including in Ponta do Sol, for local landlords who have private bedrooms, apartments, villas, hotel rooms, and co-living spaces for rent for two weeks to 12 months.
"For us it's all about having great local hosts for the digital nomad community who can help welcome them to the island and feel at home for affordable prices," says David Nicol Williams, co-founder, CEO, and chairman at NomadX.
Through the strategic partnership, their platforms are free to use for hosts and there is a 25% discount for all guests, according to David, who is acting as a global ambassador for the initiative and is promoting it through their social channels and community.
"We are actively looking for host inventory as there's a lot of demand," he said, adding that local hosts can register and help create a great community.
Gonçalo says a pleasant climate throughout the year and the relatively low cost of living in Madeira makes it a very appealing destination.
And it is not just him who is raving over this enchanting archipelago. Travel experts are also unanimous that Madeira should top everyone's bucket list.
Madeira, for the fifth consecutive year and the seventh time since its first participation, was recently crowned Europe's Leading Island Destination 2020 at the World Travel Awards, which is regarded as the travel industry's most prestigious awards program.
Gonçalo says the village can host 100 nomads at a time but close to 300 people have applied so far to work remotely from Ponta do Sol.
This is while he did no promotion apart from announcing the project on LinkedIn. Plans are underway to increase the number of spots available.
The first phase of the initiative will run from February 1 until June 30. The nomads will be accommodated in local houses and will be offered various incentives, including access to a Slack community, free working space, and exclusive events.
A number of measures are in place to help contain the spread of the coronavirus and keep visitors safe.
A minimum stay of one month is required as "it helps us build a great community", Gonçalo said, adding that, on average, applicants intend to spend two months on the island.
He says the village will be "Europe's first digital nomad village" and is the fruit of a first-of-its-kind public-private partnership in this field.
"There are two villages in Bulgaria and Germany that are being referred to as digital nomad villages, but they are not well-structured or designed for this purpose and do not have the support of the government."
He added that it is mainly countries that are being promoted as ideal destinations for slow-traveling remote workers "but I think the focus should be on specific places within each country".
If the project proves successful, Gonçalo and his partners hope to implement a second project in Madeira and similar initiatives in several rural areas of Portugal, which he says "has everything needed to become the top country in the world for remote working."
He also noted that he is interested in working with public and private players in Europe and beyond to give life to similar projects.
"I predict that Portugal, Croatia, Greece, Spain, and Cape Verde in the central Atlantic Ocean are going to be among the most sought-after digital nomad destinations in the near future," Gonçalo said.
Adventurous nomads who want to get a taste of island life in Ponta do Sol where the sun shines for more hours can register here and take the path less traveled that can open up new worlds of opportunities and experiences.