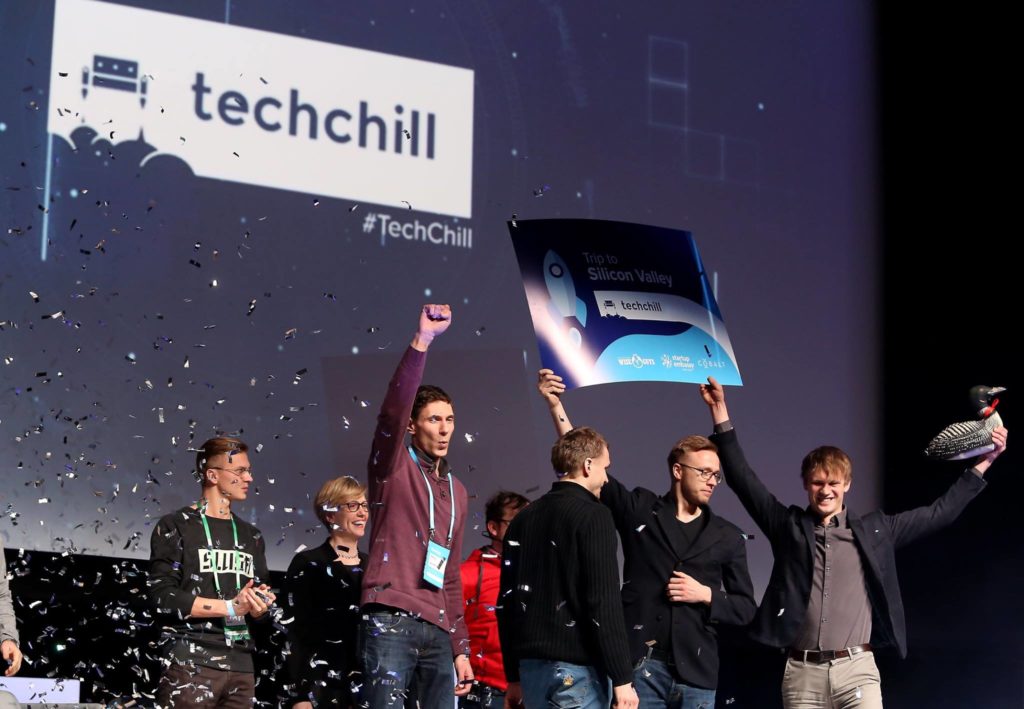 ---
TechChill, the leading tech startup community event in the Baltics with a global outlook, will host Fifty Founders Battle in Riga from February 8-9.
50 of the most promising and inspiring early stage startups from the Baltics, Nordics and Central Eastern Europe have already been selected to participate in the two day event held at the VEF Culture palace.
Founders will take to the LMT Founder Stage on day one to pitch their startup to an audience of international VC's, business angels, accelerators, media, and the official jury. The jury, comprised of several world-leading investors, will then select five finalists to battle it out on the Superhero Stage on day two, to compete for the €10,000 cash prize.
Fifty Founders Battle is presented by Google for Entrepreneurs and hosted in partnership with Microsoft Latvia and Startup Wise Guys. Startups also stand a chance to win prizes from these sponsors and partners including €20,000 in credits to the Google Cloud Platform from Google Entrepreneurs, Microsoft mentoring and Azur compute environment for the 5 finalists, a private year-long mentoring from PwC, consulting from Hedman Partners, and more prizes from Cobalt.
Hosted alongside Europe's leading B2B startup accelerator, Startup Wise Guys, TechChill is the biggest tech event in Latvia. There will be 100 speakers – including innovators, startup community leaders and investors. The event will provide startups with several opportunities to network with some of the top experts in their field.
The 50 selected startups to attend the Fifty Founders Battle next month are:
AdLaunch (Finland) AI assisted video creation and reversioning for programmatic video ads.
AlphaBlues (Estonia) is automating customer service with artificial intelligence.
AirBoard (Latvia) provides search and rescue, military and other mission-critical markets with a rescue air transport.
Anatomy Next (USA) is a human body simulator for doctors to practice in virtual reality.
Autolevi (Estonia) rents great cars nearby.
BASH!TODAY (Russia) helps to find a perfect venue for event organizers in 3 clicks.
BeScouted (Lithuania) connects freelancers and demand for mutual projects.
BudgetMatador (Estonia) helps managers spend less time, money, and mental effort on financial management.
CastPrint (Latvia) brings fracture treatment to the 21st century.
CEnOS platform (Latvia) helps industrial SMEs to afford improvement of their in-house product design capabilities and test designs prior to prototyping.
Digipulse.io (Latvia) is the first digital asset inheritance service.
Dine&Pay (Latvia) is all-in-one mobile payment app at restaurants with global loyalty partner.
Droidinex (Lithuania) creates relaxing games for mobile gamers who are stressed.
Finerium (Latvia) is an all-in-one investment management platform for early-stage VC industry.
Fractory.co (Estonia) is a one-stop-shop for manufacturing services.
GAUS (Moldova) is a better way to recruit millennials.
HackMotion (Latvia) provides quantified feedback on human body movement for athletes and coaches.
Hooves (Denmark) connects horses and riders.
Industrial Geodetic Systems R&D (Russia) offers HIVE — a virtual operator for ground GNSS reference station networks.
IngeniumEducation (Latvia) saves 90% of the time spent creating and grading tests for teachers.
IntelFlows (Estonia) provides actionable insights of the air quality in cities.
KLEAN (Latvia) provides an easy way for busy people to save time and book a cleaning service.
LOVAT (UK) is a software for B2B, which pays VAT & compliance in 40 countries automatically.
Minespider (Germany) turns supply chain due diligence from a service that has to be performed into a commodity that can be purchased.
Ovao (UK) is the first most comprehensive virtual coach and sports tracker for swimmers.
Pomodone App (Lithuania) is a productivity timer for your task manager.
SafeSack (Estonia) is the world's most advanced backpack equipped with fingerprint unlockability, GPS, Bluetooth, battery bank, flexible solar panel and built out of knife-proof fabric.
Seniorship (Estonia) is a web platform that offers internships for people aged 50+.
SensTone (Ukraine) helps busy professionals to save time by capturing and organizing their thoughts with a first portable voice assistant.
Silvere (Finland) values forests with the highest accuracy in the world.
Smart Load Solutions (Estonia) reduces the cost of electricity for households.
Smartsub (Belarus) is Google AdWords virtual assistant.
SmartVent (Estonia) creates self-learning centralized HVAC systems for small and medium-sized office buildings.
Snowision Original (Latvia) is a fully automatic system for smart snow management on Alpine ski resorts.
Solfeg.io (Latvia) helps music teachers to engage their students to learn music by playing songs they like together.
Soter Analytics (United Kingdom) reduces musculoskeletal injuries for industrial workers.
Squad Robotics (Latvia) converts existing manually controlled equipment into autonomous robots.
S-parking (Estonia) is always there when you are running late.
Tap2Pay (Estonia) allows you to make payments via your favorite messenger app in 1 tap.
Tripalista (Germany) enables passionate travelers to explore, plan and share trips.
TwocanPlay (Lithuania) proposes an offline game for kids and teenagers.
UpMatched (Latvia) offers engaging messenger robots that screen leads for the employers.
Vartus (Latvia) is a real estate internet platform for Eastern Europe and the Baltic countries.
VideoDone (Latvia) edits iPhone/GoPro footage for travelers, families, and business into videos with help of PRO editors.
Watts Future Technologies (Russia) rids the world of wires.
We Openly (Estonia) is a search engine/API to find all government services online in a single place.
WiDE (Latvia) is a customization software for making 3D printable prosthesis and orthosis.
Winmill (Latvia) develops computer vision aided robotic systems for sports.
Zeew (Latvia) allows business to ship products instantly to their clients.
3DC.io (Estonia) is the easiest 3D design platform for mobile devices.
"This year startups showed a significantly higher interest in applying for techChill pitch battle," said Egita Polanska, Head of Startup Recruitment at Startup Wise Guys.
He added that this may be due to "the new application format for the Fifty Founders Battle – where half of the startups are recommended and handpicked by ecosystem partners, co-working hubs, accelerators from the nearby region".
Included in this list of finalists are many particularly high quality startups, which is sure to make the event both exciting and challenging, especially for the jury.
With over 2000 people expected to attend the event, this years Fifty Founders Battle is not one to miss.