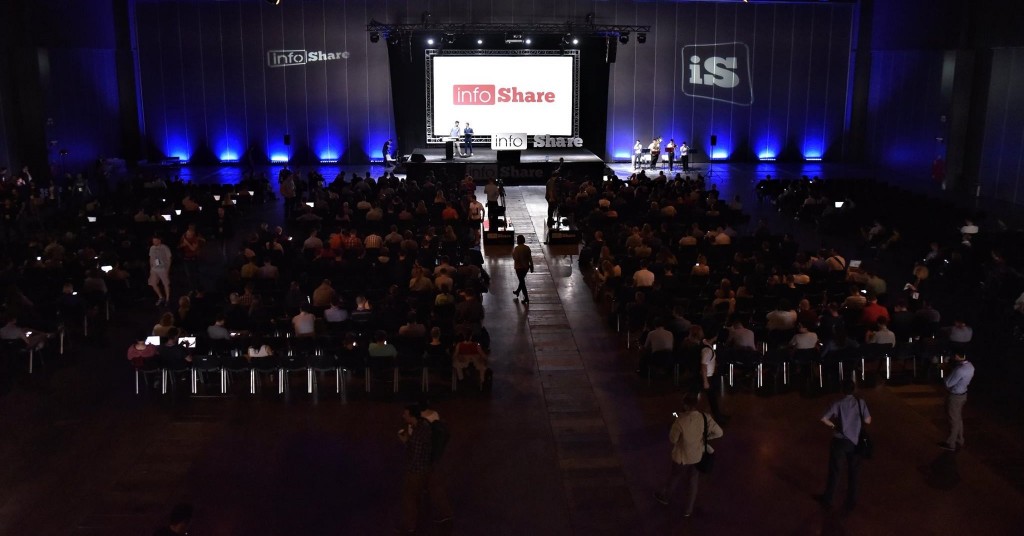 ---
Over 5,000 participants, more than 100 international speakers, 20,000 Euro for the winner of the Startup Contest, a chance to show your idea at the Startup Expo. Don't miss infoShare 2016 – the biggest tech & new media conference in the CEE region.
For the 10th time the technology industry and business will meet in Gdansk, Poland from 18th to 20th of May in Amber Expo – the biggest expo center in Tricity. For 3 days we will hold exciting lectures, workshops and panel discussions on five stages: Inspire, Tech, Startup, Workshops and Leaders. Jon von Tetzchner – the creator of the Opera and Vivaldi web browsers, Kevin Goldsmith – Spotify's CTO or Thijs Feryn from Combell are among more than 100 international speakers at this year's conference. We expect at least 5k participants from all around the world. Additionally over 250 exhibitors will showcase specialized applications and modern IT equipment in the expo zone.


Beside the official part the conference program includes numerous side events. Among else, InfoShare On The Boat – a boat trip on the Gdansk Gulf, Leaders Event – a dedicated event for entrepreneurs, investors and managers at the Energa Gdańsk Stadium or the Great Networking Party with a live concert. These will provide an occasion for exchanging experiences and business cards.
If you are interested in technology trends, software development, innovative business, digital marketing or startups & entrepreneurship – register for the infoShare conference today at: www.infoshare.pl.
"It all started in 2007 when he and three friends have found it worthwhile to create the opportunity for technology focused community to share the knowledge and experiences. We decided to organize an event where we can talk about the practical aspects of our work and get to know each other better. It started with a small local edition for friends. Last year, we came up to 4,000 participants. This year we will also present experts, leaders, founders who succeeded to inspire others. – says Grzegorz Borowski, CEO of infoShare Foundation.
Startup Zone
Another integral and crucial part of the conference is the Startup Zone organized by the infoShare Foundation and STARTER – with the famous Startup Contest which attracted 160 young companies from Europe in 2015 only. All startups are welcome and can register for verification up till April 6th.
[optin-cat id=2515]
What is Startup Zone and why you just can't miss it?
Startup Contest – Get a chance to pitch on the Main Stage and win 20,000 Euro in cash plus up to 1,000,000 Euro in possible investments. Grab countless business contacts, money and fame!
Startup EXPO – Show your project in front of thousands of potential clients and business partners.
Speed Dating – Meet international investors and present your project on F2F meetings. Our digital network system will help arrange your schedule.
Startup Stage – Learn from the best how to build a global startup. Meet successful people and get inspired by their stories.
According to Cathy White from the Seedcamp "If you're successful, a competition such as infoShare is a great way of getting the attention of the media and the interest of investors. If you don't win, you still get the benefit of pitching, and for every pitch you do, you'll change and alter your presentation. Think of it as practice."