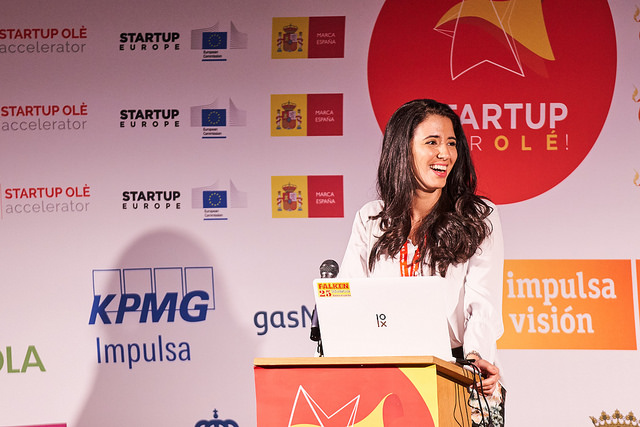 News
---
In just over one week, the western Spanish city of Salamanca will yet again play host to the fifth annual entrepreneurial and technology gathering, Startup Olé.
Backed by a plethora of international bodies such as the European Commission, the city's San Blas Auditorium will welcome over 30,000 entrepreneurs, investors and speakers from near and far. And for those who are in the city, there certainly is no excuse as attendance is absolutely free.
Taking place between March 26 and 28, this year is anticipated to bring even more visitors than previous years and as well as host exciting VIP guests who are supporting the country's entrepreneurial development. But besides that, this year's editions is different through its decidedly social and humanitarian mission.
Focus on technology for the social good
There are many humanitarian crises taking place around the globe as well as increased pressure to address serious threats to the environment and the future wellbeing of generations. Technology is called on to play a huge role, if not a defining one, in overcoming global threats and also being able to support and help people in need, for instance, for fighting growing wildfires across the globe.
Solving such crises starts with awareness – and that's exactly what the organisers at Startup Olé hope to achieve. Throughout the event, a special focus will be placed on startups, technologies and businesses that can be used in humanitarian and social crises. Some of the best tech minds will be shedding light on artificial intelligence, cybersecurity, surveillance and even how technology support maritime rescue operations.
As well as boasting a startup fair, pitching competitions and matchmaking, attendees can catch a glimpse of round tables with investors and CEOs as well as evening celebrations throughout the event. This year, the event has also celebrated the launch of a Startup Olé app which, available on both android and apple, will provide users with real-time agendas, updates and the ability to even schedule meetings.
Playing host to the much-anticipated event, the city of Salamanca also deserves some exploring. Easily connected from the country's main airport in the capital of Madrid, visitors also have the chance to access flight discounts because of partnerships with Iberia and Renfe.
According to the event's website, not only is Salamanca considered one of the 'most spectacular Renaissance cities in Europe,' but also boasts orange and pink architecture that has led to it being dubbed 'La Dorada,' (the Golden City). Its old city is a UNESCO World Heritage site and attracts visitors from around the globe.
However, its facades of golden sandstone do not only display its rich history, but also an astronaut hidden among its intricate carved images – a symbolic foreboding of Salamanca's tech-affinity.
Aimed at bringing startups together with investors, corporations, administrations, education bodies and even media partners, last year StartupOlé also welcomed His Majesty King Felipe VI and the President of the Portuguese Republic, Marcelo Rebelo de Sousa.
Now, anticipated to be almost three times the size of last year's attendance, one must wonder whether more royal appearances are on the cards. As well as securing hefty funding, last year a selection of startups were also able to pitch their ideas in front of the royalty and leading politicians, opening up the floor for but further growth within Spain's entrepreneurial circles.
Spain continues to be in the running as one of Europe's most pivotal entrepreneurial scenes. which is only enhanced by events such as the upcoming Startup Olé. With El Pais recently writing about Madrid's stunning rate of growth in the last five years, as well as investment opportunities only growing in the capital, Spain already holds a firm place in Europe's growing army of startups and tech specialists who are giving Silicon Valley a run for its money.
Startup Olé will be held from March 26 to 28

For more information and the full program, please visit the program website