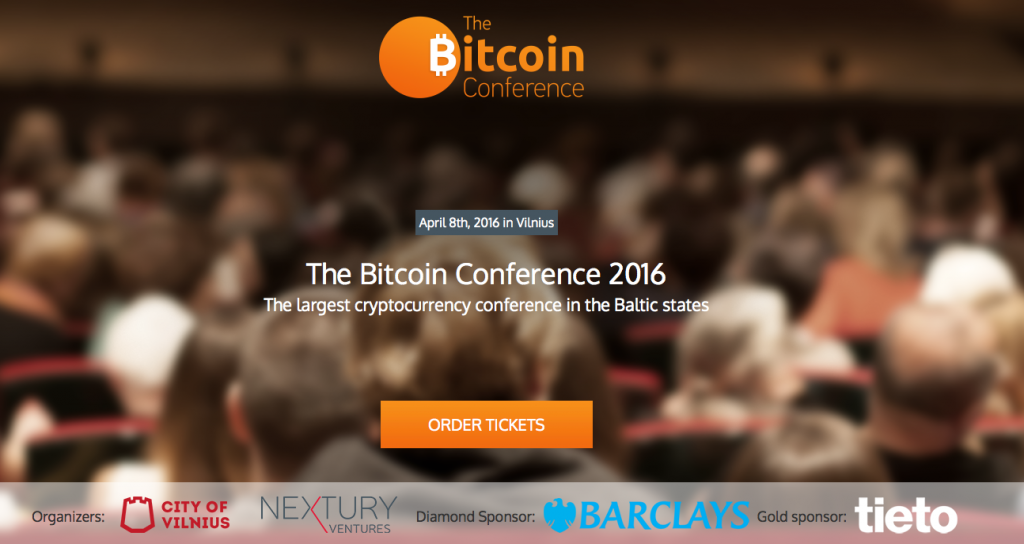 ---
On this Friday, the 8th of April, Vilnius will host a largest cryptocurrency conference "The Bitcoin Conference 2016" in Baltic states, which is organised by venture capital fund Nextury Ventures, in association with Vilnius City Municipality.
"Lithuania in general and Vilnius in particular are becoming a center for international financial innovation. The R&D sector has already seen the arrival of such serious players as Barclays and Western Union. We think that technologies such as blockchain, cryptocurrency, and bitcoin are among the latest and most exciting financial innovations. Lithuania and Vilnius have serious intentions to invest into breakthrough in this area and to become a leader on the regional and global scale,"says Marius Skarupskas, Vice-Minister of Economy of the Republic of Lithuania.
The Bitcoin Conference 2016 will take place at ISM University of Management and Economics featuring US investors, experts, practitioners, start-ups, and officials.
The main goal of this event is to show to the current and potential investors, that Lithuania is already an active innovator in the areas like blockchain and bitcoin, which later can transform in regional leading country of financial technologies. – says Ilja Laurs, chairman of "Nextury Ventures".
One day agenda will cover topics on:
– how to create an ecosystem favorable to develop cryptocurrency in general, bitcoins and blockchain technology in the Lithuania and Baltic region in general,
– the possibilities to invest in this area, the Lithuania, baltic and European Union view on the bitcoin and blockchain technologies,
– commercial and social innovations and experience on this subject.
One of the main speakers during the conference the founder and managing director of "Bitcoin Foundation" Jon Matonis also thinks that Lithuania has huge potential worldwide in new financial technologies.
More information on the conference to be found on the official website.