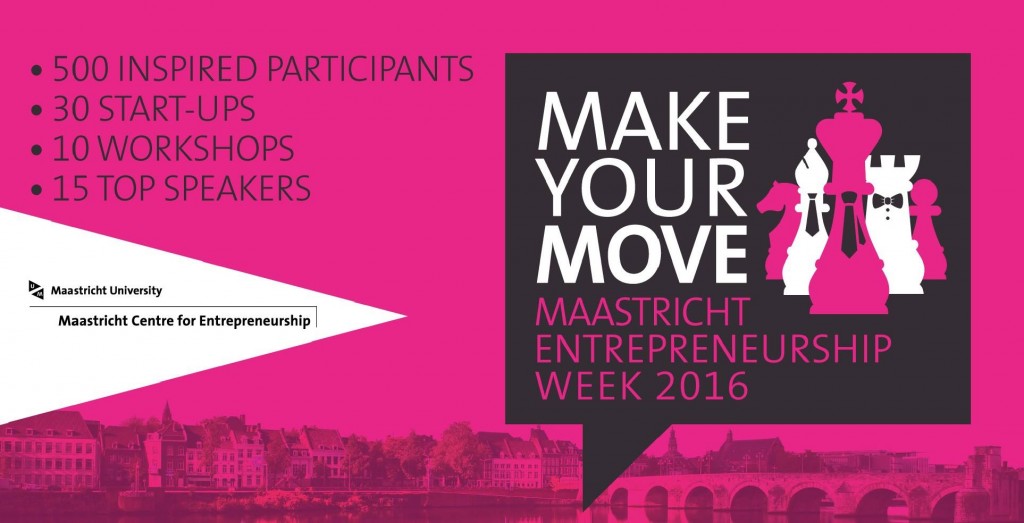 ---
Maastricht is a student city in the South of the Netherlands. You might think, why should it interest you? Because Maastricht Entrepreneurship week will take place on 9-12 May there. The topic is 'Make your move'. Why is it so? The mission of ME week is to inspire students to become catalysts of change as young entrepreneurs inspired by stories from professionals. They want to show and inspire students that it is the best time in their life to make a strategic career move and start up smart.
How are they going to be inspired? The first day will host, among others, a discussion by the co-founder of tech.eu Alejandro Barrera and the co-founder of The Next Web Patrick de Laive. The will focus on what are the steps to be taken by a young entrepreneur in the current disruptive tech and business environment. The day will finish with a dinner prepared by refugees thanks to a cooperation with Cook & Connect that aims to integrate refugees with the local community.
The next day will bring a 3D printing conference for business, organized in colaboration with MakerPoint Maastricht. It will include 3 deep dive workshops, pitches and invite students from design to show how design, technology and business can result in a succesful 3D printing venture. Wednesday 11th will be a career day, mailny for tech, IT and business students. Innovator Challenge will be held in paralell where students will be solving, presenting and pitching ideas based on a real-life problem that a company (to be announced) is facing.
Thursday is filled with talks and workshops, including one by Adrian Pica, the co-founder of 150sec.com. At the same time a pitching competition is organized in collaboration with Get in the Ring. 30 startups will compete in a professional boxing ring in battles that comprise of 5 rounds: team, achievements, business model, finance, freestyle. The winning team will get into the national final of the competition and a prize in kind.
Even though this is not a CEE event, young aspiring entrepreneurs from all over Europe are welcome to join. There are 20 speakers, numerous workshops, a 3D printing conference, an innovator challenge, a career day, a pitching competition, countless networking opportunities and obviously an after-party. Just when I am typing this there are 32 days left for the conference, so make your move and buy a ticket to get inspired!