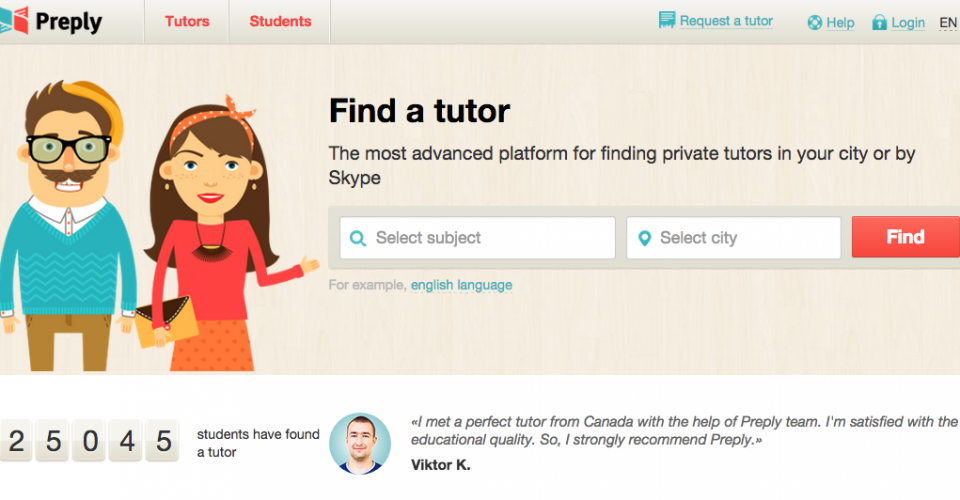 ---
Preply, the most advanced platform to find tutors, has new goals for 2016. Last summer Preply entered the acceleration program of TechStars in Berlin, which is one of largest US accelerators and received $120 000 investments, spent some months in Berlin and now acquiring european and international markets. 
Preply is a ukrainian startup founded by Kirill Bigai, Co-Founder and CEO, Dmytro Voloshyn and Sergey Lukyanov. All the co-founders are from Ukraine and have an office in USA, Russian Federation and in their home town, Kiev. However they got a really international team for a startup, the company having employees from Brazil, Canada, Mexico, Russian Federation and Poland. 
Some years ago one of the founders, Kirill Bigai, tried to find appropriate courses of English in Kiev, his home city, but it was not a trivial task. Thus Find Guru project was established for finding local tutors on different subjects.
"Unfortunately that idea was wrong, and in some months later in 2012 we started business in US as an auction of online tutors for ACT/SAT exams preparation. Name was changed to Preply. But not all users in US were ready to have online lessons, some of them preferred traditional offline form. Besides, we need too much money to successfully compete in the US market. So, we came back to Ukraine and CIS countries as a marketplace for finding both local and online tutors. In last case in worldwide scale." as testimonies for us, CEO of Preply, Kiril.
Preply is highly meticulous and careful to the teachers on the platform and this is one of the key features of tutoring. They know each of tutors and members of the team verify their diploma, to assure lack of fake accounts. If a user did not like the quality of the lesson, Preply returns 100% of the money, to protect its users and offer only high quality service.
Last year, they entered on new markets such as Poland, Germany and nearly month ago Brazil. They are now working hard to gain customers especially on the Brazilian market. It's a new challenge for most of the team members and they have to use all their skills to have success here. In future Preply aims to increase the number of available subjects for studying and to become one of the main worldwide marketplaces in the education field.
Right now, just during one month, more than 10.000 hours of lessons are taught on Preply. More than 53.000 users found tutors and improved their knowledge in different subjects, and about 20.000 registered tutors got the possibility to make extra money. There are tutors available for 27 languages, 13 of the most popular school subjects and lessons on acting, music, drawing.