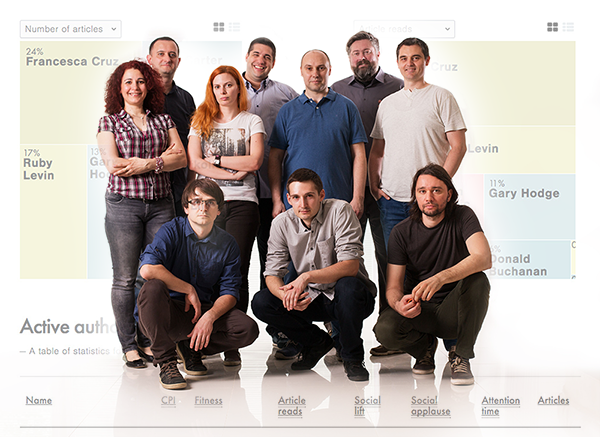 ---
Great news from Novi Sad: Serbian startup Content Insights just raised 1.1 million dollar investment from NBM fund, NEVEQ and Eleven. Now we can say that there are some guys with "a million dollar idea." So, let's hear more about the project and the team who made this huge step into the big league.
Content Insights is a web analytics service, which evaluates authors' online content and the impact (on social media, company's website, and blogs) that this content has after publishing. It is a useful tool specifically created for editors and publishers, to help them rank their authors. At the moment, users of Content Insights are bloggers, online publishers, news portals and many similar websites.
The idea to create such a system was born out of the necessity of Dejan Nikolic, one of the co-founders. At the time, he has worked on a website called Njuz.net (Serbian version of the Onion) and wanted to evaluate authors who contributed to the site correctly. Dejan wanted to prevent the trend where journalists have to write sensational articles to get paid, so he came up with unique metric to measure the impact of an article. He started with an Excel spreadsheet, gathered his friends and three of them started developing future service.
A year after creating the MVP, the three co-founders, Dejan Nikolić, Dragutin Miletić and Ilija Šuša were invited to join Eleven Accelerator Venture Fund, in Sofia, where they further developed their idea. By traveling to Bulgaria, Content Insights, before known as Author Insights, got a financial help, necessary connections, and feedback. They are now a company of eleven team members, which has it's headquartered in Sofia and development team in Novi Sad, Serbia.
One of many things that made this analytical tool unique is a compound metrics – CPI (Content Performance Indicator), which transforms all the data into one digit through a sophisticated algorithm. This technique is beneficial to the editors, who can simply read the report and detect critical fields and recognize changes in the content performances.
Remembering the beginning, Ilija Šuša comments on deciding to pursue a new idea. "There wasn't just one factor that convinced us to pursue the idea. We all wanted to try something new, and we didn't want all of the energy and efforts we put into the product to disappear. When you are an entrepreneur, your product is your brain child, and the more success you have, you get more motivated and excited to conquer all the obstacles."
[easy-tweet tweet="Serbian #startup #ContentInsights got 1.1m$ #investment from @northbasemedia @NeveqCapital @elevenbg" user="150sec" url="http://bit.ly/1MHvIho"]
Ilija is advising everyone who has an idea, to try to develop it because even if the idea fails it will leave you with an experience and contacts which are never useless. Ilija also said that the investment will help them grow on the European market and start preparing to enter the US market.