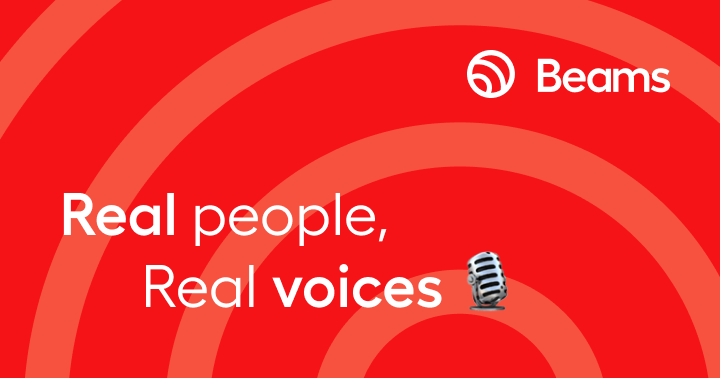 Featured
---
Beams, a new audio-based social media platform, has raised $3 million in a round led by US-based TheVentureCity to realize its vision of becoming the first choice for communities to share voice recordings on different topics and listen on the go.
The funding brings the company's total seed round to $6 million just about six months after its launch, according to a press release issued by Beams, which is based in Berlin but functions as a fully-remote team across Europe, the United Kingdom, and the United States.
The other investors in the latest round include Allbirds and Warby Parker early-stage investor Kal Vepuri, Elan Lee, co-founder of Exploding Kittens, and existing investors Mangrove Capital, Redalpine, and Wavemaker.
The social media landscape has recently been criticized for losing sight of the people that it serves. That is why Beams is radically transforming the space with its social voice app.
Unlike its rivals, users cannot follow profiles or get "likes." Instead, the platform builds communities around shared interests, with users sharing voice clips on a particular topic, at any time.
By removing the popularity contest of social media, the pressure is taken off of individual creators. This makes Beams more like a Reddit forum powered by short voice clips.
Users can post up to 90 seconds of voice recordings into groups, either in-app or on the web. Groups on Beams can be kept private for select people to add to conversations or can be open to everyone.
"Audio has finally arrived on the social media landscape, presenting itself as the future content format," said TheVentureCity's EMEA General Partner Andres Dancausa. "The opportunity to invest in a company that is already so far ahead in disrupting the emerging audio market is beyond exciting."
Beams is led by former SoundCloud, Spotify, and N26 employees who have a deep understanding of why people connect around voice and have helped shape some of today's leading tech and audio products.
Previously, they built digital audio experiences for internationally renowned artist JR. The art installations that were created documented over 3,000 voices telling personal stories presented at San Francisco's MoMA, New York's Brooklyn Museum, and a TIME cover story. 
Thanks to the team's deep and diverse expertise, Beams has grown to host more than 5,000 topic groups, including groups featuring thousands of members.
"Today, when divisive content easily goes viral on social media, many people are longing for places that embrace sharing and listening to diverse voices and views," said co-founder and co-CEO Alan Sternberg.
He added that they designed Beams to make it easier to create and participate in real conversations through a collaborative short audio format. "Listening to real people, through real voices, helps all of us better understand what is unfolding around us in society. That's the magic we already see Beams creating."
Judging by the number of companies building social audio apps, it seems short-form audio content that can be delivered in an easy-to-consume format is gaining widespread popularity.
And it seems that Beams, with its new round of funding and a growing community of thousands of topical groups, is fast positioning itself at the vanguard of the new social media era defined by authenticity and connections.
Disclaimer: This article mentions a client of an Espacio portfolio company.