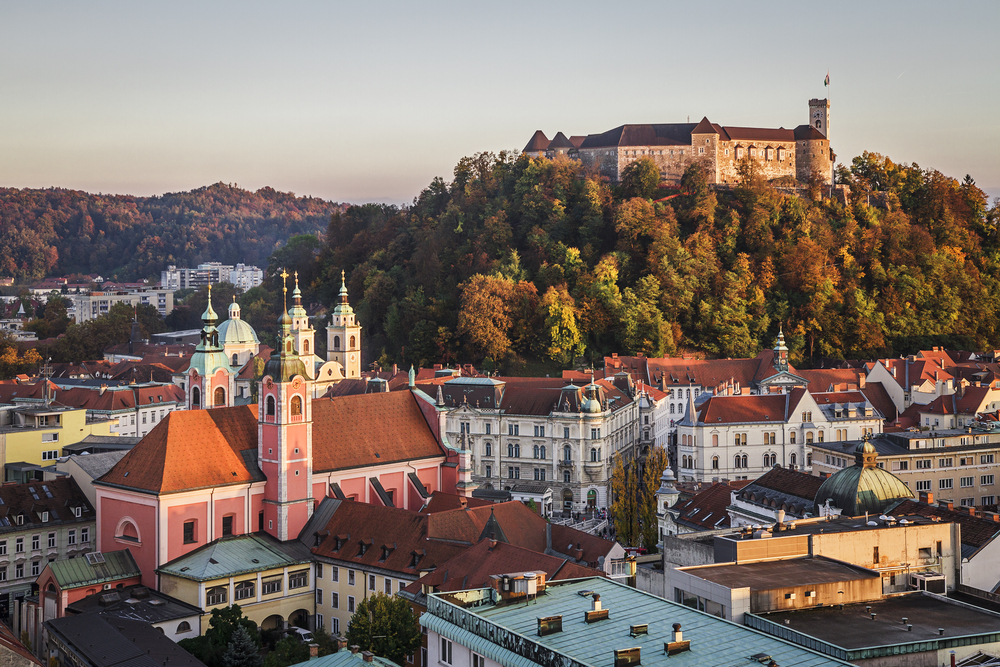 ---
In 2016 the European Union awarded Ljubljana, capital of Slovenia, as the greenest capital city in Europe. The city has since gone on to be heralded as being part of the most sustainable country in the world according to Green Destinations and National Geographic, which is only accentuated by its plethora of mountains, lakes, castles and hiking trails outside the city limits.
The country's beauty, however, wasn't the only factor that contributed to its recent title. In the past few years, Slovenia has been making strides towards improving sustainable tourism whilst enhancing citizens' living standards to match. What's more, there have also been increasing efforts to push the development of greener technology, improved infrastructure and, in fact, what might be the telltale signs of a city that is looking towards a 'smart city' future.
According to Slovenia's government, this is all part of the Digital Transformation of Slovenia, but furthermore, it forms part a new mission by the country's authorities to be 'the green reference country in digital Europe.' What this means is that Slovenia's entrepreneurs, as well as government and environmental specialists, are joining forces in a bid to cement the country's wider influence as a leader in a sustainable, digital age.
Acknowledging an increasingly inextricable link between the 'real' world and its digital imprint, Slovenian officials hope to implement a number of forward-thinking systems to consolidate their eco-friendly digital position. From a government point of view, this includes the implementation of cloud computing, opening up public data and a further drive on big data projects.
By 2020 their mission is to also construct a reliable broadband network which will reach even rural areas of the small European country and in the same year, authorities hope to have implemented a secure cybersecurity network which is also nationwide.
''We are aware that the future lies in connected digitalization, and that digital technology needs to help build a green and inclusive society.'' Boris Koprivnikar, Deputy Prime Minister and Minister of Public Administration of the Republic of Slovenia, recently said. ''With a view to successfully implementing the opportunities provided by digital solutions at the system level, the government also must play an active coordinating role. In much the same way as we faced our democratic political changes in the beginning of the 1990's, we have decided again to step forward and to become a green-reference country in a digital Europe.''
In a bid to improve living standards throughout the country, government efforts must also come hand-in-hand with Slovenia's startup and technology scene, who together can spearhead the much desired green-digital future as well as a circular economy.
According to an eco-innovation report, studies highlighted increased attempts by Slovenia's SMEs to participate in eco-design and reduce their company's environmentally damaging footprint. There is also an abundance of cleantech startups emerging within the country as well as international events such as Climate Launch Pad and Powerup! eyeing Slovenia's startup scene. 'Disrupting the energy market with blockchain,' Slovenian startup Sun Contract is one such startup leading a sustainably oriented movement within the country. They are joined by others such as MyWater, which is developing urban drinking water systems, and an overarching awareness of the benefits of a greener future.
It was just a few months ago that the Slovenian government announced an ambitious plan to focus more on reducing contaminating fuel use. This involved a target to lay over 1,000 kilometres of cycling surfaces and pedestrian routes in order to connect towns in the next four years.
What Slovenia is doing is addressing the inevitable reality that digitalisation is at full speed around the globe, and not something that a city can afford to miss. In the heart of central Europe however, they are utilising their green title and combining the digital and the natural to create a more appealing and efficient lifestyle. The definitions that swirl around the term 'smart city' suggest it is a location that utilises technology to enhance urban services and in turn benefit the quality of living. It might be some way off, but Slovenia appears to be carefully placing the very building blocks that point to this.