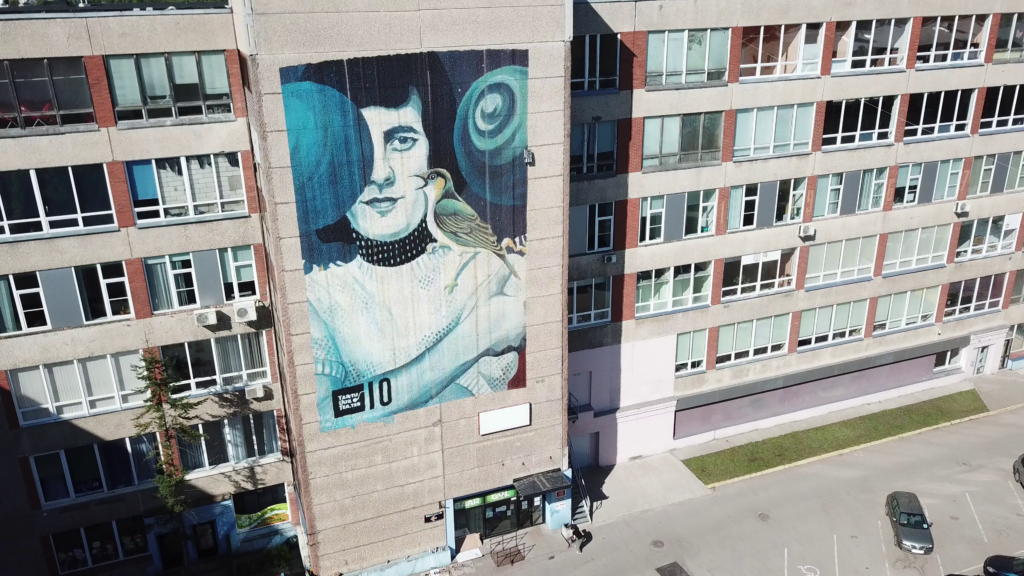 ---
Street art has dramatically continued to shift away from the negative perceptions that had dogged the craft in the past. Not only is this thanks to prominent artists such as Banksy who rehashed street art into a valid means of expression, but perhaps also a result of street art resonating with urban redevelopment.
We need not look far to see how street art and murals provide powerful messages or really spruce up a specific area. For instance in Brixton, London, the David Bowie Mural on Brixton Road which was painted after the singer's death became a memorial to the musician, as well as a shrine abundant with candles which many flock to see. Others exist purely for entertainment, such as the huge mural depicting an Australian man punching a kangaroo, based on a viral youtube clip which appeared on the side of a house in Melbourne.
Such an art form, to a great extent, speaks volumes to passers-by. Buildings are now using murals to decorate their new offices around the world, creativity is sparked and people are happy.
SprayPrinter is an Estonian startup that has been providing such colourful contributions to cities around the world since 2016. The exciting part of their story is that they use a robot to create the murals on a large scale project which opens up the canvas to locations that otherwise would have been near impossible to paint.
As the quest to make our skylines colourful continues, we reached out to Aet Rebane from the SprayPrinter team to find out more about their creative solution.
Tell me about the inspiration behind the SprayPrinter.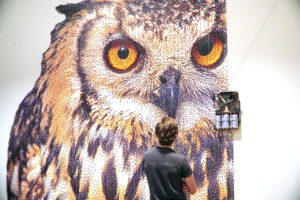 ''The inventor of SprayPrinter – Mihkel Joala – is in the same circles as many Estonian street artists. An idea was born that the preparations for putting up a mural – setting the proportions etc. – could be done much more easily. Everything started with a smart printhead. He ended up with a creative solution by combining a Wii controller with a car engine valve. 'Engines nowadays use extremely fast valves to spray fuel to the combustion chamber, I realized I can use them to shoot paint with pinpoint accuracy,' Mihkel explains. From that the smart spray paint technology was born.''
What is the process of creating a mural, from start to finished product?
''Those who want a sprayprinted mural, contact us. Together with the client, we choose an artist whose work will be put up and choose the design. Our printer operators – ninjas, we call them – come with the robot and print it. Voila!''
Since SprayPrinter's launch, how many pieces of artwork have you contributed to?
''There have been hundreds of artworks created by us and our IndieGogo backers with the handheld version. However, around 50 large-scale murals have been created with the help of the mural robot which is fondly referred to as Albert.''
What is the ultimate aim of producing the murals?
''If people feel good in some environments – that is creative placemaking. It doesn't happen by accident. The ultimate aim of producing murals is contributing to creative placemaking. This results in activated vibrant neighbourhoods and engaged communities. We believe in making impersonal and blighted environments inviting, engaging. People want to be proud of their surroundings. We turn walls into canvases and cities into public art galleries.''
How is technology changing the art/creative industry, and what are your predictions on how they will work together in the future?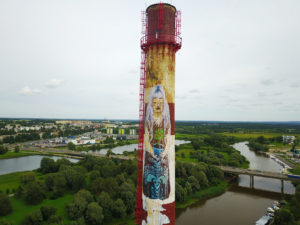 ''Well, the history has shown us that people/artists have often demonized new tech. The same happened when the first photo cameras were invented. It was said that photography can never be real art because, well, it is technology. What technology brings us is a way of multiplying everything with ease, anything can be copied. SprayPrinter is also a printmaking method, a giclee reproduction. So when the means of reproduction get easier, the role and concept of art rises. Tech opens new dimensions for creating art, but that doesn't mean the old ways will die.'
What do you feel are the benefits of launching a startup in Estonia, and how is the Eastern European tech ecosystem different from other places around the world?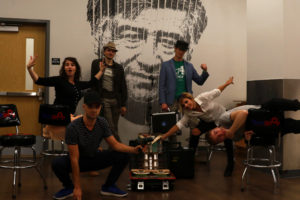 ''One of the benefits of launching a startup in Estonia is that the startup community here is very tight. Actually, Estonia has the most startups and VCs per capita in the world. It takes less than 15 minutes to start a company and the tax system is simple and flat. We have many success stories such as Skype and Pipedrive and Taxify and Grabcad and Starship Technologies. The society and the state are welcoming new ideas. In Estonia, there are also several funds and unions supporting the blooming startup scene.''