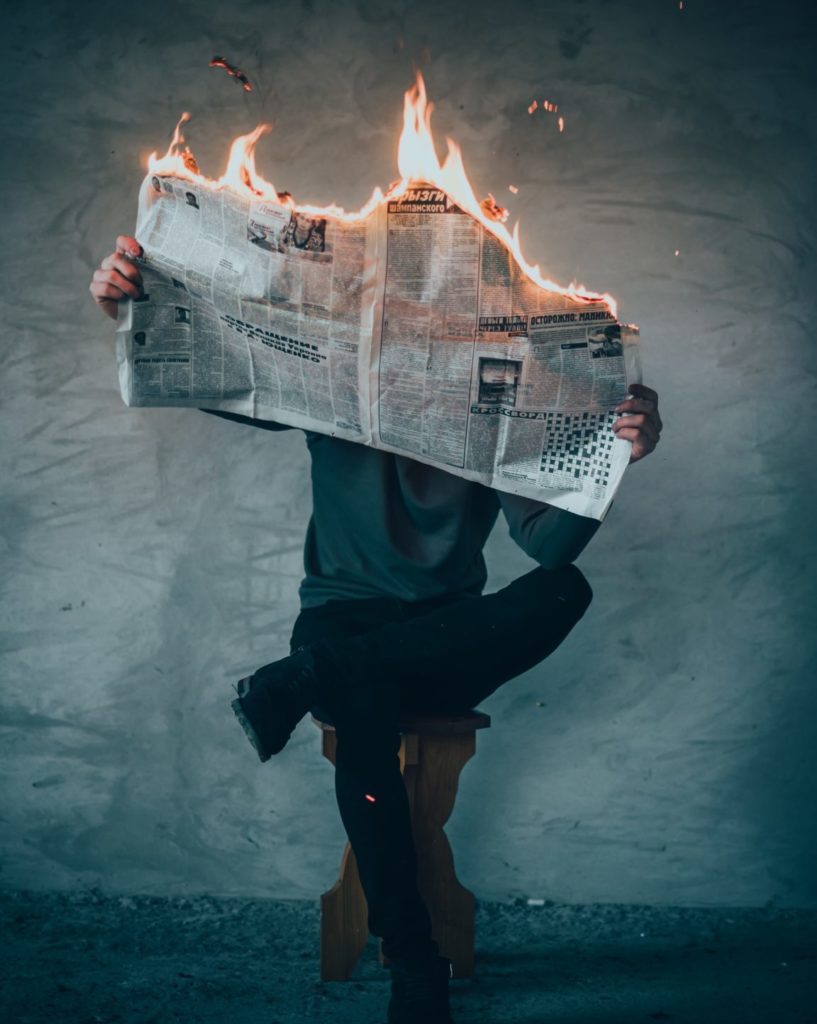 Featured
---
Hunched in the Ukrainian midday sun, a few civilians are crossing a half-destroyed bridge under the watchful eyes of Volodymir Zelensky and Donald Tusk. A few days ago, the newly-elected Ukrainian President and President of the European Council traveled together to the Luhansk region, a site of conflict with Russian-supported separatists that has claimed more than 10,000 lives.  
However, to visit the military front, Tusk and Zelensky might not have needed to travel all the way to the 25th separate airborne brigade of Ukraine's Armed Forces. In fact, they might as well have stayed comfortably at home and just opened their Facebook newsfeed. 
Online Disinformation is "21st century warfare"
"Military activities are supported by an active media campaign that undermines Ukrainian authorities and their political goals to reunite the country", concluded a 2017 report by the NATO Strategic communication Centre of Excellence, which classifies Russian media propaganda as a tool of "21st century warfare". 
Online disinformation campaigns have been a key pillar in Russia's geopolitical power strategy whilst on an aggressive quest to assert its regional dominance. According to the report, popular narratives to fuel pro-Russian sentiments include portraying Ukraine as a failed state or a puppet of both NATO and Western countries, as well as calling Ukrainian military forces Nazis or terrorists.  
Every second EU citizen could be affected by Russian disinformation campaigns




Estimate by SafeGuard Cyber
While the consequences of propaganda may be most dramatically felt in the war-shelled landscapes of Eastern Ukraine, Russian disinformation is, in fact, reaching across the European Union.  
As many as 241 million Europeans – half of the EU population – may have been affected by Russian disinformation, according to media reports on a study carried out by US firm SafeGuard Cyber. A recent public consultation across EU member states showed that almost 40% of them are seeing some form of fake news every day.  While EU leadership just presented some "progress" on fighting disinformation campaigns, the problem is not even close to being solved.
"There are many good fact-checking organizations that are working on Google, but not on social media",  Dmytro Potekhin told 150sec. Potekhin is the founder of 'FakesKiller', an online platform that allows users to automatically screen users' Facebook threads for fake news.
FakesKiller founded after being held in captivity by pro-Russian militants
Potekhin's own biography bears witness to the dramatic consequences Russian media propaganda can have on the lives of people. In 2014, pro-Russian militants held him captive in a dungeon for 48 days. Potekhin, a journalist and activist that teaches non-violent resistance techniques, was caught and accused of being a spy when he visited the city of Donetsk at the height of the conflict. 
When he was finally released after going on a hunger strike, he was determined to fight back with information and education, against the propaganda machine he saw responsible. "Let's fact them all", became his war cry. 
An online button against fake news 
How does FakesKiller work? A simple plugin connects the information to an international network of professional fact checkers and the EU website to debunk fake news, EU vs. Disinfo, he explained. 
Disinformation is the spreading of false information with a specific purpose, such as in the case of political propaganda. However, there is a second problem. Misinformation: when people believe false information to be true. This is particularly relevant to Facebook and social media.  
"The problem with misinformation is that people do not know that they are dealing with misinformation, and they start sharing it," explained Fakeskiller CTO Rafael Gerardo in our interview. For this reason, FakesKiller is not only alerting users when the news that they see is fake, but it also automatically provides a link to the correct story that they can share with their friends instead. 
Meanwhile, in Silicon Valley… 
While startups such as FakesKiller are springing up to tackle the problem, criticism is mounting against the online giants that rule the internet in most of the Western hemisphere. In particular, Facebook's CEO Mark Zuckerberg has been criticized for providing a safe haven for trolls and disinformation campaigns, which has culminated in more and more voices demanding even the breakup of the billion-dollar corporation that today also comprises Instagram and Whatsapp. 
The social media giant has tried to calm down concerns. Almost 2.2 billion fake accounts were disabled in the first quarter of 2019 alone, claims its Community Standards Enforcement Report. At the same time, it adopted new measures such as asking users that post political content to submit a copy of their national ID. However, this new process did not pass without controversy around privacy concerns. 
Why is it so hard to reform Facebook? The reason is their business model, believes the team of FakesKiller. "The system is designed to throw information, not to regulate", says Gerardo. CEO Potekhin points to the fact that Facebook blocks fake accounts, but not pages he calls "propaganda tools" well-known for spreading disinformation such as the Russian channels RT or Sputnik. 
Pro-Kremlin outlets also on YouTube and Twitter
Facebook, of course, is only one of the platforms involved in this '21st century warfare'. Just last month, research by Omedas released on Medium calculated that between 2017 and 2018, pro-Kremlin outlets earned at least 6 million USD on ads income from the traffic they generated on YouTube. 
"Pro-Kremlin outlets earned at least 6 million USD on ads income on YouTube"
Research estimate by Omelas
Twitter has not been free of disinformation campaigns either. Following the crash of the Malaysia airplane over Eastern Ukraine, the pro-Kreml "troll factory" Internet Research Agency published as many as 111,486 tweets within three days, reported journalists of De Groene Amsterdammer. And beyond social media, Russian influence extends to TV and newspaper channels even outside the country.
Finding fake news requires finding the "right place, right time", says FakesKiller CEO Potekhin. The company is currently working on an augmented reality application that could detect fake news directly at the moment where a user sees them – online or offline. 
Meanwhile, Russia is trying to discredit their work by faking fact checkers, too. EU vs. Disinfo just reported the latest case of a duplicate website set up to imitate the look of a new fact-checking initiative. It became suspicious after spreading false information about the Skripal poisoning case and pro-Russian disinformation narratives. 
Propaganda campaigns for political power are not a new phenomenon, neither in Russia nor in Europe.  In the 21st century, social media has made it easier to amplify their force, but harder to fight it. In the last Eurobarometer survey of EU citizens, more than 80% see disinformation as a threat to democracy. The idea of truth may have become somewhat irrelevant in the media strategies orchestrated by the Kremlin – but in Europe, it is still a value of high importance.