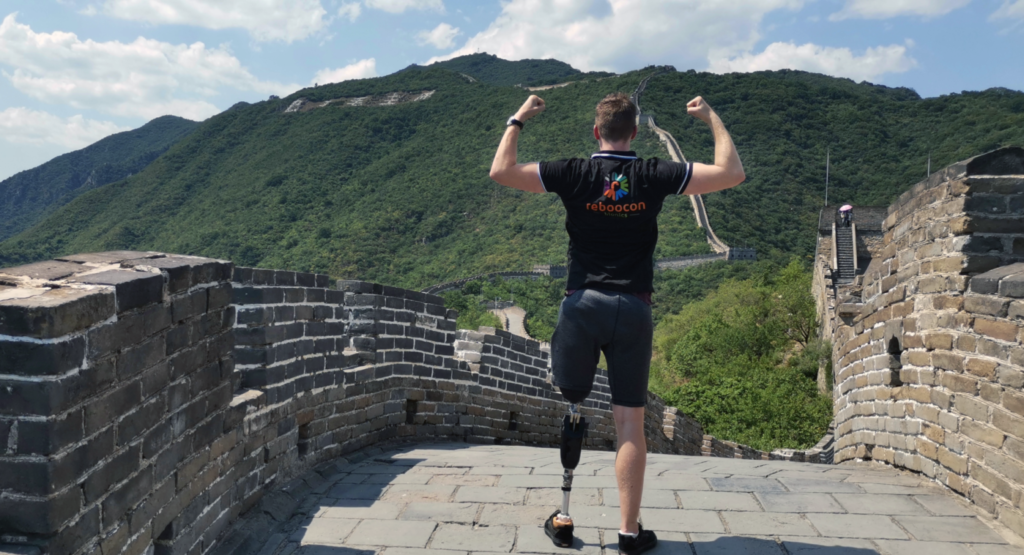 Startups
---
Conventional prosthetics pose problems for patients performing simple actions on a daily basis. Existing devices have led users to experience back and limb pain, as well as poor balance and irritated skin.
150sec spoke to Shiqian Wang, founder and CEO of Reboocon Bionics, to learn how the startup is producing a new generation of smart prosthetics to improve amputee patients' quality of life.
Based in Delft in Southern Holland, the origins of Reboocon Bionics stem from Wang's post-doctoral work at Delft University. After carrying out considerable research into medical exoskeleton technology, Wang felt he wanted to bring his new ideas to commercial reality. However, Wang found the process took too long within that academic system, so he founded Reboocon.
Developing a powered knee prosthesis
Although the firm has developed a number of advanced prosthetics, current efforts are being focused on bringing its powered knee prosthesis to market. That said, the company is not the only one working on such technology.
Iceland-based orthopaedic devices company Össur is another company developing similar technology. The firm recently teamed up with the Alfred Mann Foundation in the US to develop mind-controlled prosthetic limbs. However when it comes to powered knee prosthetics, Wang feels that his product brings something different to the table: "Our device is lightweight and has a longer power autonomy".
Powered prosthetics offer improved quality of life
From the patients' perspective, a powered knee prosthesis offers several advantages. In comparison with conventional knee prosthetics, a powered knee prosthesis lowers the level of effort an individual requires for walking. Additionally, the device can adjust quickly to differing walking speeds, situations and environments. Once the user is accustomed to the device, less cognitive effort is needed to walk when using it.
Taking the product through the certification process
Although the knee product has been developed, Wang needs to get the device through the certification process in both the United States and Europe before it can move forward towards commercial use. As is often the case with innovative products, the same degree of certification is not required in Asia as it is in western markets. With that, the product is further along in its progression towards use in China.
Wang confirmed that in 2019, the product was made available for limited use within a trial programme in China, saying: "we hope to start selling after the Chinese new year".
Streamlining product approval in Europe
The Reboocon CEO acknowledged that the certification process is resource-intensive for a startup. "It's a process, we have to do it step by step, passing different checks and tests", he clarified. The procedure includes assessment of the mechanical structural strength and electrical safety of the product. Regulators also scrutinise the application of a robust quality management system for the product.
Wang feels that Europe can do better to streamline the product approval and certification process. "I would like to see – for new, innovative products – an express certification process", he stated. By comparison, in China and the US, there is a special channel to expedite new and innovative products through the process. Naturally, that puts European startups at somewhat of a disadvantage when being first to market is so important for innovative designs.
"I would like to see – for new, innovative products – an express certification process [in Europe]".

Shiqian Wang, founder and CEO of Reboocon
Project timeline and roadmap
Wang expects to achieve CE certification for the product in the second half of 2020. Certification will be significant in getting the advanced prosthesis to users in Europe, as once certified, the product can be put on the market. In terms of making the product available, Reboocon has partnered with several orthopaedic companies in the Netherlands and China.
Wang explains that the approach varies from country to country: "In some countries like in the UK, it's different because you have to work not only with an orthopaedic company but also the NHS". Reboocon will have to adjust its approach depending on the setup in each market. Oftentimes, this will involve collaborating with a local partner alongside health insurers, national health authorities and, at times, individual hospitals.
Development of medical exoskeletons
Reboocon is also bringing to market a medical exoskeleton. These are wearable devices that have been designed to help users with mobility disorders be upright and mobile. Wang confirmed that most medical exoskeletons are used in clinical environments right now. In contrast, Reboocon wants to export exoskeletons outside of clinics and into the homes and daily lives of users.
The company hopes to have released its first medical exoskeleton demonstration model in Q2, 2020. Wang believes that over the course of the next 12 to 24 months the company will have a number of products on the market and be generating revenue.
Powered prosthetics is an emerging segment within the medical device sector. With proven use cases and demonstration of enhanced quality of life for users, we're likely to see much more development in this area over the coming years.