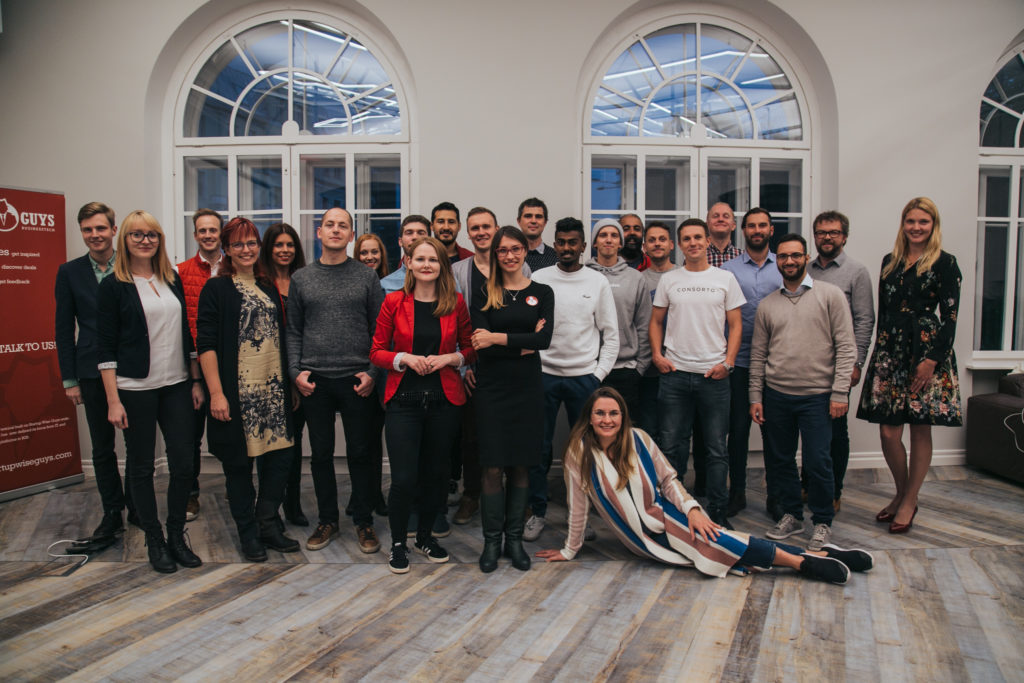 ---
Key ecosystem start-up accelerator within the Baltic States – Startup Wise Guys – have once again gone through the process of selecting fledgeling companies for funding in their own unique fashion.  The current competition marks the selection process for the 12th acceleration program the organization have run to date.  
Over four hundred applicants dispersed over the Baltic States, Central and Eastern Europe, were assessed and this has culminated in Wise Guys selecting eleven of those for their mentorship programme.  
There has been an established trend of Eastern European applicants over the course of previous competitions.  However, one stands out from this round is the emergence of interest from countries in Western Europe. Of late, there has been an increased interest from that region.  Attention may have been garnered as a consequence of the emergence of Estonian tech unicorns and improved marketing efforts.
For only the second time in the history of the program, an Italian team has reached the shortlist in the competition.  It is joined by a team from Denmark – marking the first occasion that Startup Wise Guys have shortlisted a team from that country.  On this occasion, the majority of those who made it through are based in the Baltic States with 3 Estonian, 2 Lithuanian and 1 Latvian startup on board.  One team each from Armenia, Ukraine and India make up the complete lineup.
The Armenian participant – Back2Cart – offers software optimization for next-generation eCommerce stores.  The use case of their offering is to bring customers back to your online store in the event that they abandon their shopping carts midday through the process. 
Estonia based Consorto aim to provide a platform which facilitates a marketplace for global professionals to buy and sell European commercial real estate.  Their compatriots at Zelos aim to provide a gamified management app which seeks to unleash the full potential of large teams.  The final Estonian participant is eXpact – which aims to disrupt the manner in which people are hired in the IT sector.  
Denmark's LevelUp aims to provide video analysis for sports coaches via an App – available right from the sideline using an iPad.  Italy's Skaffolder allows developers and IT companies to create web applications in a more time efficient manner.  
Latvia based Drone Pilot aim to provide drone operators with everything they need to tackle the challenges of controlling a drone via their application.
Razby is based in Lithuania and aims to provide tools which aid the organization and management of business events.  Another startup selected from Lithuania is Ziticity.  Their aim is to provide a logistics platform for retail and e-commerce with same day shipping.
Vumonic Technologies is a data intelligence company which is in the business of furnishing competitive intelligence on value share and volume share to the e-commerce and e-tail industries.
Lastly, Zirity from Ukraine provides online shops with try-on tools. This allows shops to sell more and decrease purchased product return rate.
Alexandra Balkova, Business Development Manager at angel investor company, Wannabiz based in Odessa, Ukraine will act as the Managing Director for this twelfth Wise Guys accelerator program.  Darja Ogorodnik, previously a Verification Specialist with Estonian startup Veriff is the Program Manager. Meanwhile, Startup Wise Guys CEO, Cristobal Alonso will maintain a strategic overview of the program in the context of the overall mission of the organization.  
To date, Startup Wise Guys have been responsible for accepting more than 100 startup companies onto its program, investing in their development. The accelerator is one of the foremost investors in the Baltic States area and wider Central and Eastern European region. The successful applicants will participate in the hands-on mentoring program over the course of 3 months in Tallinn, Estonia.  They will receive up to €30,000 in investment with the potential for subsequent investment.
In order to assist the founders behind tech startups in becoming first-class entrepreneurs, the organization has been running an accelerator since 2012.  Of the 100 startup businesses that have participated in the program to date, the ultimate success rate has been greater than 77%. Participants have been diverse, belonging to eleven distinct business categories.  The main focus has been on Business to Business (B2B), Software as a Service (SaaS) and general Fintech early stage startups.
There's certainly a wealth of potential with this current batch.  It will be interesting to see who emerges with the strongest market offering following the completion of Startup Wise Guys mentoring program.