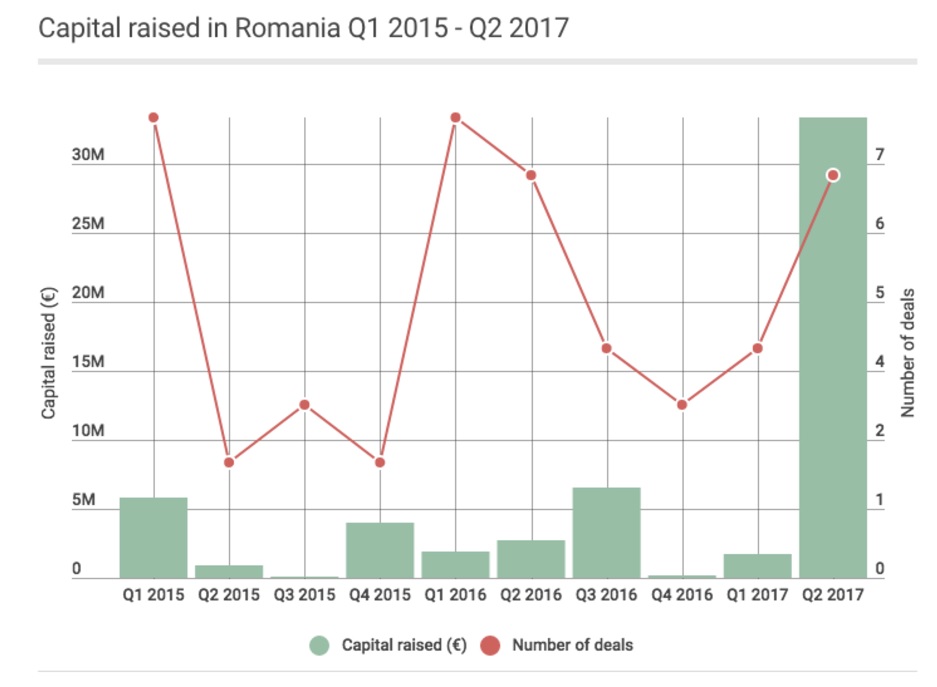 ---
60 years have passed since the first computer was built in Romania using vacuum tubes and transistors by remarkable engineers. Today Romanian founders are building  "intelligent software robots" while raising large rounds to grow internationally.
In terms of capital raised by Startups fact Q2 was the most successful quarter that Romania has had in tech until now.
Among the startups UiPath, dcs plus, Zitec, Frisbo, Blugento, Ebriza, Fishpointer, Skillview and AIris Vision are the companies that managed to bring risk capital in their accounts for unlocking new development of the product, hiring new talent and expanding the distribution into new markets. UiPath is a leading provider of robotic process automation software for the enterprise, raised $30M series A round led by Accel showcasing that Romanian founders are building impressive tech.
Crowdfunding played an important role also: Sound Heroes smart speaker, Dagadam smartwatch and Wallor RFID wallet successfully closed their campaigns on Kickstarter or Indiegogo. The Startartium crowdfunding platform was launched recently and already 7 creative initiatives raised >€55K.
Several tech firms launched by ambitious Romanian founders in large markets, had superb beginning of year: Spring, Branch, Trackable, Vita Mojo, Proportunity, StatusToday and IntelFlows mainly in United States and United Kingdom.
New investors joined Fribourg Digital with a €20 million fund and abroad Silk Ventures a $500M fund backed by the Chinese government is led by a Romanian professional. The Romanian market needs to strengthen its European position in terms of availability of venture capital as percentage of Gross Domestic Product (GDP), since at the current moment is very weak (0.001% Romania vs 0.027% EU average).
Almost €40M of capital will come back to startup founders. The public exits that you should be aware are: eRepublik, CleverTaxi(Daimler), CyberGhost, GECAD NET, Public Square and Monitor Backlinks.
In order to stimulate growth, Orange launched its Fab accelerator locally and Romanian Stock Exchange launches Made in Romania program.
Romanian founders showed an appetite for crypto-currencies, such as the CoinFlux exchange or FootballCoin. The latter raising recently $2.7m via ICO (initial coin offering).
It's important to continue to develop faster the Romanian innovative startup ecosystem and measures like supporting local clusters to grow; promoting startup jobs, female entrepreneurship, corporate startup programs; attracting smart capital from abroad, increasing the number of angel investors, building corporate venturing programs; having higher value exits in the country will have a huge impact in the long run. Programs, policies, workshops, research or education towards stimulating these areas will be extremely beneficial.
If you would like to know more about all these, check the in depth analysis on the Romanian Startup Scene wrote by Bogdan Ceobanu.
Guest author – Bogdan Ceobanu – Former entrepreneur, creating value by approaching problems from an interdisciplinary perspective using new technologies.