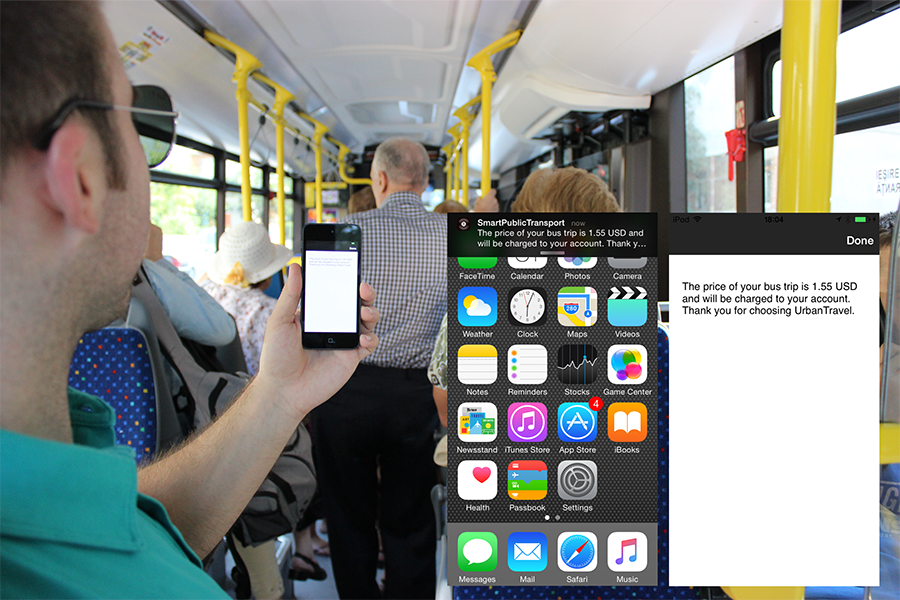 ---
Onyx Beacon, a leading provider of iBeaconTM complete technical solutions based in Cluj, Romania, launched an extended version for its Smart Public Transport solution with several new functionalities that personalize the public transportation experience.
The first phase in the Smart Public Transport project was to provide guidance and assistance for visually impaired people when using public transportation at the request of TANDEM, a visually impaired association in Bucharest that contacted them at the beginning of 2015 and asked if we could offer a solution to their problem.
In June 2015 the pilot phase was launched and in October the project will be entirely functional in Bucharest, for 12000 estimated users.
The visually impaired are empowered now with a mobile app that plays the role of the personal assistant when using public transportation. It helps them to know when the bus lines of interest arrive to the bus stop and to get into the right bus.
Users select the bus lines of interest on the mobile app. When the bus is approaching the bus stop, users are notified by the mobile app (using the voice over on the phone). When the bus reaches the bus stop, the beacon installed on the bus emits a customized beep signal and the user knows which bus in the station is the one of interest for him.
Users can configure complex routes within the city and change anytime their settings, according to their location and intentions.
The extended version of the Smart Public Transport solution that is being launched, is able to fundamentally change the way public transportation is functioning today and to bring to customers a digital tailored experience when using commuting services.
This Smart Public Transport solution is at the forefront of innovation in using beacons in public transportation in the world along with smaller similar pilot projects in London and San Francisco.
Till September 2015, the company was bootstraped. Recently (begining of september 2015) Onyx Beacon had a first seed investment covering less than 10% of the shares from two investors coming from a similar IT sector. After raising this seed funding phase they are looking forward (probably for 2016) for a next bigger funding phase.