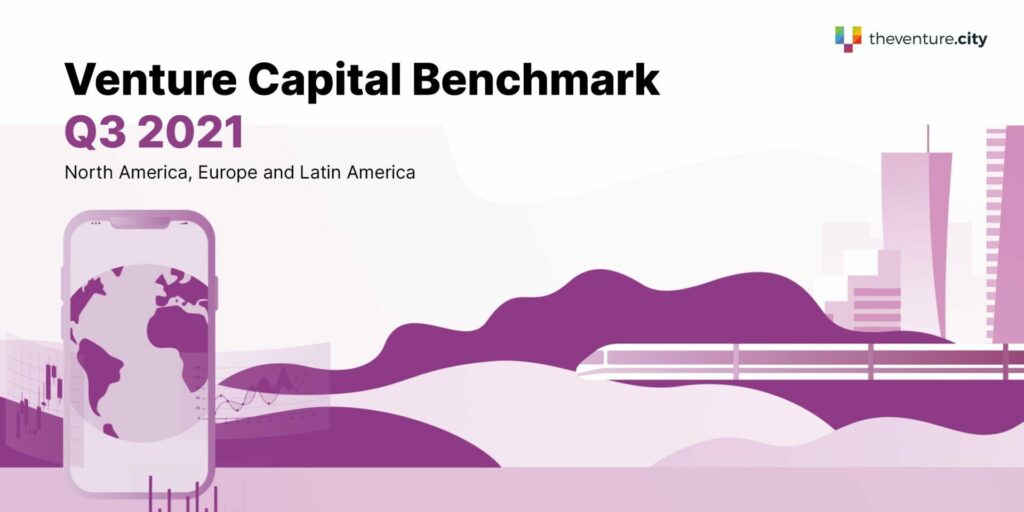 Featured
---
The amount of venture capital dollars invested in European startups dropped 17% in the third quarter of 2021 compared to the same period last year, but it was still up 88% year-on-year—amounting to $27 billion, according to a new report from TheVentureCity.
TheVentureCity, a team of operator investors that invest internationally in early-stage companies, also reported that the number of VC deals in Europe went down in Q3 by around 20%, both QoQ and YoY.
Europe, as the report notes based on Crunchbase Q3 data, increased its proportion of global funding to 19% in 2021, up from 13% last year. And more startup hotspots are emerging on the continent, with 17 European cities having received VC funding above $1 billion so far this year, compared to only five cities in 2020.
TheVentureCity described investment activity in Europe across seed, early, and late-stage startups as "healthy", saying that the VC industry "has continued to prove its resiliency while also directly supporting the economic recovery" amid the pandemic.
The report attributes the positive development of the industry landscape to the growing participation of well-resourced, non-traditional investors such as mutual funds, private equity investors, hedge funds, and crossover investors.
Seed, early-stage funding
TheVentureCity says the trend of large, multi-stage investors getting involved sooner in the venture lifecycle is now "the new reality", adding that the outlook for seed-stage funding looks "bright".
"The size of seed funds are getting bigger because investors now realize that having big seed funds will give them flexibility in terms of not only the number of portfolio companies, size, and valuation but more assurance that they would be able to follow on front runners into Series A and beyond."
Launching a seed-stage fund is also a diversification strategy to attract new limited partnerships, or at least provide differentiated risk profiles across funds to existing backers, the report reads.
"The ballooning size of seed rounds means that funding at this stage will continue to hold strong," it added, while highlighting that the competition among investors to identify and fund promising early-stage startups is also heating up.
Female-founded startups
What's more, the report shows that the VC activity is "trickling down" to women-led startups.
Europe saw $3.1 billion going toward female founders, down 23% QoQ but still up 55% YoY, TheVentureCity, a female-founded VC, wrote, citing data from PitchBook.
TheVentureCity says greater efforts are needed worldwide to support the creation of more female VCs that can fund female entrepreneurs and bring them into the network. Quoting All Raise, it noted that 65% of VC firms do not have a single female investor in their ranks.
Crypto market
Another major takeaway from TheVentureCity report is that VC investment in the field of cryptocurrency has "come of age".
"VCs are now becoming more comfortable with crypto and blockchain startups in general, and it's no surprise given the public interest in this space thanks to the bull run in crypto markets this year."
While the crypto market has seen some dips this year, it has seen great momentum for a considerable portion of 2021. Bitcoin passed the $50,000 mark for the first time ever early this year, and industry experts believe the market will continue its considerable growth.
TheVentureCity analysts say the digital asset ecosystem is becoming more diverse. "An increasing number of people and entities are moving past the initial excitement of Bitcoin and becoming aware of decentralized applications."
Non-fungible tokens
Non-fungible tokens (NFTs), which are digital certificates of ownership representing artwork, images, videos, music, and more, is another subject addressed in the report.
According to TheVentureCity, the biggest VC rounds in Q3 involved NFT startups, including Sorare.
The French fantasy soccer game that incorporates NFTs announced recently that it has raised $680 million in a round led by SoftBank, which values the company at $4.3 billion.
Web3 & metaverse
TheVentureCity is also "excited" about the potential of Web3 and the metaverse, saying they will bring "endless possibilities".
Web3 is an idea for a version of the Internet that is decentralized and based on public blockchains. The metaverse is a hypothesized iteration of the Internet, supporting persistent online 3D virtual environments through conventional personal computing as well as virtual and augmented reality headsets.
"Web3, the decentralized evolution of the Internet, is likely going to be the determining factor for the metaverse vision to come true, and the NFTs would be the bridge between Web3 and the virtual economy of the metaverse," the report reads.
'Promising' outlook for VC industry
Overall, TheVentureCity is very optimistic about what is to come for the VC industry and startups in Europe and globally.
"The VC industry roared ahead, setting records in Q3, and putting 2021 on track for another record-breaking year for venture investment, exit activity, and fundraising, despite mixed macroeconomic signals and a prolonged pandemic," it said, adding that the sector will continue to grow at a remarkable pace.
Disclaimer: This article mentions a client of an Espacio portfolio company.