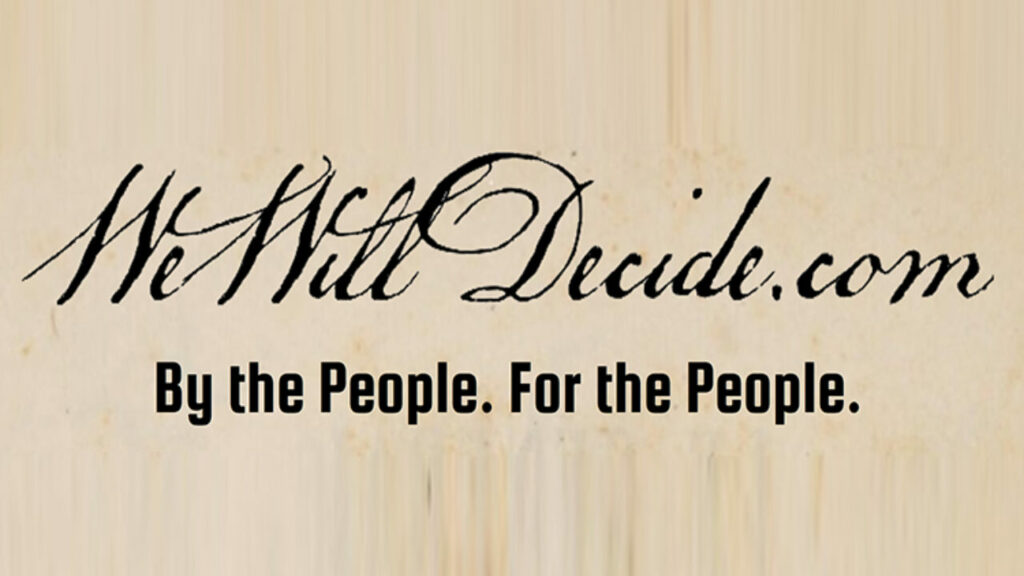 Featured
---
Americans voted in record numbers in 2020's presidential election, casting nearly 158.4 million ballots. That works out to more than six in ten people of voting age and nearly two-thirds of estimated eligible voters, according to a preliminary Pew Research Center analysis.
Nationwide, this puts the voter turnout about 7% points higher than in 2016 and shows potential for more engagement and involvement with citizens' right to vote for the 2022 midterm elections.
As Alexander Graham Bell famously said, "Preparation, before anything else, is the key to success." In order to keep these voter numbers going in the right direction, a better understanding of the governmental body, and how one's vote counts is critical.
Website We Will Decide (Wewilldecide.com) strives to fill any existing disparities in understanding for voters so that they feel confident when voting on election day. Let's take a look at how this online platform is revolutionizing the way that US citizens can approach their right to vote.
Providing The Unbiased Facts and Figures 
Founder of We Will Decide, Kelly Riordan, created the online platform in the hopes to generate a better way for the average person to obtain the political information they need without bias. This was inspired by her own introspection that often she voted in an uninformed way, and realized that she couldn't be the only one who felt that objective resources were lacking. 
After spending hours and hours researching politicians and trying to find facts based on hard-and-fast facts and empirical data, rather than political opinion, she determined that her efforts were in vain. There was yet to be a platform where unbiased political information was freely available, and thus We Will Decide was born.
A"first-of-its-kind" platform that tracks all the bills and laws congressional members have voted on, both past and pending, visitors to the site are able to see the different legislation that they can vote for in a comprehensive and approachable way. Voting alongside their representatives on the same bills they vote on, users can compare their opinions with those of every congressmen —giving them the perspective needed to feel confident in their voting choices.
The website also helps to find specific representatives' voting history on topics that might be important to the individual, such as abortion or gun control—individualizing the experience for each registered user so that they can focus on the topics that matter most to them. On the other hand, for those that are on the fence on certain issues, it also provides a calculation on the percentage of agreement between users and their representatives, as well as every single member of the Senate and the House, in one digital place.
Finally, users can also learn about the bills that members of Congress have proposed and how often they vote, helping them to see the trajectory of legislation that has the potential to come into effect. Bills, laws, amendments, and joint resolutions are shown exactly as they appear to congressmen, and if voters need more information on a bill, they can click on it to go to the official page where they can read the bill themselves.
Through all of these avenues, the We Will Decide online platform aims to integrate useful voting information into a user's everyday life, making it as attainable on the internet as recipes or the local news.
Turning The Tide for The Future of Voting
One of the bigger challenges that the US currently faces is convincing the younger demographic to invest in their right to vote. This especially applies to millennials, who are used to processing lots of information very quickly thanks to screens and data inundation being a part of their upbringing—giving them the potential to be the most well-informed participants in the political sphere if they put their minds to it.
We Will Decide aims to encourage citizens to take action on the matters that they care about and use their voices through voting. By joining the platform, US citizens can make more informed decisions for both themselves and the future of their country. Setting all voters, young or old, up for success is what the platform aims at—providing all the tools that users need to be equipped for heading to the polls.
"We're trying to make this whole political process a lot less scary by providing access to congressional information in an easy-to-understand format," Riordan explained.
Constructed for the sharing of authentic political information with integrity, We Will decide removes the interference from news, gossip, or opinions through an ad-free and neutral website. Users are charged a modest $3 per month member fee, with 10% of monthly net earnings going to trackable charities. Additionally, referring a friend to the site will earn users a free month.
Informed citizens and better voter engagement is the key to unlocking the very essence of democracy, and what it stands for.  With the participation of its citizens, active voting in a democracy can create more harmony for everyone, no matter where they fall on the political spectrum.