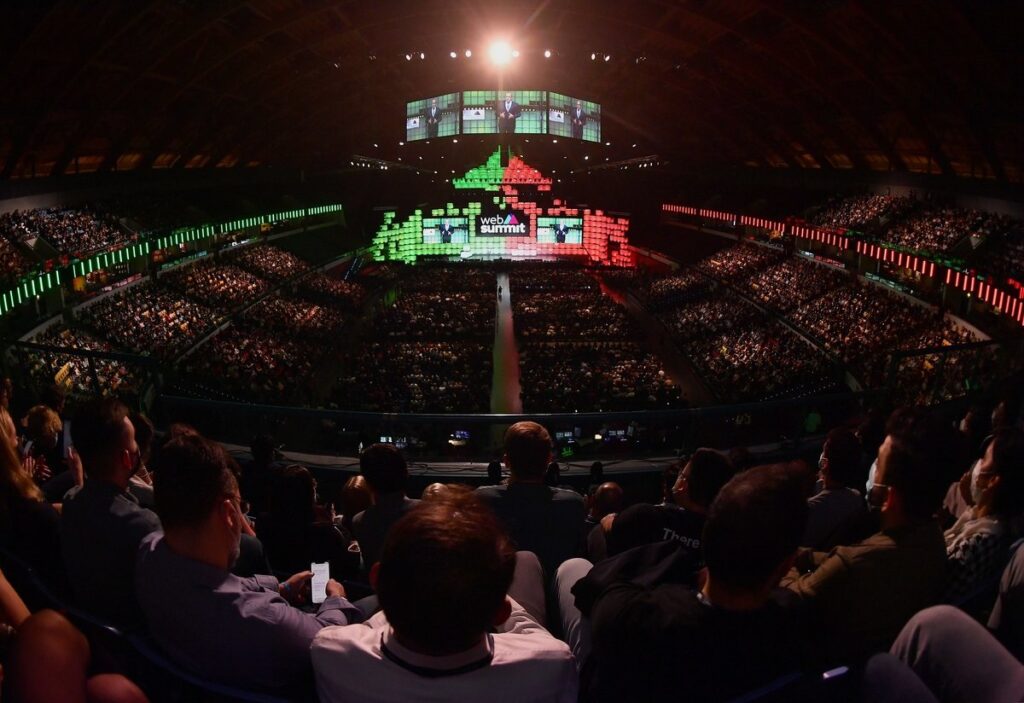 Events
---
From the female CEOs who delivered impressive pitches to beloved Portuguese presenter Filomena Cautela to co-founder of Black Lives Matter Ayo Tometi to Facebook whistleblower Frances Haugen, the opening night of Web Summit was all about women.
It was a pleasant surprise to see so many female leaders steal the spotlight at Europe's largest tech conference in Lisbon, where 40,000 attendees from all around the globe have gathered together to open a new chapter in the post-pandemic world of innovative technology.
The diverse group of women who took the stage all conveyed a message of power and perseverance in spite of adversity and proved yet again that females in tech are true forces to be reckoned with.
"I was supposed to be an engineer, an attorney, a doctor. There are so many stereotypes about what Nigerian immigrant kids should be accomplishing, and I didn't quite fit that narrative," Tometi, the co-creator of Black Lives Matter, told the audience.
"But I want to let you in on a secret. Part of why I didn't fit that narrative is because my parents taught me something unknowingly all throughout my years growing up in Arizona. They taught me the power of a tightly knit, connected community that looks out for one another. They taught me how to love and how to pride in ourselves despite a society that would say otherwise," she continued.
Tometi, who leveraged the power of digital platforms to advance the Black Lives Matter movement, added that she is excited to be living at a time when technology can help move conversations forward.
"We have an opportunity to use tech to expedite the realization of our values," she noted, encouraging everyone to make the best of technology-driven solutions to promote values that are rooted in "justice and dignity".
Facebook's 'meta' problem
The Facebook whistleblower, who was a former product manager at the company, emphasized as well that technology should be used to move humanity forward rather than making decisions that could put lives "in jeopardy".
Elaborating further, Haugen said one example is that Facebook's engagement-based prioritization of content in the news feed has dangerous side effects because it amplifies the most polarizing, divisive, and extreme content.
During the on-stage interview, which was her first public remarks outside of a government committee hearing after leaking a trove of damaging documents about Facebook's inner workings, she explained that the decision was a result of her listening to the voice of conscience.
"I genuinely believe that there are a million, or maybe 10 million lives on the line in the next 20 years, and compared to that nothing really feels like a real consequence," Haugen said, when asked if she fears for her life after releasing those documents that Facebook CEO Mark Zuckerberg has said are being used to paint a "false picture".
She added that Facebook's parent company, which recently rebranded to Meta, is unlikely to change with Zuckerberg at the helm.
"There is a meta problem at Facebook, which is that over and over again Facebook chooses expansion and new areas instead of sticking the landing on what they've already done," she told the packed Altice Arena.
"And I hope that he can see that there is so much good that he could do in the world, and maybe it's a chance for someone else to maybe take the reins… I think Facebook would be stronger with someone who was willing to focus on safety," Haugen said.
However, she still believes Facebook and Zuckerberg can change for the better.
"I have faith that Facebook can change. He has a beautiful dream. He wants to connect people. He wants to make the world a better place… It doesn't make him a bad person to have made mistakes, but it is unacceptable to continue to make the same bad mistakes after you know that those are mistakes."
'Unicorn Factory of Lisbon'
Another highlight of the night was the speech of Lisbon's newly elected mayor Carlos Moedas who said his dream is to transform the city into the world's "capital of innovation".
"If you want to change the world, if you really want to do good, you need to dream, you need to inspire people. But at the same time you have to be very good at details."
To achieve his dream of turning Lisbon into a powerful hub for innovation, the politician said he will be seeking the help of the Web Summit and the participating companies to create "the Unicorn Factory of Lisbon" next year to empower tech startups.
"The Unicorn Factory of Lisbon will be a place where we will teach the details… so the young people can transform their ideas into great businesses and create jobs and change the world," said Moedas, the former European commissioner for research, science, and innovation.
He encouraged technologies and investors from all countries to come to and stay in Lisbon, saying that it is one of the best cities where "dreams and details" come together to shape a brighter future for the world.