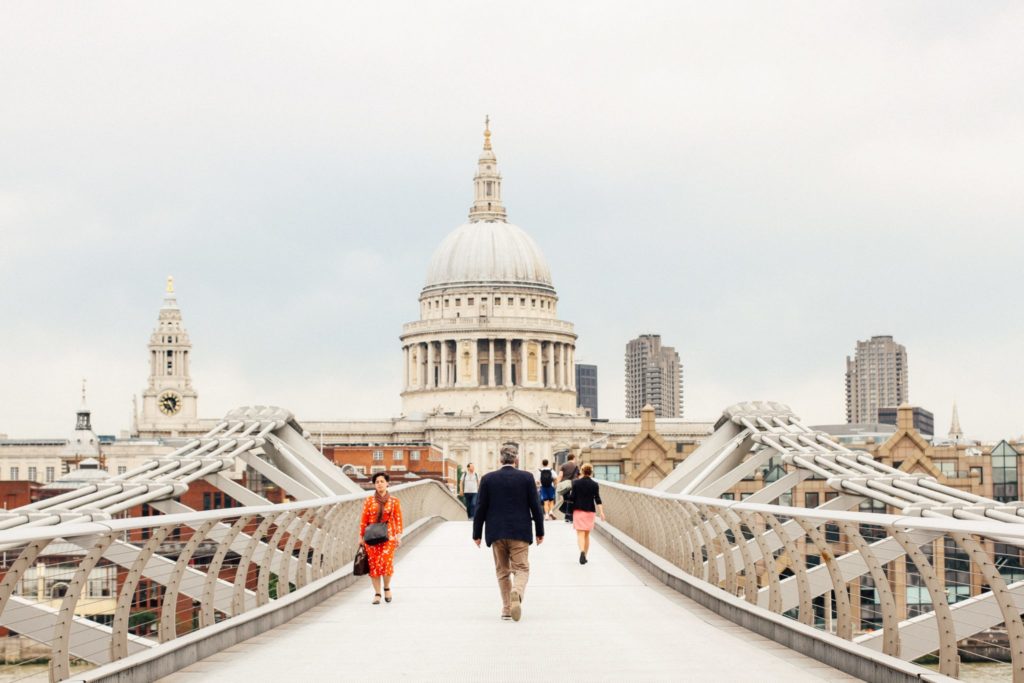 Featured
---
To say all of the consequences of Brexit are already known or that they're all immediate would be ignorant or misleading. Effects will be felt across decades, not in the span months or even years. There is more uncertainty now that Parliament's deadline for coming up with a deal for leaving has been pushed to October 31.  
While the British government says it will preserve London's status as one of the world's premier fintech centers, some experts note that some negative consequences – like struggling to keep and attracting top professionals from around the world – are inevitable.
The unprecedented situation is widely anticipated to trigger something of a 'Brexodus' – a term describing the forecast of droves of talented professionals leaving London, a global financial capital for nearly all of modern history.
London, of course, will always be London. But there are reasons for concern, as an estimated 7,000 high-level finance jobs and £1 trillion in assets will move out of the U.K. as a result of Brexit, according to EY.  In addition, there's also a potential 'Brexodus' of tax revenue looming for the UK. The Exchequer will lose some £600 million in tax revenue just from those high-paying finance jobs alone, says the forecast.
However, over on continental Europe, many countries are anticipating the 'Brexodus' not necessarily as a threat but as a potential opportunity. Emerging locations are bracing to attract financial talent from "the square mile" and beyond.
So which European cities are the 'promised land' for those moving out of the great fintech hub of Great Britain? Here are three places that stand out for offering exceptional opportunities in fintech – as well as for being great places to call home for startup entrepreneurs.
1. Amsterdam: A fintech momentum in the making
For hundreds of years, the Netherlands has been a major player in world finance. But as major financial institutions move operations and assets out of London, Amsterdam is moving on the chance to raise its profile higher.
Many British fintech companies wasted no time to set up operations in Amsterdam in the wake of the decisive Brexit vote in 2016. Seedrs, a crowdfunding platform, established an office in Amsterdam, and London-based global fintech companies Azimo, Vitesse, and Currencycloud have signaled their intention to do the same. In total, some 250 U.K. businesses are in talks with the Dutch government about relocating to Amsterdam and other Dutch cities ahead of Brexit.
Besides the cultural parallels between the Dutch and the English, fintech companies are even more motivated to relocate to Amsterdam due to the momentum that's been created by major financial institutions: CME Group has moved government bond and foreign currency trading to Amsterdam, and the London Stock Exchange also moved to open trading venues to the Dutch capital as well.
"Some 250 U.K. businesses are in talks with the Dutch government about relocating to Amsterdam and other Dutch cities ahead of Brexit"
The Dutch government has sponsored campaigns that highlight Amsterdam's high quality of life, its strong economy as well as its readiness to conduct business in English, Amsterdam hopes to capitalize on a unique opportunity. The city recently announced plans to build 7,500 new homes annually through 2025. For a city of fewer than one million residents, this is a significant number, and it shows that Dutch authorities feel the economic potential is well worth the hassle.
Amsterdam ranks high on most livability lists. In addition to a rich culture and history, Amsterdam boasts a successful healthcare network, excellent transportation, and high-tech infrastructure. Its status as a financial metropolis belies the city's quaint small-town charm. With a gorgeous countryside easily accessible by bicycle, Amsterdam promotes eco-friendly living.
2. Luxembourg: The tiny capital at the heart of Europe's financial institutions
No one would confuse Luxembourg for London. The country of Luxembourg is one-tenth the size of London. And the capital city of Luxembourg (with the same name) is home to a quarter of the tiny nation's people.
While Luxembourg has never stood out as a startup hub in Europe, it surprises with a solid 90% survival rate of businesses that incubate in the tiny country. And its strong financial sector could turn Luxembourg into a prime European location for fintech startups.
A case in point is Revolut, the UK's fastest-growing fintech startup that applied for a banking license in Luxembourg last year as a pre-emptive Brexit measure.  
The main reason that fintech startups seek out Luxembourg is the proximity to major financial players. For example, core EU institutions like the European Investment Bank and the European Court of Auditors have long been located in Luxembourg.
Furthermore, as Brexit is looming, fintech firms LendInvest or PPRO Group have announced their intention to move to Luxembourg, a study by KPMG shows. The same goes for major institutions like AIG, Hiscow, Liberty, RSA and Sompo Japan that have all decided to move major offices from London to Luxembourg. And asset management groups like Columbia Threadneedle Investments, Jupiter Fund Management, Nuveen, M&G and MFS are also putting down roots in Luxembourg.
While Europe's capital is increasingly moving to Luxembourg, it may come as a surprise that it remains a more affordable place to live than London by almost every measure.  It may also be a little known fact that Luxembourg boasts to be the world's safest country, ranking number 1 globally. Being squeezed between regional heavyweights France, Germany, and Belgium, its central location makes it easy for businesses to travel anywhere in Europe from Luxembourg.
3. Tallinn: Welcome to the digital future
For London-based fintech companies looking to make the most prudent decision in light of Brexit, Estonia offers a unique alternative. Estonia's e-residency program, to date the only such scheme in the EU, offers entrepreneurs to set up their business in the EU – without having to make a physical move.
"Estonia's e-residency program, to date the only such scheme in the EU, offers entrepreneurs to set up their business in the EU – without having to make a physical move."
Since the e-residency program launched about four years ago, some 50,000 people have established residency, leading to the creation of 6,000 businesses. The e-residency allows people to register a business in Estonia from anywhere and run it remotely, from signing contracts digitally to managing corporate bank accounts online.  
But apart from this virtual community of e-residents, Estonia is also growing a strong physical community of startups in the country.   
The Estonian government actively encourages entrepreneurship through its Startup Estonia policy, which counts TransferWise among its fintech success stories. There's also Enterprise Estonia, which provides financial assistance, counseling and training opportunities for entrepreneurs and businesses in Estonia.
For those in fintech and e-money, internet speeds are often as important as currency. Estonia's average broadband strength is better than the UK, the U.S., Germany, and Ireland, as well as many other countries across the developed world. And it's getting faster: In December, one of the world's first 5G networks opened up in Estonia. Later this year, 5G will be accessible to residential and business customers across the country.
Apart from the excellent digital infrastructure, the country's capital city of Tallinn is an overlooked cultural hub on the Baltic Sea. With a backdrop of gorgeous medieval and orthodox architecture, a vibrant history and culinary tradition, Tallinn offers a wealth of lifestyle perks.  
While the consequences of the Brexit uncertainties are only beginning to show themselves, the European continent abounds with attractive destinations for finance professionals looking for a fresh start.
There is no doubt that London will continue to be massively influential on the world stage. Yet when it comes to Europe's fintech startups, locations from Amsterdam to Tallinn may emerge as new hubs of opportunity.  
Disclosure: The author of this article has commercial relations with one of Espacio's portfolio companies.