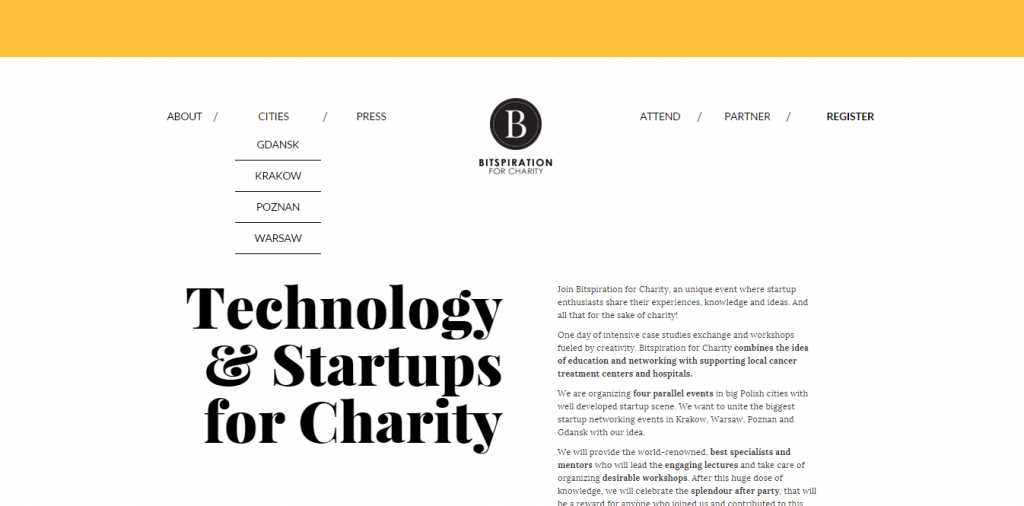 ---
Bitspiration For Charity events happened simultaneously in four Polish cities last week. Startup communities of Warsaw, Krakow, Poznan and Gdansk gathered together for the whole day of networking, discussion panels, presentations, and in order to support the great charitable cause. The conference organization managed to collect around €2,000 (8,000 PLN), which will be passed to children hospitals in the mentioned cities.
The Warsaw edition started with the speech by the vice-major of Warsaw Michal Olszewski and the president of StartUp Poland Eliza Kruczkowska. They were talking about how Warsaw and Poland startup ecosystems have developed over the year. Opening of the Campus Warsaw is going to bring a fresh wave of investment and talent, while the ecosystem matures and closer connects to neighboring countries.
Showroom is one of the Polish startups that decided to go abroad. Its founders were talking about their experience expanding their activity to Germany. Through the paperwork and adjusting to customers' culture, they managed to find the product-market fit among the new environment and successfully establish their brand.
Another guest of the Bitspiration was Jeff Burton, co-founder of Electronic Arts. His presentation was dedicated to the development of Silicon Valley in 70s and 80s, drawing parallels to current trends. Jeff emphasized how important it was to establish a strong company culture at EI. Each of the new employees of EI had to have an interview with each of the present ones before getting a position, which took time, however established a unique bond between the colleagues.
The discussion panels focused on the topic of law and startups, as well as the issue of going global since the beginning. New technologies, such as Bitcoin, are rapidly disrupting markets and often are either unregulated or restricted by old laws. Therefore, startups in Poland are tightly cooperating with innovative lawyer firms, fighting together with regulations and bit by bit changing the game-rules.
Bitspiration is a great example how startup community can exchange and add value for itself, while at the same time supporting social causes. As technological and startup industries get bigger, the social responsibility of businesses is slowly shifting to them from public and corporate institutions.