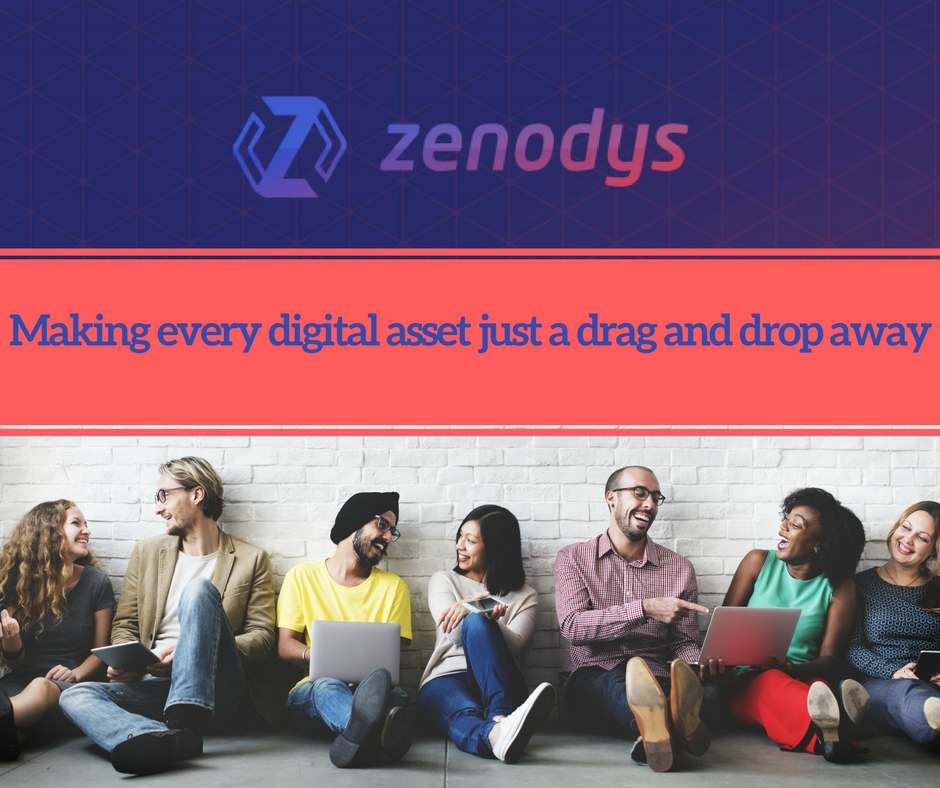 ---
The term "digital assets" basically refers to anything that comes in a digital form, including emails, documents, images, audio, video, and similar digital files that are stored on digital devices.
Whether we are aware of it or not, we all have digital assets. While corporations like Facebook make billions off of our data, we never see a penny.
Most people's digital assets include personal, social, and IoT data, as well as digital content such as music, art, and text files.
What prevents people from turning their digital assets into a profit is that they lack both the technical skills to do so, and that most of their digital assets are unorganized, fragmented, and spread across the vast expanses of cyberspace.
However, thanks to the advent of blockchain and ethereum-based technology, ordinary people with no programming experience whatsoever have the ability monetize their digitals assets.
A Decentralized Marketplace
To counteract this issue, Amsterdam-based Zenodys has created a decentralized marketplace that incentivizes people and companies to trade digital assets in a fully standardized and actionable form using blockchain technology.
With a decentralized end-to-end development framework and P2P marketplace for digital assets built on the ethereum blockchain, all digital assets are immediately organized and available in a standardized form through a distributed network and therefore reusable and reconfigurable, virtually without limits.
"On a global scale, we are big believers that people all around the world should be involved in the shaping of this digital revolution: through the simplicity we want to provide them with," said Jernej Adamic, Co-Founder and CEO at Zenodys.
Before co-founding Zenodys, Adamic was a high-level executive in Slovenia.
Simplicity
Simplicity is a major part of the platform, which provides simple drag and drop tool. Once Zenody's has all the digital assets (data, algorithms, applications) at hand, they are then standardized, so users can simply drag and drop them together to build completely new applications.
The platform works in three steps:
The seller of the digital asset publishes the asset on the marketplace and sets




the price.

Users (developers, business developers, etc.) can then combine these assets




with others in their applications by using a drag-and-drop interface.

Buyers purchase the assets. Tokens will be distributed after an end-user




accesses and purchases the digital asset from the marketplace. After




purchase, smart contracts distribute Tokens to the author(s) of the digital




asset(s) in real time.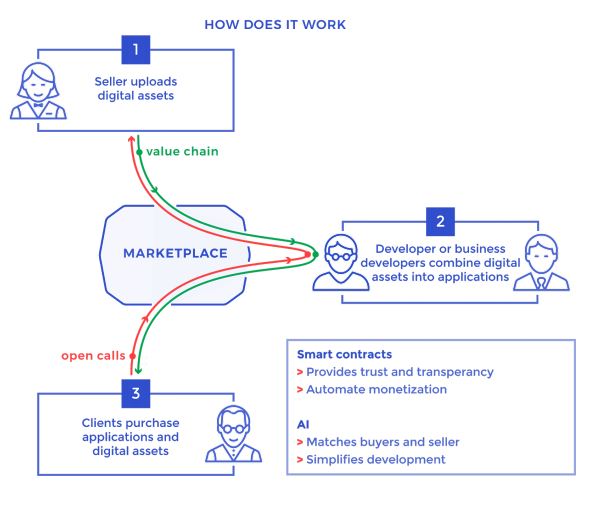 The Tech
The technology at the heart of the platform is the Zenodys state-of-the-art visual development tool, which radically simplifies the development process by allowing anyone to join in. The smart contract based marketplace facilitates collaboration and power of the crowd, and provides fair monetization throughout.
For the more technically advanced, digital assets such as algorithms, code, APIs, and applications can also be monetized.
Additionally, advanced users can write custom code directly into the visual workflow to extend and finetune the functionality which offers them total control and flexibility.
Zenody's artificially intelligent matching algorithms analyze which visual code blocks, microservices, hashed elements and dApps in the network can be reused in the project, which significantly speeds up the project's development.
With its algorithms Zenody's has a sandbox environment for hosting dynamic assets, and not just a simple picture or file transfer from point A to point B.
Transparency
Transparency and trust make up the backbone of ethereum blockchain users; however, certain companies have abused that trust with their Initial Coin Offerings (ICOs).
When dealing with ICOs, it is important to ensure that it is legit, and according to CryptoSlate, there are 7 key signs of an ICO scam, none of which apply to Zenodys.
Let's break those 7 key signs down:
Poor online presence

: One glimpse at the Zenodys website can put this one to rest, and its founders can easily be found on LinkedIn.

Guaranteed Profits

: The only thing Zenodys guarantees is transparency.

Solutionism: Zenodys does not pretend to massively disrupt an industry, but rather offers simplicity and organization to complex and fragmented data.

Empty GitHub Repositories

: here is the

GitHub link

for Zenodys.

No White Paper, Bad White Papers, or Blatantly Plagiarized White Papers

:

Read it and weep

.

Shady Premines to a small group of investors

: Zenodys was the

winning project at IcoBox

, with a historical record of more than 46,000 of the investing votes.

No Roadmap or Unrealistic Roadmaps

: You can check out

Zenodys' protocol here

.
Having passed the CryptoSlate litmus test with flying colors, the Zenodys Token will implemented as an ERC20 compatible token on Ethereum and its trajectories (i.e. Ethereum 2.0, and a future Ethereum 3.0, etc.).
Ethereum blockchain founder Vitalik Buterin predicts that "an 'Ethereum 3.0' would incorporate 'starks' and 'multilayer sharding' and strengthen 'cross-shard communication'."
Interoperability with wallets and other tokens is on the cutting edge of technology, and in the case of Zenodys it's not just inside Ethereum, but between Blockchain technologies like Monero and IOTA as well.
Sharding refers to a type of database partitioning that separates very large databases the into smaller, faster, more easily managed parts called data shards.
Zenodys' ICO offers a supply of CoinZZ Tokens (ZZ) that will be issued at the Token sale (Token Generation Event – TGI) in June 2018 the latest and no more Tokens will be created.
Blockchain smart contracts handle all the transactions and balances in a secure and reliable manner.
The Demand
For a platform and a marketplace to be successful, demand must equal supply, and vice versa. For Zenody's, that demand is for people to have their assets standardized, organized, and always available.
The demand-side strategy for the platform involves initiating community and enterprise open calls that will tackle specific problems related to AI, smart energy, and Industry 4.0.
The benefits can include everything from better risk assessment in insurance cases to energy production from microgrids for utilities, or even a better organized supply chain for multiple parties.
The platform could also have an impact in emerging countries where the demand would be high and where access to tech education is still extremely challenging. Furthermore, the tools that Zenodys is developing are ideal to run on low-cost hardware – perfect for emerging markets.
The Mission
After going through all the technical aspects, Zenodys' mission is really quite simple — to create the world's first database for every digital asset out there, be it in digital or physical form, so that all these assets will be always reachable, searchable and easily reusable in millions of ways, including the building of applications.
"On personal level," says Adamic, "everyone has all these assets and we will enable them to monetize them without giveaways or tradeoffs. Our platform allows people to use assets to build applications with just simple drag and dropping, and then monetize them. The system is that simple."
This sponsored post originally appeared on The Sociable.