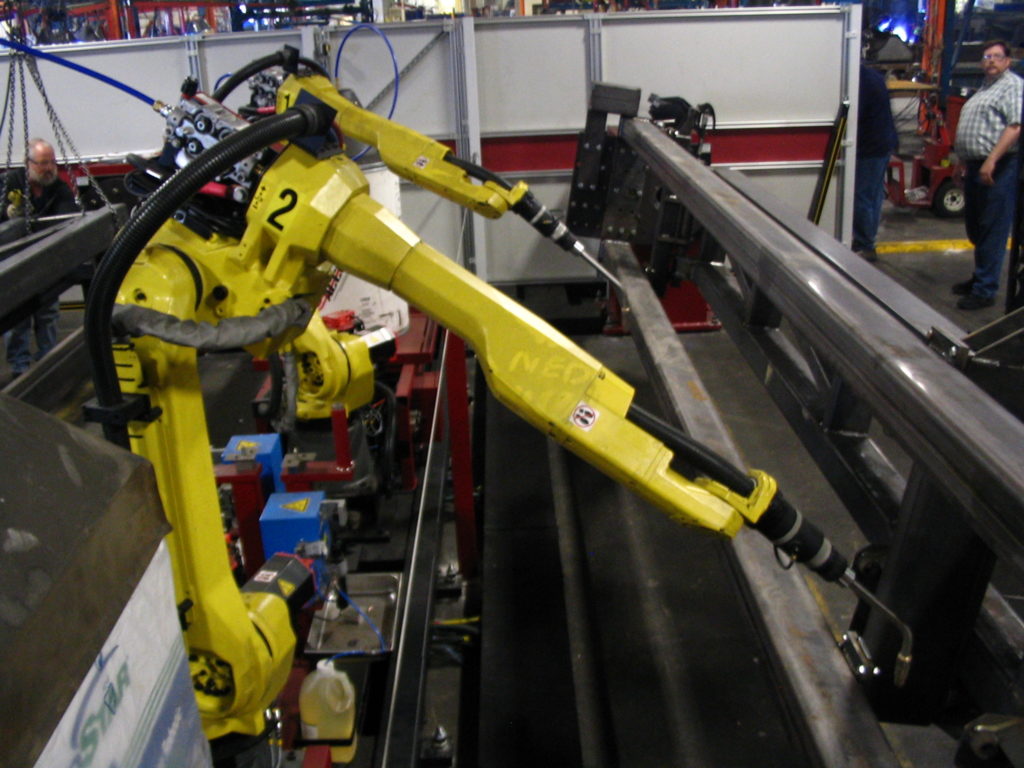 ---
The Czech Republic's Ministry of Industry and Trade has allocated €40 million for SMBs to apply for up to €775,000 each to fund 'industry 4.0' development.
The announcement-proper is set for December with applications being accepted between February and May next year. Funds will be awarded to small- and medium-sized businesses developing technology aimed at automating manufacturing processes. In funding the frontier of the industry, the Czech Republic is taking a bold and forward-thinking stride into a global leadership role.
Industry 4.0
Industry 4.0, or 'smart manufacturing', refers to a shift from the objective of high-volume production to instilling a flexible capacity which enables the production of a wide variety of products built to suit customer requirements. This next stage of development in manufacturing builds on the maturation of advanced robotics, artificial intelligence, sophisticated sensors, cloud computing and big data analytics.
John Clemons, Director of Manufacturing IT for Maverick Technologies, refers to 'smart manufacturing' in his Forbes article as "technology [which] integrates traditionally distinct processes… [to] increase the speed, agility and flexibility throughout a company's value chain, from product creation, through production and delivery."
Smart manufacturing is in-vogue in the Central and Eastern European region at present, capitalising on affordable skilled labour and low corporate tax rates. Major regional player Y Soft, for example, has moved from outsource-development software, to supplying production solutions, to creating a VC arm which invests in Czech tech which develops the relationship between hardware and software.
Developing nations have traditionally begun by building tech sectors through outsourcing, which is achievable but — as India has found — does not contribute to the country's intellectual property, nor does it retain profits within borders. If the Czech government can surpass the need for outsourcing and get out ahead of the pack with the latest developments in manufacturing, it could easily find itself a self-sufficient global leader. Moreover, it could help mitigate the shortage of workers across Eastern Europe and Asia.
A global trend
A move towards smart manufacturing is one echoed around the world, with Silicon Valley's Plug and Play Supply Chain and Logistics accelerator having partnered with the industry's biggest players to form their Innovation Platform. The accelerator program inducts startups for a 12-week stint in an effort to build on development and networks at the cutting-edge of the manufacturing industry. Businesses from the Czech Republic were among those competing for a spot in the program, with applications from 30 other countries, representing some of the world's top institutions like University of Oxford, Harvard University and MIT.
The trend is pertinent to even the most developed countries as Michigan, an ex-manufacturing 'rust belt' state in the US is currently undergoing a move towards more technologically advanced forms of manufacturing. The state, which was previously thought of as the the workshop of the US, was subject to a decline in manufacturing jobs as US firms shipped factories abroad to China, for example, where labour costs were much lower than in developed countries.
The manufacturing boom in developing countries has been a powerful factor in their ability to close the GDP-gap since the 90's. However, advancements in manufacturing techniques are now leading to a situation where it's even cheaper again to have home-grown factories manufacture products using the most up-to-date technology. This trend has the potential to hinder further growth in developing countries by stripping them of their competitive edge with regard to outsourcing. The move by the Czech government, though, is astute in that is puts the country ahead of the curve rather than on the coattails of more advanced economies.