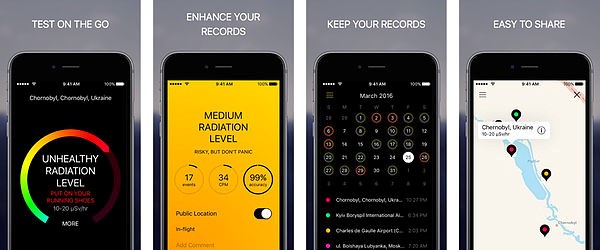 ---
Created and launched by three Romanians, Ray Detect is an app for iPhone and Apple Watch, which uses the camera sensor to detect gamma- and X-rays, the most penetrating forms of radiation. The technology is based on research data released in 2014, confirming that the waves of ionizing radiation, like gamma rays and X-rays, are detectable by the sensors of digital cameras similarly to visible light, a harmless form of electromagnetic radiation.
Whether you fly and get your luggage X-rayed, own glazed pottery and other radioactive objects, or fear nuclear mishaps and terrorism, you can now test for unexpected radiation. The app works offline, without calibration or external devices. It also helps the users keep records and share the results to protect family and friends. The results are stored in the iPhone and can be also explored and displayed on the Apple Watch.
The app is meant to provide preliminary data and an early warning when dedicated detection devices are out of reach since it's designed for relatively low radiation levels, up to 20 µSv / hr or 2,500 CPM.
We wanted to make people more aware about the dangers of radiation and also to make them understand how radiation is all around us and part of our lives. The app's ambition is to become the easiest way for everyone to obtain preliminary data about the level of external exposure to radiation, says Mihai Schintee, Co-founder of Ray Detect.
Ray Detect is only compatible with the iPhone 5S model and above, due to hardware requirements. The price is $2.99 and it targets the market of baby boomers and generation X people in the US that grew up and lived most of their lives in the cold war.
[easy-tweet tweet="Detect Gamma and X-Ray #Radiation With Your #Phone" user="150sec" hashtags="CEEmakers" url="http://wp.me/p6MtIQ-16j"]
The app is self-funded and it was launched on the 26th of April, the day the world commemorated 30 years from the Chernobyl disaster. In the first two weeks it has registered a total of over 5,500 downloads.