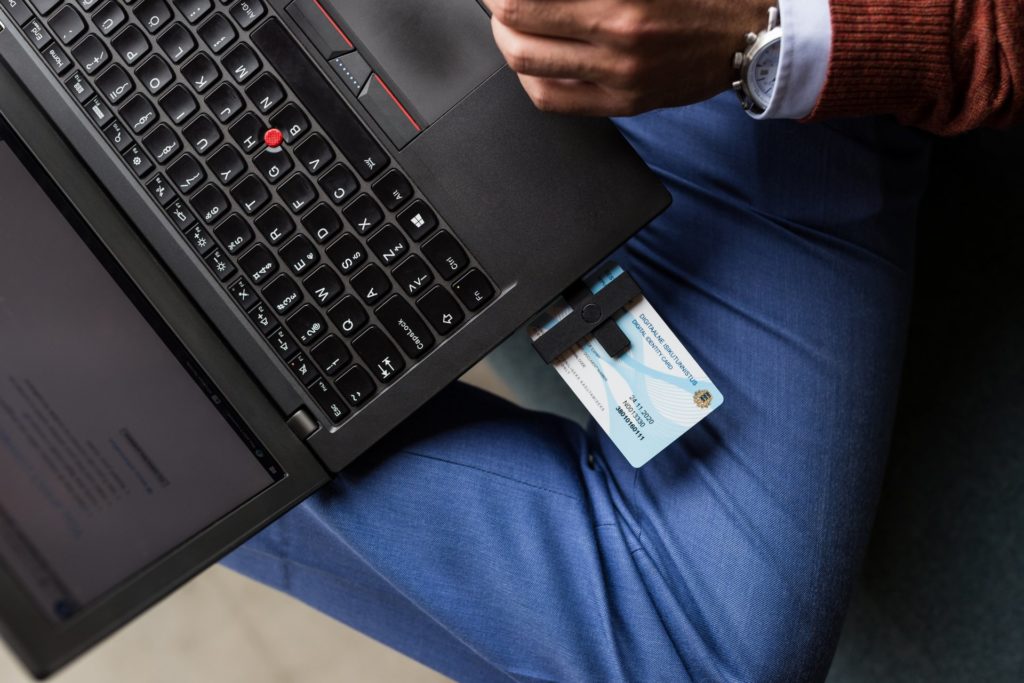 Featured
---
Who are the 48,000 digital entrepreneurs – or "e-residents" – of whom many are opening a business in tiny Estonia? We have a look into the growing community by speaking with one of them: Britta Klemmer, e-Resident since October 2018 tells us what "OÜ" (really) means, and how the borderless digital nation can become a tool for empowerment around the world.
Can you briefly tell us what differentiates an e-Residency from a traditional residence?
You cannot become a resident of any country remotely – but the Estonian e-Residency can be achieved with a simple online application. It provides access to a borderless digital nation, powered by the Republic of Estonia. It is not to be confused with citizenship, for example, I cannot vote in Estonia, and I do not benefit from the social system. Neither does it give the right to a physical residence or Visa.
Your passport is German, as a diplomatic spouse you move a lot – now you are an e-Resident in Estonia. What was the most important reason to apply?
I wanted to register my consulting company within the EU, in a legal environment that my international clients can trust. My spouse and I might move again, so I need to manage it remotely with minimal hassle. I looked very carefully at cybersecurity, and I like the fact that my digital identity comes with complete control over my data. An online audit log allows me to see all transactions and any attempts to access my information, and I can intervene if I have any suspicion. Cybersecurity is essential for Estonia and gets continuously improved, for example through cloud-based digital infrastructure and the use of 'data embassies' abroad for backups.
Are there any disadvantages?
You might have to explain what the ending OÜ means, which is the Estonian version of a private limited company. Although the program is getting more and more publicity, an Estonian start-up still might raise questions from potential clients or partners.
I once went to a local Q&A session, where one entrepreneur got up and said he looked at it carefully but still does not understand why to set up his business in Estonia. It is such a small country and such a small market. The Estonian ambassador was there, and she said, he is right, the program is not for everybody. It is for digital startups, freelancers and digital nomads, people who are location-independent.
E-residents come from a diverse list of countries inside and outside the EU, including China and India. What opportunities are offered to those of developing or emerging economies specifically?
Starting a company within the EU and deal in Euro, even as a non-EU citizen, is probably the biggest advantage. Second, opening a bank account or use a digital banking service from a fintech company. In general, it is a very low cost, secure, location-independent, completely online business management approach.
Can the e-Residency also be a tool for development in these countries?
In 2017, the e-Residency program was one of the founding partners for the e-Trade for all initiative of UNCTAD. In India, for example, they partner with a women entrepreneurship initiative. I see huge potential there because about 88% of e-Residents are male across all countries. I think it can be a tool for women entrepreneurship in any country, not only in India. Female e-residents can easily develop their business ideas and they join a community where they can network among each other.
I think it can be a tool for women entrepreneurship –
about 88% of e-Residents are male.

Britta Klemmer, founder of fourstones.eu and e-Resident in Estonia since 2018.
Is there a divide in the community between e-residents from EU and from outside the EU, or developed and developing countries?
No, it is mainly tech companies that use the program, and that is a global sector. I hear about entrepreneurs from Brazil, from Japan or from Africa. Networking meetings are also taking place around the world, but they are national events. Unfortunately, there are no virtual networking sessions yet. But the program is making an effort, and the meetings I went to even included some high-level Estonian Representatives. For example, I personally met the Estonian foreign minister and the Estonian ambassador, which I found very exciting.
Offering digital identities has become a significant source of income for a country that has remarkably transformed its own identity since the fall of the Soviet Union. The e-Residency scheme brought Estonia more than 14 million Euros since its launch, and is predicted to rise to 1.84 billion Euros by 2025. Could other countries launch similar programs?
In 2018, Azerbaijan became the second country to issue e-Residency, and other countries are preparing. I think this was just the start: More countries will launch similar programs, and more people from developing or emerging countries will use it. Estonians expect that e-Residency will become the "new normal" and that each country will embrace digitisation in their own way based on their own needs, culture and unique strengths.
But they seem also determined to keep developing the program, as the newly launched whitepaper e-Residency 2.0 maps out. Where do you see the trends going five years from now?
The plans include many new developments, such as community-based "estcoin" tokens, or ensuring the integrity of the audit log I mentioned by using blockchain public ledger technologies – a technology already used in Estonian public registries. From my brief experience with the program, I fully expect that they will implement most of their plans (laughs). I am impressed how they asked for feedback, listen, plan and push ahead with implementation. And I like the idea that I can contribute as an e-resident.