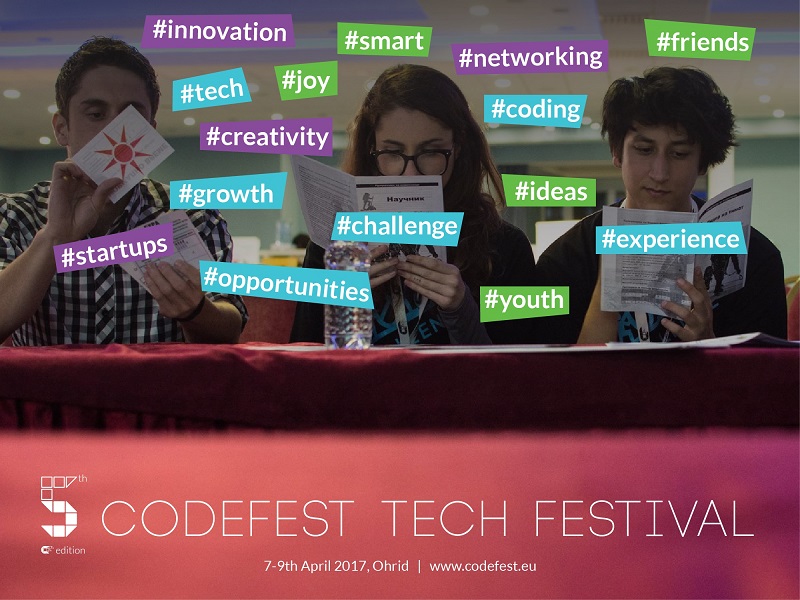 ---
The technology festival Codefest will have its 5th anniversary edition this April, 7th to 9th, in beautiful Ohrid, Macedonia. The event is founded and organized by the Development Association Startup Zone. Codefest Tech Festival is comprised of 3 tracks: a one-day conference, Codeference, addressing some of the hottest topics in the tech and startup world; Codefest Marathon, a 32-hour long hackathon-style competition where teams compete with their own creative and innovative hardware and software ideas; and a Business Expo where companies can showcase their products with mini stands and also headhunt among the talented participants.
During the conference, startup founders can be part of an exclusive workshop with John Biggs, East-Coast Editor at TechCrunch in USA. This workshop is intended for founders only and will cover a hands-on practical advice on how to get international media attention as a startup coming from a small market/small country. John will share some tips and ideas with founders about things they can do to improve their outreach and pitch to global media, as a way to getting access to more customers and even to investment internationally. All startup founders who are interested to take part in this workshop, can apply only through Brainster and the principle of registration is first-come-first-served basis.
The presence of John Biggs on Codefest as a speaker and instructor for this year is made possible thanks to the support of the Swiss Entrepreneurship Program (#SwissEP), a project supported by the Swiss Government and implemented by Swisscontact. If you're a startup founder in the CEE region, grab this great opportunity to meet and work with John Biggs and apply via Brainster.