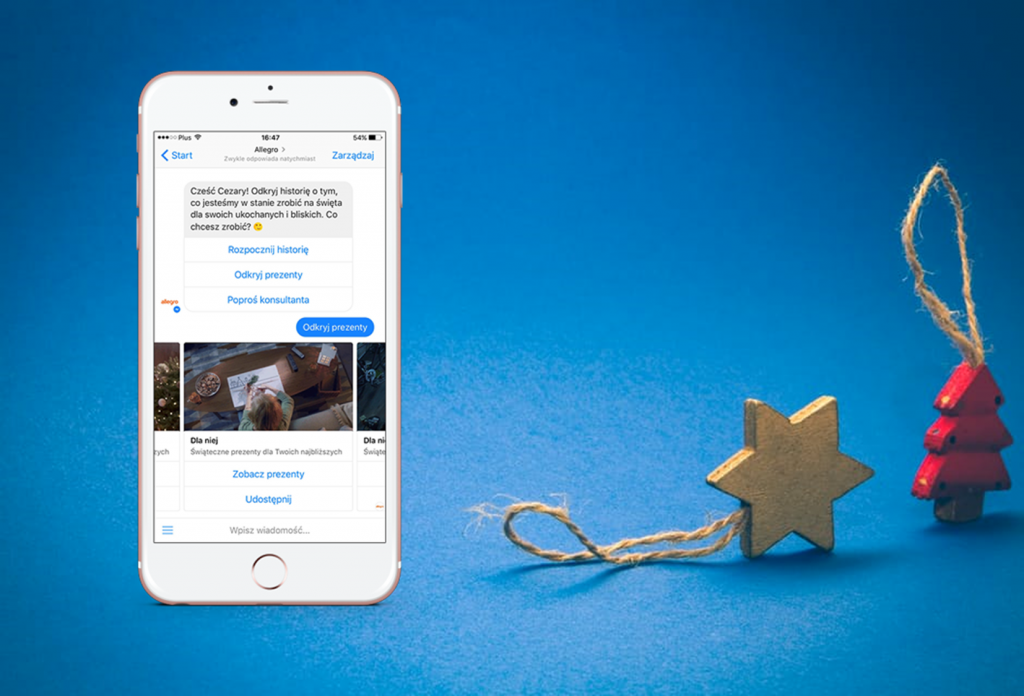 ---
The Christmas campaign of allegro.pl, the biggest Polish auction website, has been already announced as one of the best advertising campaigns ever. The creativity of their marketing department is indeed indisputable, however, it's technological twist is equally important.
Allegro has released a first e-commerce chatbot in Poland, which will help their clients choose their Christmast gifts on messenger. For the first time, customers will not have to go to the website to obtain some suggestions and ideas.
What is really interesting behind this story from our perspective is the fact that Allegro's Christmas chatbot has been delivered by a Polish startup company, Wandlee. This is a perfect example of cooperation between a large corporation and a startup.
The purpose of Wandlee products is to conduct conversations with customers by using natural language. Wandlee chatbots operate 24 hours/day, support an infinite number of customers and integrate with all major business sites. Through any messenger platform,  they can automate social media interactions with a brand, create lead generation, and conduct to sales of specific services or comprehensive support for customer care.
In the case of Allegro, the chatbot is meant to complement the story of the Grandfather from the advert, as well as helping customers to find gifts for friends and family ordered into categories: for her, for him, for the child, for the home ect. Customers will be able to use the bot by going directly to the Messenger via the link: m.me/allegro.
Allegro is our second, big corporate client, after Orange. The campaign has just started and will run till the end of December. Allegro did a bold move with launching the chatbot during a Christmas shopping boom. We hope that it will make Polish internet users more familiar with chatbots and convince more companies to use them. – says Joanna Cichocka, COO at Wandlee
There are on average 850.000 items sold on Allegro every day and over 20 000 000 registered users. Wandlee's chatbot will definitely be useful both for customers and customer service employees during this crazy holiday shopping season time.