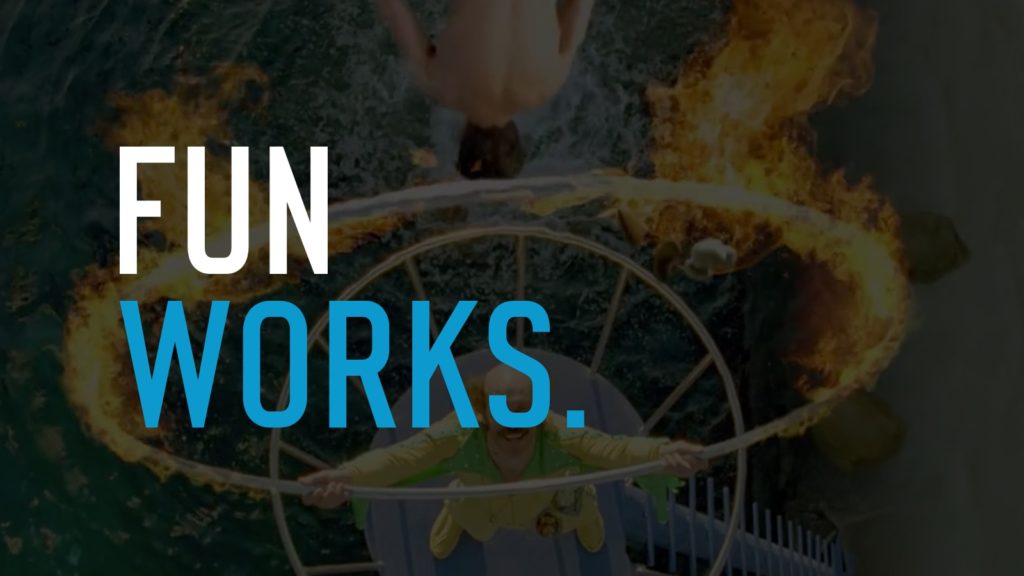 Featured
---
Perpetual, productivity-boosting fun in the workplace may seem like a distant dream to many of us, especially those working in industries that are typically associated with mundane tasks and strict routines.
But a sketch comedian-turned-entrepreneur who is taking fun to a whole different level at his creative agency and consultancy believes this mentality has its roots in the flawed definition of the highly coveted sense of enjoyment in the mainstream work culture.
"Some companies approach fun as happy hour, getting drinks, putting a foosball table in the office, or playing video games, but they don't seem to understand that we have to put fun into our workflow," Paul Charney, CEO and founder at Funworks, told 150sec with a beaming, contagious smile.
He says fun needs to be injected into different types of work because it is part of human nature and has nothing to do with a creative output. "It's just a positive feeling that should affect every company, team, and industry."
In his opinion, having fun does not mean taking the challenge lightly. "It means you're understanding that fun can be part of the process in order to come up with unique and good solutions, make solid decisions, or be able to see things clearly."
Fun in the work process, according to Charney, is a way to motivate all team members to participate and contribute to the task at hand.
"It doesn't matter if it's an organization that's trying to solve world hunger or a company that specializes in making the airport safer," he said, adding that fun allows for inclusion of diverse perspectives—one of the main pillars of what they call "Funmentum".
Funmentum lies at the heart of a process that Funworks has developed over the years using psychology, neuroscience, and fun to generate "extreme collaboration" and "progressive design thinking" to solve big problems.
Their playbook containing over 50 techniques designed to "turn off people's inner critic, and activate brain networks credited with creative thought" has helped solve some of the biggest challenges facing companies from Fortune 500 to startups.
Funworks' recent clients include Credit Karma, Lagunitas, Google, ESPN, Ubisoft, Logitech, Raley's Food For Families, Cafe Rio, Glu, and Intel. The creative agency and consultancy has won a number of industry awards such as Ad Age Small Agency of the Year in 2018 as well as Inc. 5000: The Most Successful Companies in America and Adweek 100: Fastest Growing Agencies in 2019. 
How it all started
Charney, who has worked in advertising and sketch comedy for over two decades, came up with the idea of launching Funworks after realizing that the process of producing an improv show or a comedy sketch can be replicated in advertising and branding contexts to unleash creativity.
"In comedy, it's not just about the end joke. It's about the process. If you have fun making the joke, it will probably be funny," he said, adding they are more of a "process company" than an "output company" that brings comedians and the client's team together to generate the best ideas faster while having a good time.
Charney says the whole gist of comedy is to "say the quiet part loud" and sees their approach as a very effective way to get everyone "leaning forward as opposed to leaning back" because it builds psychological safety, which is another pillar of Funmentum.
Fear of judgment, stress, anxiety, and insecurity get in the way of fun and creativity and the "science of fun" has shown that an atmosphere conducive to sharing a laugh together can trigger physiological responses in the body, including the secretion of trust and happiness hormones, he explained.
In the world of Funworks, fun equals energy equals progress, and, as Charney says, "you have to put effort into" creating this experience and it does not come out of the blue.
Practical tips
Asked to share some tips on how to create the right environment to leverage the power of fun, especially in today's era of remote work and distributed teams, the CEO of Funworks suggested that people make more phone calls and do it while walking outside if possible.
It helps increase the level of endorphins in the brain that relieve stress, increase relaxation, and aid in boosting mood, Charney said.
Speed-storming, which involves having people work in pairs and generating ideas in a matter of minutes, is also a simple exercise that can yield positive results, he said, adding that it can be easily done using Zoom's breakout room feature.
His experience shows that speed-storming and techniques like the Crazy 8's—an exercise that challenges people to sketch eight distinct ideas in eight minutes—work best if every individual shares their ideas with the rest of the team after each session to narrow them down to the best ones.
"Making sure you have time to converge is as important as making sure you have time to diverge. That's what I see is really hard in the remote landscape," Charney said, noting that the diverge-and-converge principle is another pillar of Funmentum.
"Another fun but weird thing we've done in Zoom is an exercise called pillow talk. You take your pillow and put your head on it and the person you're talking to puts their head on their own pillow, and then you just have the conversation. It's amazing because the mood totally changes and people feel safer and more relaxed, which leads to more honest conversations."
The fourth and last pillar of Funmentum is "yes and", an improv term that refers to a "builder mentality" where participants in the creative process build on ideas instead of saying "No" right away.
Charney also explained that they follow the creative principles proposed by Harvard professor Linda A. Hill, namely creative abrasion, creative agility, and creative resolution, at their company. 
Creative abrasion is the ability to generate ideas through debate and discourse, creative agility is the ability to experiment and test quickly, and creative resolution is the ability to make integrative decisions.
Work-fun balance
On how a healthy balance can be achieved between fun and work to ensure maximum productivity, Charney said it is something his company is always cognizant of and is trying to get better at by integrating the creative principles mentioned into whatever they do.
"The whole point is work. The whole premise is that you want to do your best to make work feel more enjoyable so that it has more of a positive effect rather than a negative one on you as a person. The entire goal is to get into a flow state," he added.
Charney was referring to a mental state in which a person gets lost in what they are doing and is fully immersed in a feeling of energized focus, full involvement, and enjoyment.
"I think people are needing more such moments in this remote world," the founder of Funworks said, encouraging teams to harness the full potential of the "amazing" tools available online that can "break down walls, create connection and intimacy, and elevate the level of happy hormones in new ways."
Disclosure: This article mentions a client of an Espacio portfolio company.