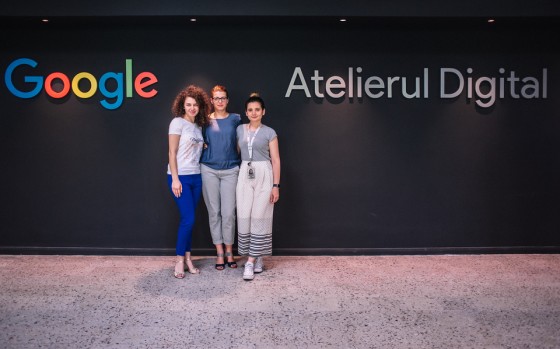 ---
Google announces the expansion of its "Atelierul Digital" initiative by building 6 regional hubs in Romania, in collaboration with the top universities in the country. The hubs will serve as touch-points between Academia and the business world, providing practical training to university students in areas such as entrepreneurship and digital marketing, while connecting them with local SMBs in need of digital skills and advice. Google launched the "Atelierul Digital" initiative in April 2016, and within 1 year it trained over 60,000 students, entrepreneurs and employees of Romanian SMBs on digital skills: from launching an online business, to building a quality website and developing an effective online strategy.
Based on the Digital Economy and Society Index, Romania is ranked last among the 28 EU Member States. According to the DESI country profile, Romanians benefit from coverage of fast broadband connections in urban areas, but the levels of digital skills among employees and the usage of online tools by Romanian SMBs are still low. Few Romanian SMBs take full advantage of the digital world: only 22% of them use online tools, and only 5% sell online. By growing their digital skills and adopting digital technology SMBs could not only reduce costs but also enhance efficiency and better engage with their customers.
During the last 12 months, Atelierul Digital visited 45 cities and delivered in-person training to 20,000  students across the country, developing the digital skills of students and making sure that today's SMBs and tomorrow's startups have the knowledge they need to compete in the global online economy.
Encouraged by the positive response received from students, teachers and local businesses, Google decided to build 6 local hubs, each hosted by a university in top cities across the country: Bucuresti, Cluj, Iasi, Timisoara, Constanta and Brasov. The Hubs will serve a dual purpose: first, to develop future startups by providing a co-working space for student-entrepreneurs, and delivering business and digital skills trainings to students. Second, the Hubs will constitute a touch-point between students and the SMB community, aiming to develop the digital skills of local SMBs: a select group of digital consultants, graduates of "Atelierul Digital" advanced trainings, will provide free consultations to local SMBs on digital tools, strategy and marketing.
"Due to the widespread penetration of digital technology and the internet, there has been a change in the structure of the market. Today every business, regardless of its size has the opportunity to reach a global audience. However, the lack of digital technology and the necessary skills still remains a challenge not only in Romania but everywhere in the world. That is why we have decided to to expand our Atelierul Digital program launched last year in order to meet the needs of Romanian SMBs. The growth of SMBs is one of the requirements of economic cohesion." – said Elisabeta Moraru, Country Business Development Manager of Google Romania.
Google's Atelierul Digital online training platform launched last year will continue to be available for free to everyone at https://learndigital.withgoogle.com/atelieruldigital. The platform is a collection of basic video trainings on topics ranging from how to track performance for your website to what you need to know about e-commerce – and it's recommended for those who want to grow their digital knowledge either to progress in their career or for growing their own business. At the end of the online course the users receive a certification from Google and IAB Europe