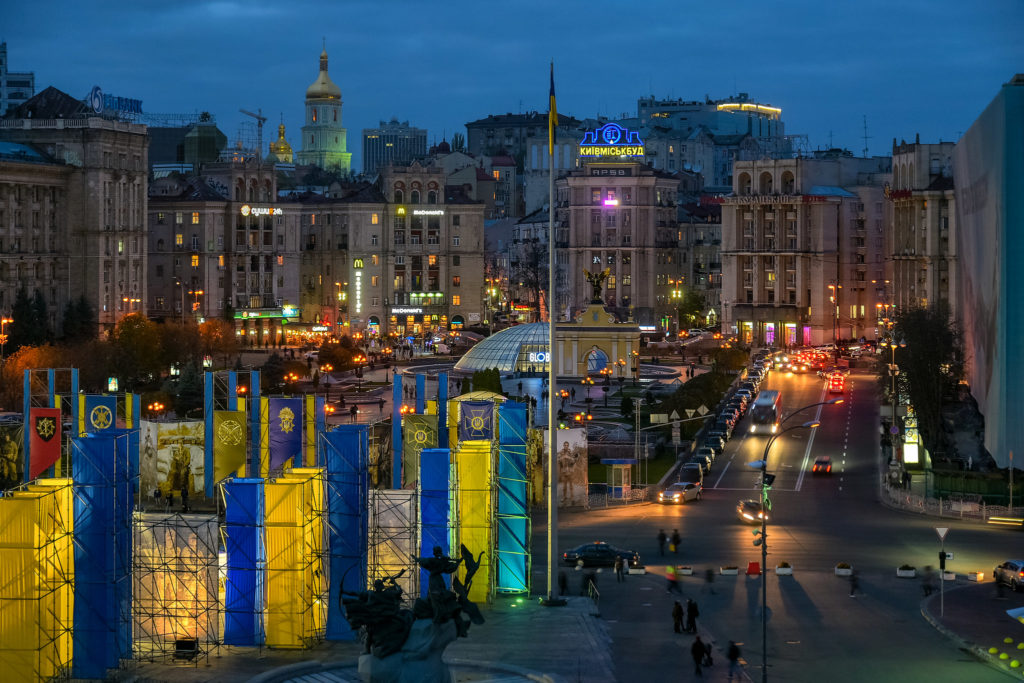 ---
A mecca for software talent, global tech powerhouse or, occasionally, the arena for Cold War-inspired cyber wars: Welcome to Ukraine's turbulent but bustling tech scene.
Tech powerhouse? While Ukraine is regularly making news as a hotbed for geopolitics, much less is known in the rest of the world of the country's booming hub for IT business and talent. In this short guide, we explain the main trends – and why Ukraine tech scene is anything but ordinary.
1. Global "Outsourcing Darling" fighting for its throne
Many of Silicon Valley's corporate superstars are powered by developers of Kiev, Kharkiv or Lviv. In fact, the country was just named No.1 "Outsourcing Destination" of 2017 by the Global Sourcing Association, and has earned countless other honorable mentions across industry rankings.
Samsung, IBM and Oracle are just few of the big names that base their R&D in the Ukraine.  Ukraine's IT service sector created exports worth $3.6 billion in 2017, and has the potential to grow to $5.7 billion by 2020.
The biggest draw is the immense IT and software talent, including a staggering 43,000 developers and estimated 116,000 software engineers in the country. In international comparison, Ukraine is scoring high on its excellent higher education and training system, in particular strong on Science, Math – and IT.
In the past, these services came with a very humble price tag. However, there are signs that the winds may change for the  global 'darling' for offshore IT services: "Ukrainian IT specialists are already earning six times the average wage", says Yurij Riphyak from the software engineer recruiting company YouTeam in a recent interview.
Once wages start catching up, will Ukraine  lose out to the fierce international competition for offshore IT services?
"Definitely, no", says Oleksandr Kubrakov, Executive Director of the IT Ukraine Association, pointing to a balanced correlation between price and quality of IT services and general growth of the demand for IT services in the world.
While competition is fierce, it seems that Ukraine is firmly set to defend its title: "Ukrainian IT companies are analyzing salary trends globally and in the region to avoid headhunting and relocation of specialists to neighboring countries", adds Kubrakov.
2. Startups: A league of Unicorns – in foreign disguise
Tech talent in the Ukraine does not only flock to major international employers – increasingly, they are also putting their own name on the door.
"A lot of highly qualified developers, product managers, marketing managers who used to work for foreign clients in Outsourcing started launching their own startups now", says Vitaly Laptenok, CEO of Kyiev-based digital media company Genesis.
Some Ukrainian startups are now well-established in the global tech scene, including Mac Paw, Mobalytics, people.ai, Sixa and Augmented Pixels. Many successful entrepreneurs founded their business in Ukraine – but then eventually left for Silicon Valley and other global hubs.
Earlier this month, GitLab closed a new financing round of $100 million and entered the club of Ukrainian unicorns – in US disguise. The company was founded by Dmitriy Zaporozhets in 2011 in his Ukrainian home, a "house without running water", but ventured to base itself in Silicon Valley quickly after.
It joins the ranks of other hidden Ukraine startup superstars, such as Ukraine-founded but Silicon-Valley-based Grammarly that reached Unicorn status in 2017 by raising a full $110 million in its first institutional funding round.
Other well-known Silicon Valley superstars that hail from Ukraine are Jan Koum, cofounder of WhatsApp, and Max Levchin, the co-founder of PayPal.
"Unfortunately, many startups are not leery to stay in Ukraine – the United States still remain Mecca for product tech companies", says Oleksandr Kubrakov from the IT Ukraine Association.
To understand why so many emerging tech startups eventually have left the country, it is also worth taking a quick look at the ample challenges they are facing.
In terms of 'Ease of doing business', Ukraine is rated No. 76 in the world – a big jump from the staggering No. 152 just 6 years ago, but still lacking behind its peers such as Moldova, Romania or Poland.
Inflation, corruption and policy instability have been the most problematic areas for Ukraine's business, according to the World Economic Forum. Its weak public institutions and legal systems are lagging behind globally, in particular when it comes to intellectual and property rights.
"Ukrainian tech businesses are thriving not because of the business climate, but in spite of it", rightly judges the national newspaper Kyiev Post.
Yet there are some careful signs of progress, as policy-makers are slowly implementing overdue economic reforms concerning taxes and minority investors.
"Indeed, about 3-5 years ago the problem of business climate was salient in Ukraine: IT companies were faced with corruption, illegal frisks or raids with a support of state resources, and other manifestations of pressure on business", says Oleksandr Kubrakov.
"For now, the situation has changed. The current government understands the importance of the business climate for building a strong economy."
Furthermore, access to capital – a chronic headache for entrepreneurs in CEE well beyond Ukraine's borders – is slowly starting to increase. Venture capital deals involving Ukrainian companies nearly tripled between 2016 and 2017. And in 2018, the Ukrainian government finally agreed to make available a 10% contribution to put in place a $100 million venture capital fund.
Local observers like Vitaly Laptenok are optimistic: "We expect that during next 1-3 years we will see at least 2-3 deals 'Unicorn' deals of over 1 billion valuation on this market", he adds.
3. Cyberwars and cryptocurrencies:  The 'Wild, Wild East'?
But Ukraine's blooming digital scene is also an arena to witness the geopolitical earthquakes shaking the country. Tension with Russia peaked during the annexing of Crimea in 2014 but are still ongoing, regularly triggering comparisons to the cold war era.
Cybersecurity is a particularly burning issue. Reaching out to its international allies, a bill to promote close cooperation on cybersecurity efforts between the U.S. and Ukrainian governments has just passed the House of Representatives.
The cooperation plan comes amidst reports that the massive electric power blackout in Kiev was linked to Russian hackers. Earlier this year, another cyberattack attempt by Russian hackers against a chlorine distribution plant marked yet another incident of the country's struggle with malicious foreign attacks.
But it is not just the conflict with Russia shaking the tech scene: In July, the Kvazar semiconductor plant in Kiev was raided by Ukranian police officials seizing millions of pounds of computer equipment. And just a couple of months ago, Pavel Lerner, the CEO of cryptocurrency exchange Exmo Finance was kidnapped by six gunmen on the streets of Kiev's Obolon district, to be released on a hefty 1 million ransom – paid in bitcoin, of course.
Kidnappings, cyberattacks, Russian hackers? In these (rare) occasions, Ukraine's tech scene resembles more a Cold War-inspired spy movie set in the digital age.
What is the official response? With a government already struggling to regulate simple business processes, it is not hard to imagine the political paralysis when it comes to some of the more complex tech topics – such as blockchain and cryptocurrencies.
Indeed, cryptocurrencies seem increasingly a sector out of government control. Dubbed the 'wild east' by Politico magazine, allegations of money laundering, terrorist support and financing political separatists movements loom over regular police raids. They target in particular cryptocurrency 'mining', meaning the hardware and power-intensive process of verifying the complex blockchain transactions.
Yet restaurants and even fruit markets in Kiev are now accepting bitcoins. Considering a notoriously unstable domestic currency, the hryvnia, cryptocurrencies have been eagerly taken on by Ukrainians citizens. Rumors are that even the National Bank is considering launching a state-owned digital currency based on blockchain technology.
While a draft ordinance circulated on Facebook earlier this summer, cryptocurrencies so far remain unregulated – a scene still oscillating between 'unregulated', 'under the radar' and 'completely illegal'.
Outlook
Ukraine's tech scene, already vibrant in the field of IT outsourcing, might be on the verge to emerge as a major hub for startups as well. The creativity and drive of local entrepreneurs to shoulder some of the persisting challenges creates optimism among observers.
"Now is great time for Venture Capital and growth-stage investors to enter the market since competition for great startups is still really low", believes Vitaly Laptenok. "Despite some limitations, a lot of great companies are growing fast in Ukraine".
Anything but ordinary, but definitely on the rise: Ukraine's tech scene is firmly set on a future path of growth.