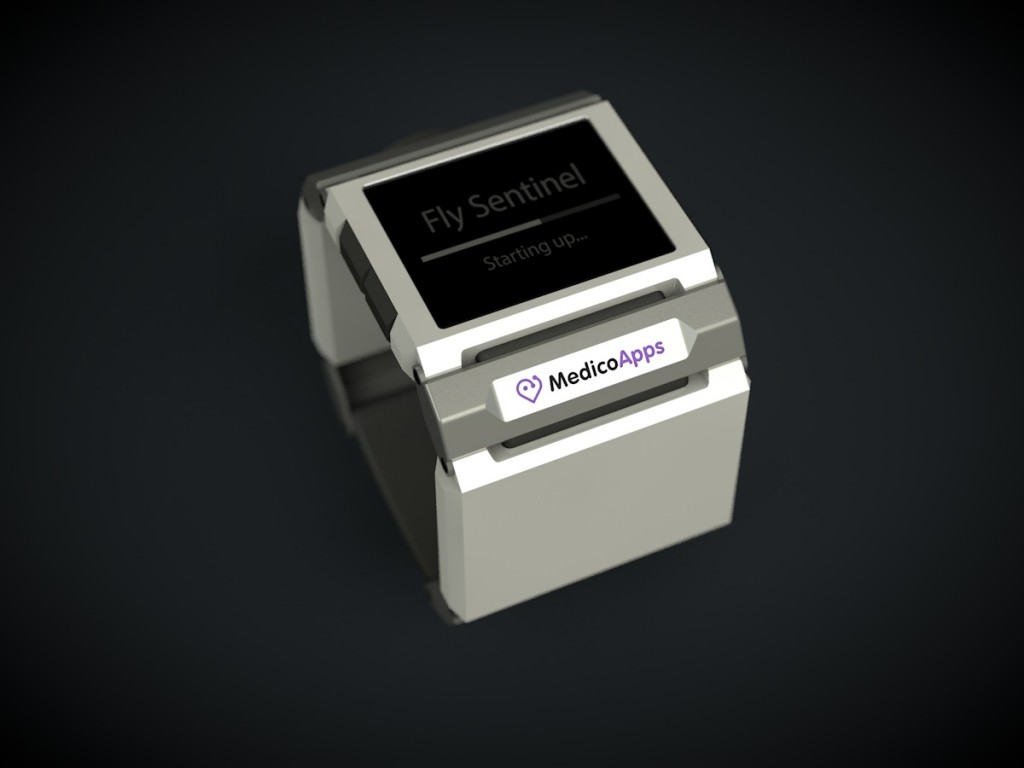 ---
FlySentinel is a smart watch for pilots and at the same time the first control system in the world measuring their psychophysical state during the flight together with different environment parameters. It is produced by Slovenian company Medicco Apps, run by a computer scientist, Gregor Poglajen and a sport pilot, Primož Grajžl. The smart device identifies potential risks and informs the pilot about them, advising him what to do to solve the problem. In the case of an accident, it can also send an emergency call and report GPS location.
In recent years, the development of technologies in aviation, especially in navigation and flight control systems, has made considerable progress. Very little or practically nothing has been done in the field of systems for controlling the state of a pilot in the plane. With the growing number of sport and airline pilots, the number of older pilots with chronic diseases is increasing and this can lead to sudden health problems during the flight, like heart attacks, breathing problems, etc. Younger and completely healthy pilots can also have unexpected health problems during long flights at high altitudes.
The lack of a system that is continuously monitoring the pilot's vital functions and acts as an early warning system about pilot's health problems is something that would contribute significantly to the safety of a pilot, fellow passengers and a plane. This has been perceived as a business opportunity by the two founders, that have experience as pilots and experts in the field of computer science and medicine.
The parameters that FlySentinel is monitoring are heart rate, body temperature and oxygen saturation in blood. It also measures the ambient temperature, noise, humidity, CO, G-forces and GPS coordinates all the time. The housing is very resistant and it's made of light metals and besides the monitoring, the pilot can use it as a smartwatch. At the end of the flight, the pilot can store all data in the cloud for later processing and analysis.
The company received an investment from the Slovene Enterprise Fund in autumn 2015 and it finished the phase of the collecting pre-orders that attracted nearly 100 pilots worldwide. At the same time, with the help of Business Angels Club of Slovenia they are discussing further investment with corporate investors.
By the end of 2017, the team is planning to offer their product to fire-fighters, soldiers and elderly people. This step will require additional development and adaptation, including new parameters to be measured and this is where further funding can help them achieve this. While the smartwatch market is in decline, the medical applications in certain niches can prove to be valuable business and it's great to see another CEE company going into this field.