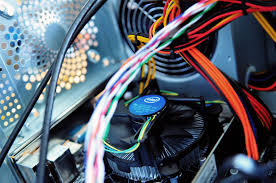 ---
Czech startup, SafeFuture launched its technology in Prague and has since gathered dozens of clients as well as already beginning to look to multiply and grow its capabilities. Led by CEO Martin Šuba, the company has combined software with renewable energy sources to utilise computing power that is required by large-scale projects such as film studies, cryptoscopes and scientific research. The outcome is that they offer computer power which is leased to clients, and the best thing is that it's the cheapest rendering option in the world.
According to a recent article, the highest demand for computational performance is strongly associated with the rendering of videos, group calculations such as large biochemical analysis for scientific studies and the analysis of virtual currencies. The third, becoming an increasingly vocal topic as the rise of cryptocurrencies and blockchain technology points to a higher demand in mining and a vast amount of power which has seen some companies hunt for eco-friendly solutions.
SafeFuture has too seen the competitive benefit of working with renewable resources and has thus set itself out amongst the rest, stating its power sources are tied to hydroelectricity. With a shortage of computing power in the world, this Czech company has been able to actually generate its own power sources and, combined with unique software, allows their energy leasing to be almost thirty percent cheaper than competitors. What's even more beneficial to the miners and the scientists among us, is that you can join with your own server.
Though not the only rendering option in the market, SafeFuture has also worked closely within several different marketplaces and can hence allocate computer power accordingly to whether the most demand rests. The strategy of this method claims to guarantee safe and stable returns on top of the provision of renewable energy offering greener solutions.
SafeFuture also, as a renewable rendering startup, strives to set itself out further by offering opportunities for clients to invest and contribute to the company's growth and success in 'value-for-money' methods. Investors can purchase a server and rent it to SafeFuture for up to two years during which time parts of the investment continue to be paid off whilst the investor maintains ownership of the server. This practice has already been put in practice and, the company claims, already means they rent a number of servers from external investors.
SafeFuture can generate profit as a result of the high-end performance of new servers as well as guarantee growth. It's a clever idea, and a promising one in a field where the need for increased computer power will inevitably grow alongside the use of digital currencies, mining and the promise of blockchain potential.