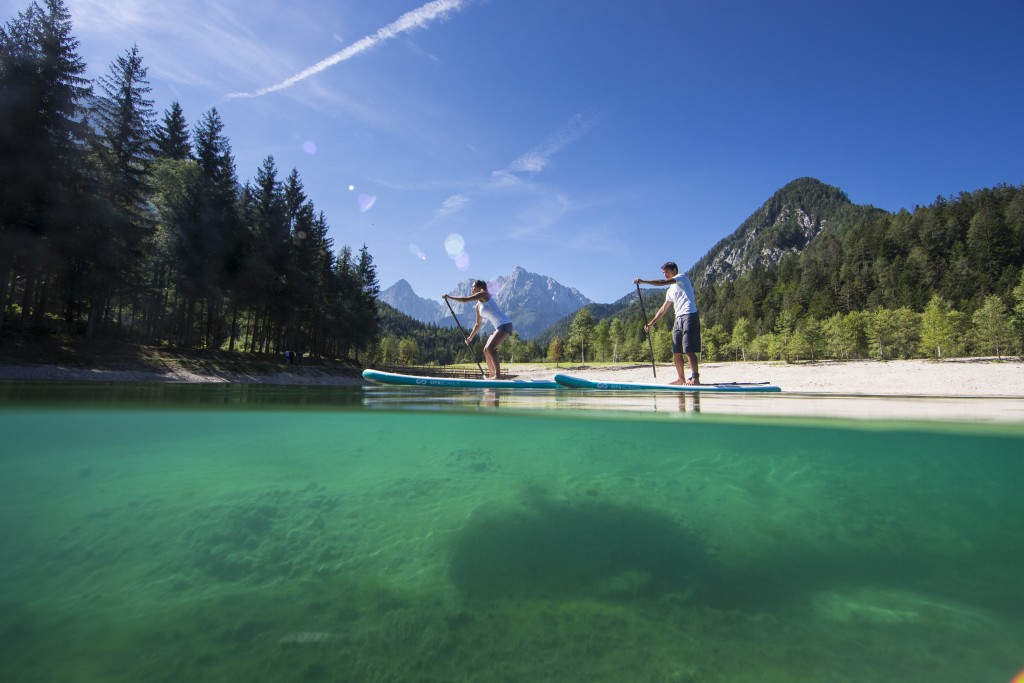 ---
Stand up paddle boarding is the fastest growing water sport with 25% yearly growth. Next year there will be 1 million boards sold worldwide. Slovenian startup Sipaboards made this sport more accessible for everyone.
The idea of Sipaboards has been born when Sebastjan had a great sunny day out on a SUP with his family. While there was no problem with paddling off the shore, his daughters were really struggling with paddling when they tried to get back. Because they simply couldn't cope on their own they had to be dragged behind parents to safety. They didn't realize how strong the current was when starting the trip. This experience made Sebasjan started thinking that there must be a space for improvement, so he and his engineer friend Žiga started working in the summer of 2014 and had a prototype by fall that year.
When we started testing it, we discovered a number of new possibilities. It proved to be great for groups of varying abilities, grandparents, couples, and it's perfect for beginners, since the forward motion gives you additional stability to learn how to paddle faster. When deflated, SipaBoards easily fit into a backpack, so you can throw one in your car, stow it away on a boat or RV, or store it in your basement during the off-season. –  says Sebastjan Sitar, CEO & Founder at Sipaboards.
This solution takes the idea of electric bikes to water. It is there to help you get faster and further not to completely eliminate paddling. It achieves that with the engine hidden inside the board thus eliminating additional drag. The speed matches the speed of an average paddler so the battery can last up to three hours. The concept was awarded Red Dot Award 2015: Best of the Best for those reasons.
Main revenue stream of Sipaboards is their own online store. Others are retailers, rental shops and SipaBoards Ambassadors. They were funding the company on their themselves at the beginning. After that they sought funding in Kickstarter where Sipaboards succeeded twice.
Our mission is to bring this sport closer to much more people by removing the obstacles that make it hard for some. Now the whole families can paddle together because even kids can keep up with their much more fit parents. Also it's easy to inflate four or five boards before taking off. Until now this was a very tiresome one hour job. – says Sebastjan.
The team sold 600 boards in the last 12 months in online sale and crowdfunding campaigns. Currently they are working on bigger B2B orders closing in soon for southern hemisphere and in September for 2017 season in northern hemisphere.