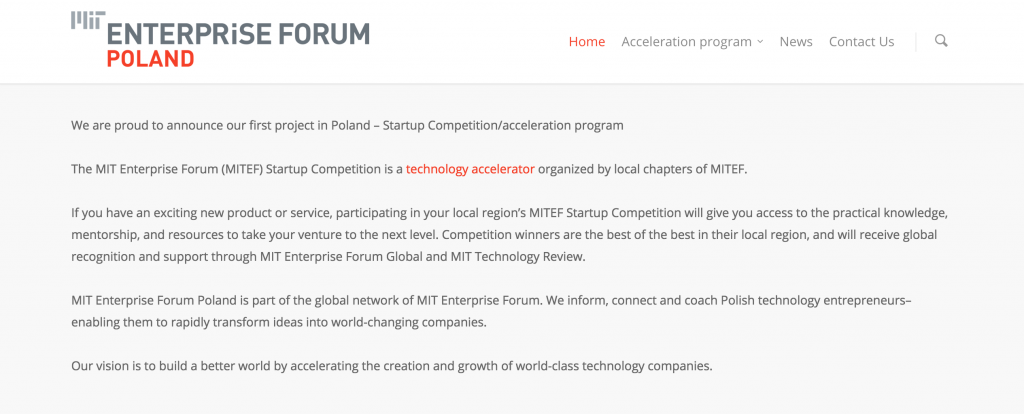 ---
MIT Enterprise Forum Poland Startup Competition, which is to take place in Warsaw beginning from 19 February 2016, will bring together selected scientifically based projects for an acceleration program. MIT Enterprise Forum Poland is a part of the global network of MIT Enterprise Forum. Its mission is to inform, connect and coach Polish technology entrepreneurs–enabling them to rapidly transform ideas into world-changing companies.
The main objective is to help Polish technological start-ups with their technology commercialisation. Program is introduced towards entrepreneurs at early stage of development (min 2 founders + 50% of them have to be from Poland) and start-ups which were established max 3 years ago and till now have not secured more than PLN 1 mln of funding.
Acceleration program is based on the Disciplined Entrepreneurship framework and is divided into four pillars: four workshops (1.5 day each) lasting since 4 March until 30 April, team of international mentors (2 for each team) advising to participants, meetings with experts from PwC, JWP and Wardyński, pitching academy held by PhD Linda Plano – MIT graduate. Five best teams will take part in the second step of acceleration in USA.
The initiative is to support the development of scientific entrepreneurship in the region, enabling teams to validate their ideas and showcase their projects to the worldwide audience.
Guest Author: Bartosz Czerkies