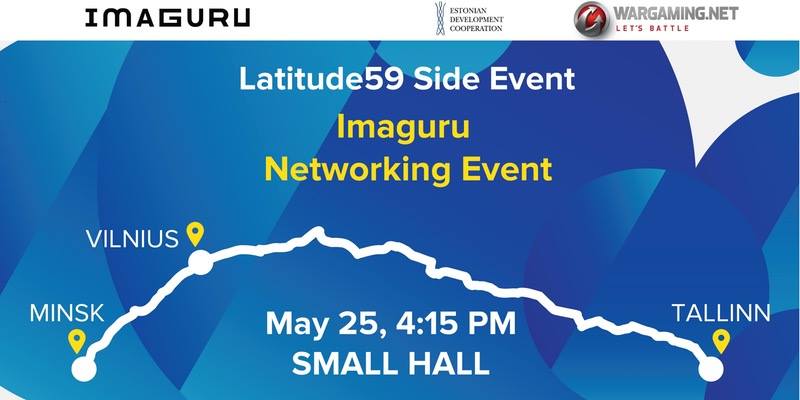 ---
Only a few years ago, the startup scene of Eastern and South Eastern Europe was regarded as unchartered, if not unclaimed terrain.  Notwithstanding the mushroom growth of local tech events, seems it took quite a time for them to weave into an ecosystem canvas.  Who could predict that in the year 2017, the long-since steaming startup cauldron of the CIS would be pouring unrestrained innovation into outside world?
Within this pretext, happenings on the startup & tech arena of Belarus are really fun to watch over.  Especially when the Startup Roadshow  from Imaguru to Latitude59 is just around the corner. In fact,  the very moment this article is being put together, five most promising local startups are already hitting the road – away from Minsk and into Tallinn. The northern capital where everything medieval blends with everything hype & hi-tech so nicely.
As we have already grasped from the roadshow's title, the entire credit for the unique journey experience goes to Minsk-based Impact Hub Imaguru – yep, the same hub which once has already wowed us as birthplace to MSQRD. With a feature-set allowing us to swap faces with celebs and action heroes, MSQRD became a mass fad the day it appeared in the app store.
Though, Belarusian startups to be showcased at Latitude59 are no smaller fries either. Let's quickly cast a glance on whom you can catch up with:
PandaDoc – Pandas on a mission to change documents aka an online tool which unlocks the pleasure of smooth document editing for people and businesses. Notably, those Pandas have recently closed a 15-million Series B round.
Dronex – again a buzzword in the world of drones and robotics. They build unmanned aerial vehicles which fly  3.5-kilo parcels straight into your window.
Kuku.io – a novel and easy-to-use tool for social media content management which can make your content go viral.
Tap2Pay.me –  a  fast-paced mobile payment solution enabled through messaging apps.  The app works with Facebook, Viber and Telegram. The latest news is that Tap2Pay.me have begun exploring the way to secure 2-click money transfers while shopping through Sandbox and Woocommerce.
Fansy.ai – a real jewel for gaming commentators and bloggers: the start-up employs computer vision to analyze live game streaming and single out crucial action moments.
More details on time, location and features of Roadshow's panel at Latitute59 can be found at Eventbrite.
Hanna Aranovich, the event manager with Imaguru and Roadshow Coordinator, concludes:
"In Belarus there is almost no governmental support to start-up ecosystem yet.  Nevertheless we have bright, world-famous start-up examples emerging here.  Not only we take pride in spreading the word about our ecosystem – we also bring all our technology together with us. The Baltic region is of strategic importance to us due to its close location, cultural similarities and shared past. It is not easy to be a pace-maker in your own country, you have to look at outside examples. Ecosystem in Estonia is a developed one, so we are justified to take some inspiration out of it."