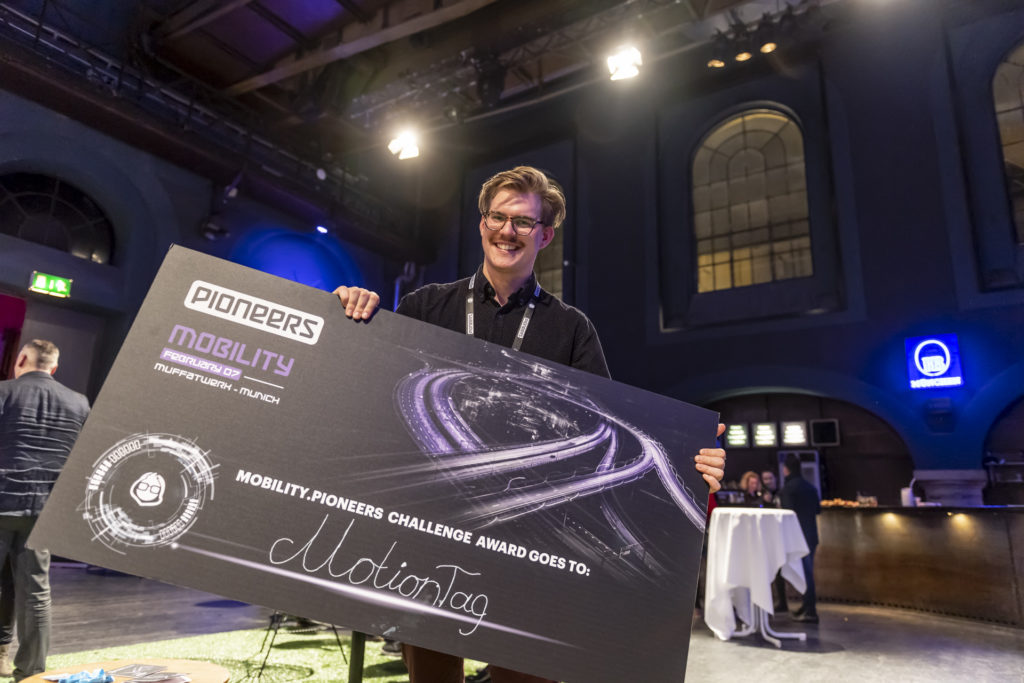 News
---
German Startup MOTIONTAG wins this year's Mobility.Pioneers with a solution that aims to improve 'pay-as-you-go' ticketing and mobility intelligence, the competition announced to the press today.
The startup convinced the jury with a technology that promises more stress-free travel to passengers and more precise data for transport companies, based on a data platform that integrates into cellphone applications.
MOTIONTAG was chosen among 70 competitors at yesterday's event in Vienna's Muffatwerk in Munich, attended by 300 visitors from the corporate, investor and startup scene interested in mobility innovation. The event was organized by startup platform Pioneers with innovation hub Wairy and investor VVC Vector Venture Capital GmbH as main partners.
"It's always nice to get recognition like this – word of mouth is super important in our business. Some of our customers are here, and they do talk", said MOTIONTAG COO Fabien Sauthier at the award ceremony. "I met a lot of people today, including investors, potential clients, and existing clients as well – using the Pioneers Match & Meet networking service really helped organize the day in that respect!"
As the winner of Mobility.Pioneers,
MOTIONTAG
is now fast-tracked to join the seed-stage program Pioneers500. The startup will pitch for the Pioneers Challenge Award at this year's
Pioneers'19
event that will be held from May 9th-10th at the Viennese Hofburg in Austria.
"In the end, it's the personal contacts that offer real worth", said Oliver Csendes, CEO of Pioneers about the platform's startup promotion philosophy. "Our goal is to bring the right people together and support new business relationships – our "Match&Meet" tool allows us to do so."
Founded in 2009, Pioneers strives to foster growth and innovation with a focus on deep tech. The platform organizes different events to connect the ecosystem and offers consultancy services, investments and digital solutions.
Mobility enters a new tech-driven era, believes Oliver Csendes. "Whether in the area of Urban or Air Mobility, Deep Tech is changing the mobility industry and our day-to-day lives".
"Deep Tech is changing the mobility industry and our day-to-day lives."
Oliver Csendes, CEO of Pioneers.
Some of the new tech innovations that Germany's mobility industry is working on could be seen earlier this year at the Consumer Electronics Show (CES) in Las Vegas. For example, German car supplier Bosch created a buzz by presenting its prototype of an electric shuttle – without a steering wheel. The company predicts that driverless electric shuttle will soon become a standard in urban transport, industry media report.
But disruption of urban mobility does not only come from the corporate R&D departments but often from innovative startups. For example, Spanish Startup AWAAIT has entered a cooperation with the main Catalonian railway company to use artificial intelligence (IAI) against metro passengers not paying their fare in Barcelona.
At Pioneers' flagship event Pioneers'19, the floor will be open for many more startup innovations that aim to disrupt and shape tomorrow's industries. Previously, the event brought together a community of 2,500 founders, investors, innovation executives, media and public sector representatives, say the organizers.
Interested startups in the seed stage can apply to become part of Pioneer500 and pitch at Pioneers'19 in Vienna. The application is open until April 7th via the

Pioneers'19 website

.

For more information on Pioneers' different programs and events, please visit

https://pioneers.io/#/

.