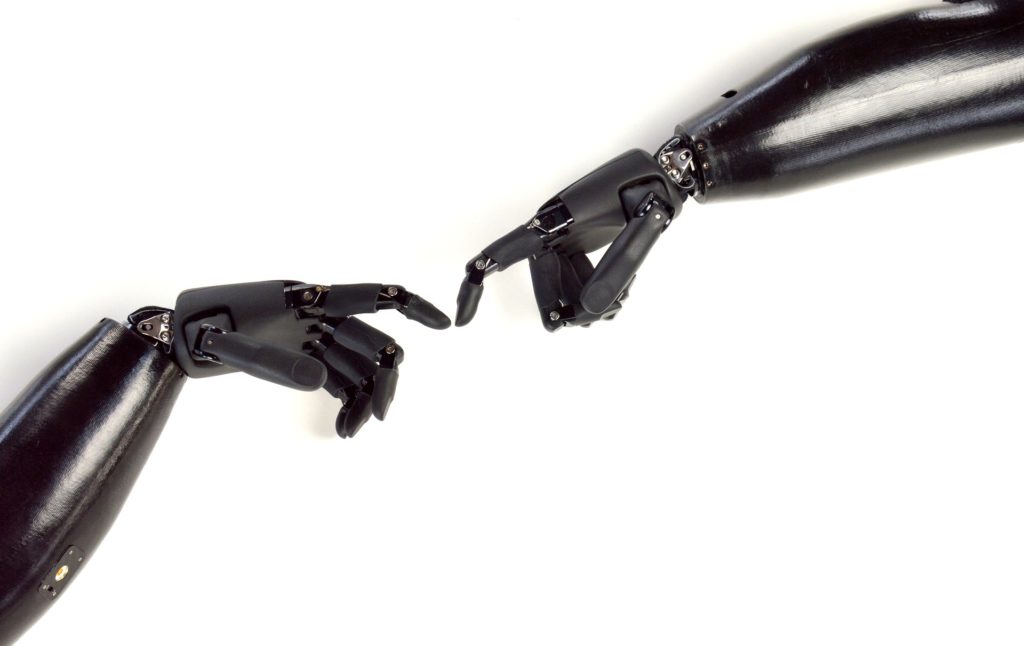 Startups
---
Robotics have been utilized in the medical sphere for a number of years. But up until recently, they have been primarily confined to surgery. Nowadays, however, robotics have expanded beyond the confines of hospital operating rooms and into rehabilitative treatments for day-to-day life. A number of startups are building wearable robotic solutions to directly help trauma patients regain the ability to use their limbs. Other ventures are focusing on recognizing early signs of disease, the effect of medications, and reducing medical costs.
The advantages of robotics in healthcare are plentiful. Machine-learning systems and automated processes can help reduce human error, lower recovery time, and transform complex procedures in swift, efficient action. While in the past, integrating robotics in medicine has been notoriously slow, change seems to be on the horizon. These European startups are exploring low-cost methods of transforming medicine with robots and AI technology, and subsequently, transforming lives.
>> Read more: AI Advancing the Fight Against Cancer
This Barcelona startup is designing robotic exoskeletons to help people with disabilities move again. The solution is manufactured through three subsystems: an exoskeleton, a remote command, and a WiFi application. They focus on making lightweight, affordable technology to enhance human mobility.
Founded in 2018, ABLE Human Motion has already secured €750,000 in capital to work on new medical devices. The startup aims to have its final product on the market by the end of 2020 after clinical validation.
Another Spanish venture (located in Urola Garaia), GOGOA Mobility is developing low-cost, wearable solutions to support the neck, lumbar, and shoulder in rehabilitative therapy. The startup looks to transform the lives of people with Acquired Brain Damage and Spinal Cord injuries, as well as enhance the movement of workers in extreme conditions (such as rescue services).

Unlike other companies, GOGOA Mobility is not limited to physical tools – they are also building augmented reality devices and IT applications to further their restorative mission.

Roughly 5% of the Western world suffers from restricted hand movement. In response, Tendo is constructing medical aids for patients with gripping limitations. Their first product is an easy-to-use, minimalistic sleeve that fits over the thumb and index finger. It enables people to grip, hold, and release objects by pulling an artificial tendon. Speaking about the huge impact the sleeve can have on lives, founder and CEO Sofie Woge shared a success story with The Swedish Press about a man who was able to drink by himself for the first time in 20 years.

Although the product is still in development, it aims to help those who have experienced a stroke, have arthritis or a spinal cord injury. Tendo was named one of Sweden's 33 most promising and innovative startups by Swedish technology and engineering magazine NyTeknik.
"We recently had a test where a man was able to drink by himself for the first time in 20 years"

Sofie Woge, Founder & CEO of Tendo
Over in Delft, The Netherlands, Reboocon Bionics manufactures intelligent robots to help patients with mobility impairments gain strength and connect with society. All three of its products remain in development: the prosthetic knee, powered ankle, and exoskeleton. All are awaiting the CE mark before becoming available for purchase. However, in July 2019, a user walked the Great Wall of China wearing the prosthetic knee – demonstrating the design's strength and agility
This groundbreaking French startup has devised remote monitoring technology to convert invasive vascular medical devices into connected healthcare devices. Sensome's tools can identify biological tissue composition to assess and treat ischemic strokes: the leading cause of disability. Their Clotild™ product uses sensors to gather information about clots that have formed in patients. Surgeons can then operate using this knowledge, choosing optimal tools and reestablishing blood flow faster. In 2018, Sensome raised 4.6 million euros to make Clotild™ available on the market.

Arthronica is a London-based startup exploring AI solutions to treat arthritis, a condition that affects 350 million people worldwide. The company's technology means patients no longer require expensive face-to-face visits to doctors. Instead, consultations can be conducted using the camera on phones and computers. These visual assessments use force-sensing vision, 3D CAD modelling, and skeletal tracking to monitor how arthritis sufferers respond to pharmacological treatment. Equally, medical professionals can easily store and access data about the progression of patients' condition, as well as choose optimized recovery pathways. Earlier this year, Arthronica was one of the finalists at Women Startup Challenge Europe HealthTech.
"For people, not symptoms"
These startups are just a small representation of the medtech advances striving to revolutionize healthcare with robotics. Interestingly, development appears to stem less from a desire to push scientific limits, and instead more from a need to distribute accessible and affordable solutions to those who are most in need. Akin to Tendo's moto "For people, not symptoms," Europe can expect to see many more startups adopting robotics to devise real-world treatments for humans.
>> Read more: Will we be able to print organs in the future?