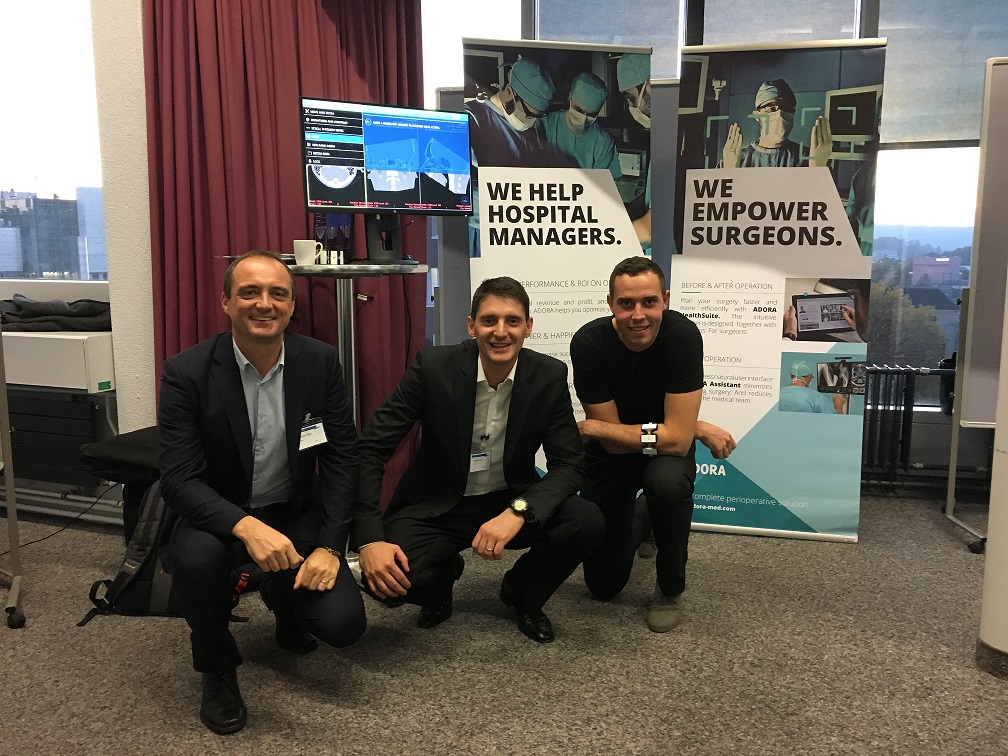 ---
Zimmer Biomet Connected Health Innovation Award is an esteemed competition for individuals, groups and organisations from all countries within EMEA region, where participants present digital technology-enabled innovations that tackle unmet needs in healthcare. These year's award finals were in the Swiss town Winterthur, in the Zurich canton, where Slovenian startup ADORA MED won second place.
ADORA MED is developing a hand-gesture based interactive viewer of medical images called ADORA AssistantTM, which allows surgeons to see information about patients inside the sterile field within operating room. As part of the award, Zimmer Biomet, a leading global company for medical equipment in the field of musculoskeletal health, based in Indiana, USA, and with European headquarters in Winterthur, will set up a pilot ADORA ASSISTANT™ system in three of its partner hospitals in Switzerland, Italy and Finland.
 "This is an incredibly important reference for us and a priceless opportunity to get feedback from the market and accelerate international breakthrough," said ADORA MED team members at their excellent ranking.
The team has recently finished a long-lasting and very demanding process of certification. They also add that they won't rest on these trophies, as they are already continuing and setting up the ADORA system in multiple hospitals in Portugal.
When receiving the award, Kristjan Košič, CEO of ADORA MED, highlighted that considering the urgency of finding new innovative products, such competitions are a great example of big organisations connecting and collaborating with lean and agile startups, excellently supplementing the hot trend of establishing corporate accelerators and funds.
Adora Med is one of the most active members of Venture Factory, the incubator of the University of Maribor, and the Maribor startup community. Last summer, they successfully completed an additional round of financing in the amount of 200,000 EUR, in which the Bulgarian investment fund Eleven collaborated with American investor Tim Draper  A couple of days ago, they also celebrated their placing into the Slovenian finals of the Central European Startup Awards 2016 in the category of startup of the year. ADORA MED and its interactive system are currently present in Slovenia, Portugal, Ireland and Kuwait, and installations in Austria, Italy, Switzerland, Finland, Saudi Arabia, Oman and Bahrain will follow soon.