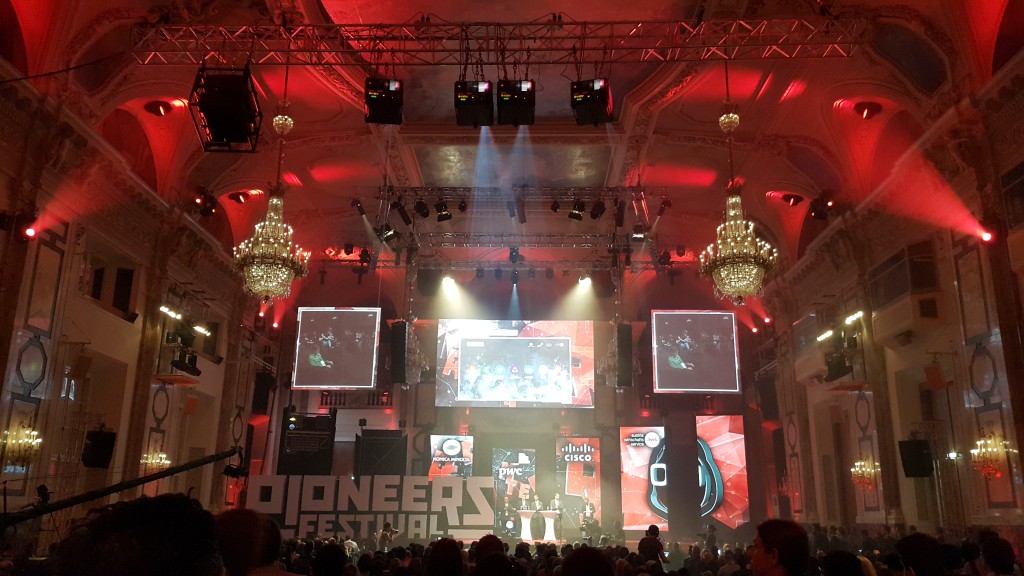 ---
Pioneers Festival 2016 is definitely the most famous startup event in Central-Eastern Europe. I went there for the first time to check what this whole hype is about. Here is what I found out.
Internet
OMG. Those guys really know how important Internet is for their participants. Routers were absolutely everywhere. Participants, staff, media, everyone had own network. There was no place at the venue without wifi range. This was amazing.
Food & drinks
Pioneers organisers had for food the same strategy as for Internet. There was no possibility of being hungry or thirsty. Besides breakfast and lunch there were always snacks, sandwiches, sausages and fruits available. Coffee places with delicious coffee were everywhere, water, juices, beer always next to food or coffee.
Venue
Hofburg Palace… a former imperial palace located in the very center of Vienna. It was just spectacular. This type of interiors brings a lot to general experience of the event and make every picture taken in the building postable on social media 😉 Organizers managed to fit the tech vibe into the medieval walls. There was a little bit too little power sockets, but hey, it's not Pioneers fault that historic emperors didn't think about it when designing the palace 😉
Agenda
Agenda has been divided into rooms but speeches were also clustered in thematic sections. It was very useful as jumping from room to room while having networking chats on the way is always super difficult at conferences. Pioneers designed agenda in the way that participants were able to participate in all activities they were interested without the feeling of loosing something.
Speakers
The selection of speakers brought a surprising mix of very well known personas to not so popular but insanely good presenters and panelists. All the speeches were prepared in a way to bring a real value to participants and share new knowledge and show something which has not been presented before.
Parties
Pioneers knows that the best networking is happening after the sunset 😉 There was a party planned for both of the days, plus a warm up meeting over a beer before the event. Thanks to that, participants quickly built not so formal relations and had opportunity to get to know each other much better. Good party always makes networking much more effective 😉
Atmosphere
The atmosphere was something which made Pioneers totally different from any other startup event I attended do far. First of all, it's called a festival not without a reason. Pioneers is about celebration of startup industry. Speeches, business deals, everything is of course very important, but organizers managed to make it fun and enjoyable. Loud music, gadgets to test, very casual atmosphere, all this details made Pioneers Festival an event for people who truly enjoy and live the startup lifestyle and want to share their joy once a year with the rest of the pack dispersed worldwide 🙂
Will I ever attend Pioneers Festival again? For sure! This is something which is not even under consideration 🙂