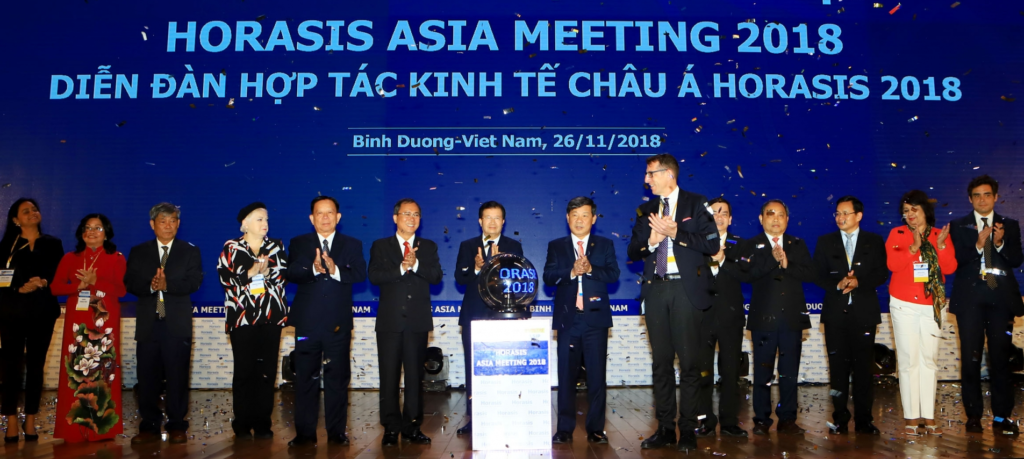 Featured
---
European industry leaders and experts will join hundreds of prominent figures at Horasis Asia Meeting, which will be held virtually on November 26.
The annual meeting is organized by Horasis, a Switzerland-based think tank dedicated to advancing collaborative solutions for sustainable growth.
This year, Asia's premier gathering of senior business and government representatives will discuss how Asian countries can adopt innovation to build a more resilient future for the continent post-pandemic.
"Asia is truly going through a transition," says Horasis Chairman Frank-Jürgen Richter.
"And rather than looking inward, now is the time for leaders to come together and rebuild trust. Only by working together will we begin to create a more just, equitable future for all."
The meeting, according to organizers, aims to present a systemic view of activities that affect the drivers of Asia's economic success and how Asian businesses interact both regionally and globally.
Among the 400 attendees who will meet on Horasis' ground-breaking digital conferencing platform are:
Joseph Chan, Under Secretary for Financial Services and the Treasury, Hong Kong
Taro Kono, Minister for Administrative Reform and Regulatory Reform, Japan
Suharso Monoarfa, Minister of National Development Planning, Indonesia
Sansern Samalapa, Vice Minister of Commerce, Thailand
Ramon Lopez, Secretary of Trade and Industry, The Philippines
Nguyen Minh Vu, Vice Minister of Foreign Affairs, VietnamSuresh Prabhu, former Cabinet Minister, India
Ranil Wickremesinghe, Former Prime Minister, Sri Lanka
The European representatives in attendance include:
Xin Ma, Managing Director, TotalEnergies Ventures, France
Mathias Ernst, Founder and Chief Executive Officer, Essentia Futura International, Portugal
Virginie Coulloudon, Executive Director, Your Public Value, Germany
Kerri Cummings, Founder, Mindbar, Germany
Mikhail Treyvish, President, OmniGrade Universal Crowdsourcing Agency, Russia
Murat Seitnepesov, Chairman, Caspian Week, Switzerland
Cantalapiedra, Founder and Chief Executive Officer, Woonivers, Spain
Dinesh Dhamija, Founder and Chairman, Copper Beech Group, United Kingdom
Nico Anten, Executive Chairman, Connekt, The Netherlands
Peter Brimble, Private Sector Development Adviser, DaNa Facility, United Kingdom
Scott Mackin, Managing Partner, Denham Capital Management, United Kingdom
Miguel Reynolds Brandão, Founder, Corkbrick Europe, Portugal
Michael Durrie, Founding Partner, LHD Associates, Germany
Xin Chen, Co-founder, HB Capital, Germany
Philipp Mueller, Head Core Government EMEA, Amazon Web Services, Germany
Zurab Ashvil, Founder and Chief Executive Officer, L3COS, United Kingdom
Fergus Bell, Founder and Chief Executive Officer, Fathm, United Kingdom
Jordi Ràfols, Founder and Chief Executive Officer, Innoget, Spain
John Cook, Chairman, Rock Lake Associates, Switzerland
Rafael Cascales, President, Spanish Association for Foreign Trade and International Business Professionals, Spain
Hugo Roppel, Chairman, GLG Logistics Systems, Switzerland
Shamika Sirimanne, Director, Division on Technology and Logistics, UNCTAD, Switzerland
Terry von Bibra, Director, Numenos, Germany
Susanne Hannestad, Chief Executive Officer, Fintech Mundi, Norway
Daniel Koppelkamm, Managing Partner, Convergence Partners, Switzerland
Nadine Bruder, Founder, JUST DAMN RIGHT, Germany
Sanjeev Kumar, Chief Executive Officer, D+O Group, United Kingdom
Rob Leslie, Founder, Sedicii, Ireland
Christine Koetsier, Chief Executive Officer, GEM Partners, The Netherlands
Marina Schmatova, Member of the Scientific Council, Financial University under the Government of the Russian Federation, Russia
Bob Garratt, Director, Good Governance Development Ltd, United Kingdom
Yonca Braeckman, Co-Founder and Chief Executive Officer, Impact Shakers, Portugal
The participants will exchanges views during multiple sessions and panel discussions on a wide range of topics such as cryptocurrency, fintech, Asian geopolitical stances, artificial intelligence, globalization, cyberattacks, impact investment, sustainability, climate change, fake news, and entrepreneurship.
COVID-19 continues to pose a challenge to developing Asia, but vaccines are changing the nature of the pandemic and the continent is on the path of economic recovery.
Organizers say Horasis Asia Meeting will provide an ideal platform to explore and advance regional cooperation, impact investing, and sustainable growth.
The location of the meeting rotates annually and recently has been held in Bangkok, Thailand (2016), Kolkata, India (2017), Binh Duong New City, Vietnam (2018, 2019), and digitally in 2020.
To register for the event, please visit here.