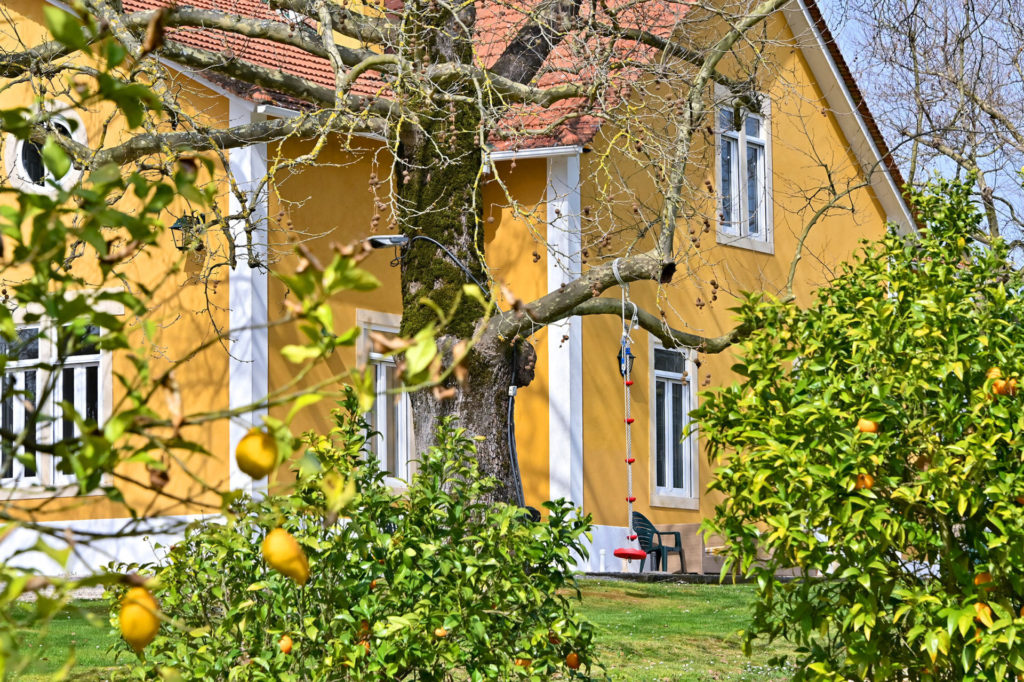 Communities
---
Social media is filled to the brim with photos of location-independent professionals working from idyllic beach, forest, and mountain destinations, but families with kids are usually out of the picture of this coveted lifestyle.
Kate Shifman is throwing a stone into the less-explored waters of family workation in hopes that the ripples created will spread out further and further until they can be felt in different parts of the world and inspire a movement that would add a new connotation to the concept of digital nomadism.
With an aptly named initiative called The Family Workation, the American entrepreneur and growth marketing expert is laying the building blocks of the "first" co-working retreat for families in central Portugal, which is all set to open its doors in July.  
The pilot project is taking shape in a villa sitting atop a hill that overlooks a village near the bustling student town of Tomar, a hidden treasure trove of stunning natural riches and distinctive historical landmarks situated about 140 km north of Lisbon.
The first phase will run until July 16 and the second one from August 1 to 15, with the recommended stay being two weeks.
The initiative, which won a place at a Beta-i acceleration program sponsored by Turismo de Portugal, features a lovingly kept property that has been passed down through generations.
It will host five families at a time and is exclusively designed to help parents travel and spend quality time with their children while working remotely, ensuring all logistics of childcare, co-working, and meals.
"We've got a beautiful countryside property with a swimming pool, six hectares of olive groves, and hired child care facilitators that would spend time with the kids at the house and take them to the nearby camp, which has everything from horse riding to canoeing. On weekends, we will be organizing day trips for wine tastings and such," Kate says.
The founder of The Family Workation is not a mother herself. However, having been raised by a single mother and absorbing the stories of her friends who are parents, she knows well that today's fast-paced lives leave little room for quality bonding between family members.
"As parents work incredibly hard to secure better futures for their little ones, their quality of life and the quality of their connection with partners and children tends to deteriorate," Kate explained.
That is why she, along with her co-founder and social entrepreneur Katya Shepeliuk, aims to take guests on a "thoughtful" journey where all the "annoying" logistical stuff is taken care of, allowing families to reconnect, have authentic experiences, and form stronger bonds.
Rising demand
In an interview with 150sec, Kate, a passionate advocate of a location-independent lifestyle, said there is a conspicuous lack of suitable remote work solutions for parents while more and more parents are looking to untether themselves from office desks and apartments and dip their toes in this way of living.
The Family Workation allows parents to get their work done in a dedicated co-working space on premises, relax knowing that their child is engaging in fun and growth-oriented activities with licensed childcare providers, go on weekend trips as a family or as a group, take cooking classes, and enjoy meals made from locally grown ingredients.
Another perk of the project is that guests can meet parents from other countries and see their child build friendships with international peers.
Health & safety measures
Kate is fully aware that creating something for families is a huge responsibility and is doing her best to make sure the environment is safe amid the still-unfolding coronavirus pandemic.
According to her, the accommodation complies with the Clean & Safe protocol of the Portuguese government, which is a hygiene-certification stamp created to identify businesses that are safe for tourists.
Meanwhile, as a devoted fan of sustainability, she is incorporating this concept in as many aspects of the initiative as possible, including through providing options that would help minimize the use of cars within the area.
The road ahead
If the project proves successful, Kate's long-term ambition is to branch it out and run concurrent retreats in different areas of the world with the help of local partners.
She also intends to extend the timeline of the project in the future and welcome guests not only during the summer but also on other occasions throughout the year to cater to both those who prefer a once-in-a-year workation experience and parents who are full-time travelers.
Worldschooling movement
Kate says one major step in this direction would be tapping deep into the realm of worldschooling, an educational movement that recognizes a student can receive no greater education than by interacting with the world around them.
For this reason, The Family Workation has started collaborating with the Worldschooling Central community, a top resource supporting worldschoolers and location-independent families.
Worldschooling Central, a network of over 6,000 worldschooling families, is the creation of Karen King. From Australia, Karen is a mum, wife, worldschooler, entrepreneur, and house-sitter who began traveling the world full time in 2016 together with her family.
Kate, who is working on her upcoming ArtHOUSE co+living project at the same time, believes The Family Workation project can have far-reaching implications and that such partnerships would contribute greatly to their efforts.
"The family workation market is a largely unexplored, but a growing one," she said, inviting parents who want to take a nap in a hammock between their Zoom calls while their children are rolling around on the grass to register and explore Tomar this summer.
She is confident that Portugal will cast a spell on visitors, just as she was charmed by its exquisite beauty many years ago.